Rottweiler Helping His Dad With DIY to Earn His 'Rent' Delights Viewers
A Rottweiler has proved there's no job too small as he helps his owner with manual labor.
In a viral TikTok clip, Arthur can be seen holding his owner's hammer in his mouth on command and handing it back to him when needed.
The clip captioned: "Gotta earn my rent somehow," was shared by @rottweilermum_.
It has racked up 172,000 views and more than 17,000 likes since it was shared on Wednesday.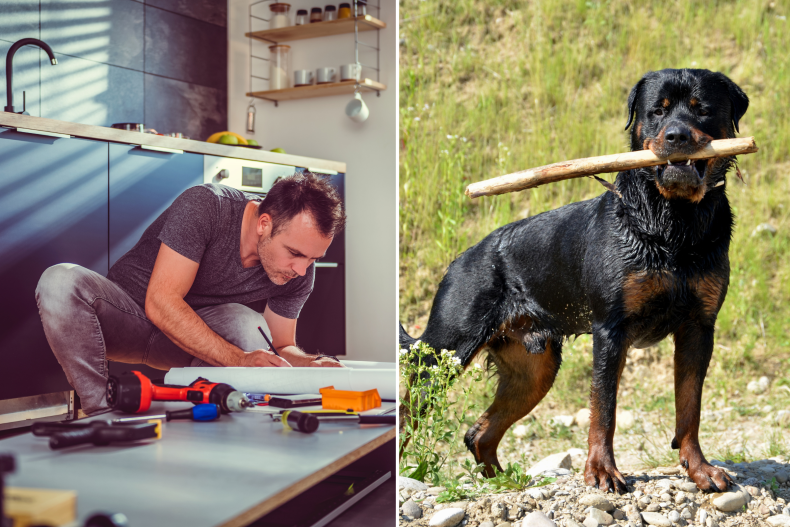 Arthur's eagerness to help most likely doesn't surprise other Rottweiler owners as the breed has high mental stimulation needs, according to the American Kennel Club (AKC).
The AKC also says the breed is highly adaptable, which might explain why Arthur is utterly unfazed by his owner renovating the kitchen floor.
Rottweilers have been ranked as one of America's 10 favorite breeds, according to the AKC. Sadly, the breed is often found in shelters and can be adopted for $50 to $150, according to the Hepper pet blog.
But from a breeder, the price ranges from $1,500 to $2,500 and sometimes even more if a pedigree, the blog said.
Each year, about 390,000 shelter dogs are euthanized, according to the American Society for the Prevention of Cruelty to Animals (ASPCA).
But ASPCA statistics have revealed that 2 million shelter dogs are adopted yearly.
Rottweilers like Arthur are renowned for their showing their affection. Previously, Newsweek shared the heartwarming moment a Rottweiler joins her owner for a morning cuddle and a needy Rottweiler demanding kisses from her owner.
They are also known for being playful and protective of the people they love. However, a dog trainer previously told Newsweek that first-time dog owners shouldn't buy a Rottweiler unless they get it as a puppy because they usually come with a "ton of insecurity and aggression."
The Comments
It seems TikTokers can't get enough of the viral clip. One user referred to the duo as "employees of the month."
"The tail wag[s] for encouragement," said another.
Another joked: "Hope ur paying him by the [hour] & a full 1 [hour] lunch break."
Other TikTok users complimented Arthur by calling him "cute, precious" and "adorable" along with a "good boy."
This isn't the first time Newsweek has shared a helpful furry friend, including a Labrador who likes to carry his owner's shopping and won pet of the week.
Newsweek reached out to @rottweilermum_ for comment. We could not verify the details of the case.
Do you have funny and adorable videos or pictures of your pet you want to share? Send them to life@newsweek.com with some details about your best friend and they could appear in our Pet of the Week lineup.