Tim Allen Dragged for Biden Remarks: 'This Passes for Comedy in TrumpWorld'
Conservative actor Tim Allen is under fire for a joke he made on Monday about President Joe Biden. Some on social media were outraged by the quip, but others said the Home Improvement star needs to work on improving his own comedy material.
Allen's joke touched on the president's Sunday appearance on CBS' long-running show 60 Minutes, during which Biden touted the end of the COVID-19 pandemic and hinted that he might not seek reelection in 2024.
It seemed that Allen, who considers himself part of the relatively small "conservative Hollywood" club, may have been waiting for such an appearance. The next day, he took to Twitter with a new wisecrack.
"Biden was on 60 minutes," Allen wrote in the tweet. "I heard he asked how long the show was."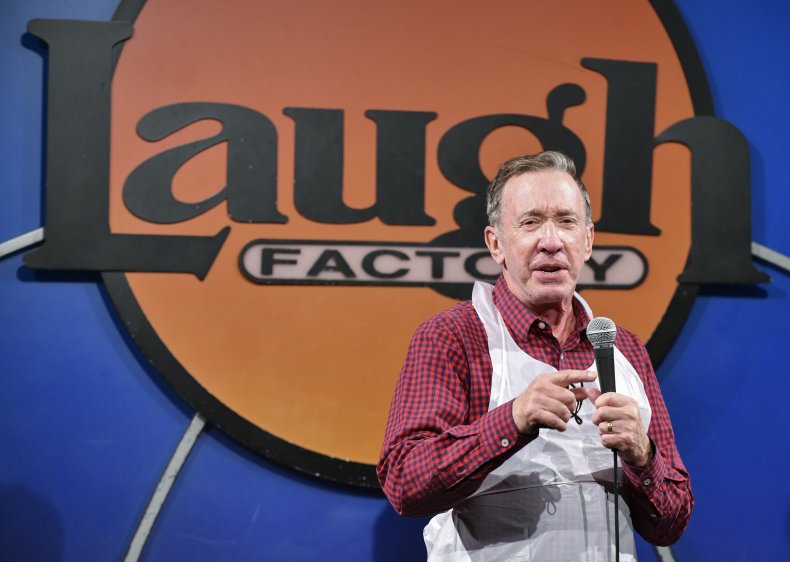 The internet collectively groaned. Allen's tweet soon went viral, largely thanks to its critics.
Certain Twitter users pointed out that Republican President Donald Trump once ended a 60 Minutes interview prematurely, with some reports saying that he'd "stormed off" set. Others griped that Allen was being "disrespectful" to the current president.
And some on social media compared the actor to other conservative stars.
"Tim Allen is the Randy Quaid of comedians," one Twitter user wrote. "This passes for comedy in TrumpWorld."
"And this, kids, is why Tim Allen isn't the voice of Buzz Lightyear anymore," someone else wrote in a tweet. "He's gone full Scott Baio. Or is it Kevin Sorbo? Meh, what's the difference."
In June, many conservatives and Allen fans pushed back on the casting decision to have Captain America actor Chris Evans play Buzz Lightyear in the character's recent origin film. Everybody Loves Raymond actress Patricia Heaton clapped back at Lightyear filmmakers and insisted that they had "castrated" the role in their decision to not cast Allen.
Ad writer Cliff Schechter also brought up the flick in his own takedown of Allen's Monday tweet.
He wrote "145 minutes. That's how long the new Buzz Lightyear movie was. Perhaps you've seen it?"
Despite the mountain of flak Allen received, some Twitter users rushed to his defense. Aliscia Andrews, a former Republican congressional candidate in Virginia, claimed in a comment that he'll always be her "favorite comedian," adding a laugh emoji.
Another person similarly stood up for Allen, writing: "Imagine not being able to laugh at a joke. Y'all in the comments have serious issues."
Newsweek reached out to Allen representatives and the White House for comment.