Tom Cruise Controversies: From Iconic Couch Jump to Brooke Shields Feud
Tom Cruise may be Hollywood royalty set to have a huge night at the upcoming Oscars ceremony, but his career has been littered with eyebrow-raising moments.
Cruise, 60, is in the running to win his first Academy Award as producer for Top Gun: Maverick which is up for best film along with another five awards.
The Top Gun sequel is also nominated for best adapted screenplay, best original song, best film editing, best sound and best visual effects.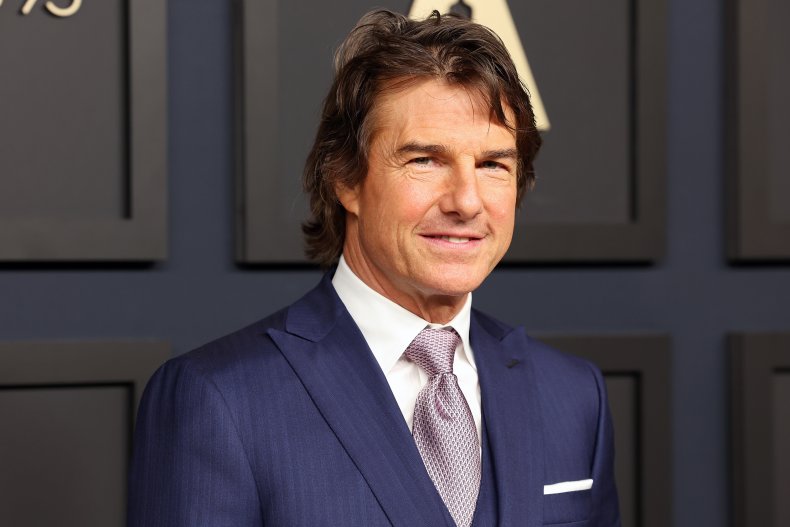 Cruise started his career in 1981, building an impressive list of achievements, including bringing in $11.5 billion at the box office worldwide, making him one of the highest grossing actors of all time.
But in his 42 years in the spotlight, Cruise has made headlines for some of his antics, his commitment to the Church of Scientology and remarks about psychotherapy.
We've put together some of his most outlandish moments.
Scientology
Cruise became a member of the Church of Scientology after being converted by his first wife, Mimi Rogers, in 1986. He publicly disclosed his involvement in the church in 1992.
Former Scientologist Claire Headley, who is one of its critics, has described the church as "a dangerous cult that destroyed my family."
The Church of Scientology says on its website: "The ultimate goal of Scientology is true spiritual enlightenment and freedom for all." Headley and her husband, Marc, filed a lawsuit against the church in 2009, alleging that it had violated human trafficking laws and human rights. The claim was dismissed.
Cruise is very good friends with Scientology's chairman, David Miscavige, whose wife, Shelly Miscavige, has not been seen publicly since August 2007.
In 2013, two missing persons reports were filed with the Los Angeles Police Department over Shelly's disappearance, including by Leah Remini, the actress and former Scientologist who has become an outspoken critic of the organization. The LAPD confirmed at the time it had seen and spoken to Miscavige at the time.
On November 10, 2022, Remini shared an update into her personal investigation into Shelly's whereabouts and raised concerns about the LAPD's investigation.
The LAPD responded with a statement: "In 2014, Los Angeles Police Department detectives assigned to the Missing Persons Unit went to Shelly Miscavige's location and personally made contact with her and her attorney. Detectives found her to be alive and safe, and subsequently closed the missing persons investigation."
The Church of Scientology has questioned Remini's credibility and motives.
Cruise vs. Brooke Shields
The actor had said in 2004 that "I think psychiatry should be outlawed" and a year later, lashed out at actress Brooke Shields for opening up about her post-partum depression.
Shields revealed she had taken anti-depressants to treat her depression after the birth of her daughter, Rowan.
Cruise accused her of being "irresponsible" and that there was "no such thing as a chemical imbalance" because anti-depressants only mask the issue.
"Here's the problem: you don't know the history of psychiatry. I do," Cruise told Matt Lauer in a heated Today interview in 2005.
Shields responded to the interview by saying Cruise should "stick to saving the world from aliens," and later wrote in an op-ed in The New York Times that Cruise's comments were a "disservice to mothers everywhere."
Cutting Fellow Air Passenger's Oxygen Supply
One of Cruise's vintage bizarre interview moments came when he appeared on the Late Show with David Letterman in 1999.
The actor began laughing hysterically when recalling an anecdote about how he cut off the oxygen supply of a fellow passenger on a recent flight.
He was piloting a plane to Colorado with a co-pilot and another passenger wearing oxygen masks because they were flying at a high altitude.
When they realized Cruise would not have enough oxygen to stay conscious, he and the co-pilot decided to cut the oxygen from the passenger to give the actor more air.
Cruise continued to laugh as he told the story and recounted how the passenger passed out due to lack of oxygen.
The late night talk show host looked very uncomfortable during the exchange and pushed back on Cruise's story.
"But honestly, looking at it from another direction isn't that attempted manslaughter? You just turned a guy's oxygen off. You're lucky you're not doing time, for the love of God," Letterman quizzed him.
Cruise assured Letterman that the passenger was fine.
Oprah Couch Jumping
Who could forget Cruise jumping up and down enthusiastically as he declared his love for new girlfriend, Katie Holmes, during an appearance on Oprah Winfrey's talk show in 2005?
As he discussed his love life during the War of the Worlds press tour, Cruise suddenly stood up on the couch to announce he was in love. He and Holmes would go on to get engaged months later and were married until 2012.
Cruise allegedly felt like he'd been set-up to look crazy during the Oprah interview, according to actor Seth Rogen.
He claimed during an interview on The Howard Stern Show that Cruise had told him, "They're making it seem like I'm losing my mind, there's a coordinated effort to make it appear that way. They edited it to make it look so much worse than it was. They do that all the time."
COVID Rant
A leaked recording of Cruise on the set of Mission: Impossible 7 heard him screaming at the film's crew after they breached COVID safety measures in 2020.
Production on the high budget action film had already been halted multiple times because of the coronavirus pandemic. So when Cruise spotted two crew members not social distancing he "flew into a rage" on the Warner Bros. Studios in Leavesden, England, according to The Sun newspaper which had published the leaked audio.
"And if you don't do it, you're fired," he was heard saying in the recording released by the newspaper in December of that year. "I see you do it again, you're f***** gone. No apologies. You can tell it to the people that are losing their f****** homes because our industry is shut down. It's not going to put food on their table or pay for their college education."
On Set Intensity
Westworld actress Thandie Newton said it was a "nightmare" working with Cruise.
She starred opposite the actor as his love interest in the 2000 film, Mission: Impossible 2.

"He was a very dominant individual," Newton told culture website Vulture in 2020.
"He tries super hard to be a nice person. But the pressure. He takes on a lot. And I think he has this sense that only he can do everything as best as it can be done."
Newton then described Cruise getting "frustrated" at her when they struggled to get a scene right according to his high standards.
"I can't think of anything less revealing. It just pushed me further into a place of terror and insecurity. It was a real shame. And bless him. And I really do mean bless him, because he was trying his damnedest," she described.
"He wasn't horrible. It was just—he was really stressed."
Update, 3/8/23, 5 p.m. ET: This article was updated with additional background information relating to the Church of Scientology.