Forty-six candidates appear on the California gubernatorial recall election ballot, but few have made a dent in recent polls gauging voter support ahead of the September 14 recall election.
Voters in the nation's most populous state are in the process of deciding whether they want sitting Governor Gavin Newsom, a Democrat, to remain in office for the duration of his first term. If more than 50 percent of voters cast ballots in favor of recalling him, he will be removed from office and replaced by the candidate who receives the greatest number of votes. That candidate would then complete Newsom's term, which is due to end on January 2, 2023.
Polls conducted in July and early August suggested voters were split on the decision of Newsom's recall, but three polls conducted in late August by Change Research, SurveyUSA and Trafalgar Group found the gap between recall supporters and objectors widening, with those against Newsom's removal in the lead. More than 4 million mail-in ballots were returned to election officials by the end of August, leaving about 80 percent of ballots still outstanding with two weeks remaining for voters to send theirs in.
Though polling shows the recall outcome is too close to predict, there are clear leaders in the pack of recall candidates running to replace Newsom if he is removed. Most polling results do not list dozens of the candidates on the ballot, while many low-polling candidates who did appear in the polls were found to be several points behind the front-runners.
While polls ask voters if they support the recall effort, voter surveys do not list Newsom among the possible replacement candidates. As outlined in the state's recall election rules, elected officials cannot run as candidates in recall elections targeting their office, and thus Newsom is not listed on the recall ballot as a candidate. His name does appear on the recall ballot's first question, which asks voters whether they want him removed.
With less than two weeks remaining until the recall election, below is an overview of the top 10 recall candidates based on polling conducted over the last two months.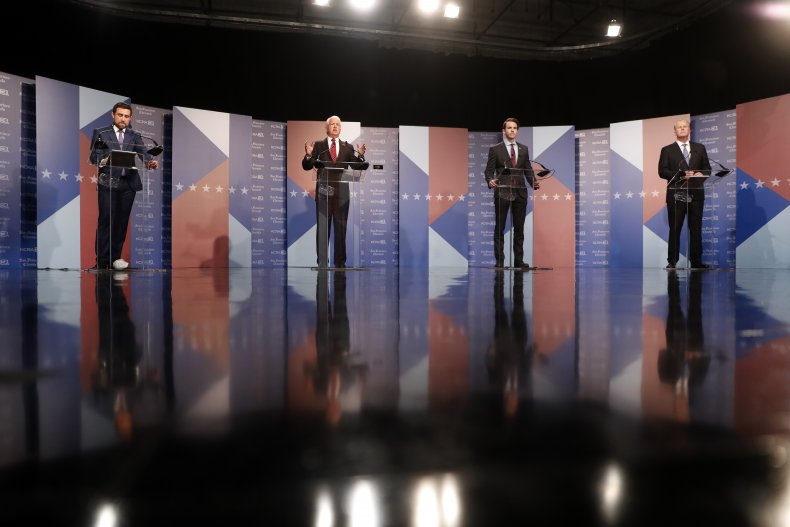 John Cox
John Cox, the 2018 Republican gubernatorial candidate whom Newsom defeated to become governor, gained attention for his campaign earlier this year by introducing a live bear to the campaign trail. He went on to bring an 8-foot ball of trash meant to represent California's battle with homelessness at campaign stops and later shared his tax cut plan by unveiling a "Gavinopoly" board styled after the "Monopoly" board game.
Though Cox was the top Republican candidate in 2018, recent polls show him several points behind front-runner Larry Elder, with August surveys by Change Research, SurveyUSA and YouGov placing him at least 20 points behind the front-runner. With Elder out in front, Cox is in the middle of the pack with fellow Republicans Kevin Faulconer and Kevin Kiley, and often polls a few points ahead of Caitlyn Jenner.
Larry Elder
Larry Elder led in most polls conducted in the weeks following his July campaign launch and has continued to do so. The conservative radio host has in several voter surveys held double-digit leads over his fellow Republican candidates, as he did in recent polls conducted by Change Research, Emerson College, SurveyUSA and YouGov.
Elder has said that, if he is elected governor, he would end the mask and vaccine mandates Newsom put in place. He has received criticism in recent weeks for resurfaced comments he made in the past about women—which prompted some of his fellow Republican candidates to call upon Elder to leave the race—and accusations of domestic abuse made by his ex-fiancé, which prosecutors decided against pursuing. Unlike the recall candidates polling just behind him, Elder has not participated in any recall debates thus far, though his campaign has said he would be willing to debate Newsom.
Kevin Faulconer
The former San Diego mayor launched his gubernatorial campaign in February, more than a month before the deadline to gather signatures for the recall petition passed. Faulconer, a Republican, is a frequent critic of Newsom's but has also begun targeting Elder in recent weeks as criticism of the radio host increased. He was one of the candidates who called for Elder to drop out of the race last month.
Faulconer tied with Cox in some polls conducted before state election officials released their official list of recall candidates, and he has continued polling behind Elder but ahead of lesser-known candidates in the weeks since. A Trafalgar Group poll conducted at the end of August found Faulconer with 4 percent of respondents saying they would vote for him, results that matched voter support for Cox but fell 25 points behind support for Elder. An early August YouGov poll found Cox and Faulconer again tied, while a late August SurveyUSA poll said Faulconer was 1 point behind Cox. Another late August poll by Change Research found Faulconer leading Cox by 1 point.
Caitlyn Jenner
Television reality personality and Olympian Caitlyn Jenner announced her recall campaign in April. Though she hosted several press conferences over the last few weeks following a filming commitment in Australia, she declined to participate in any of the recall debates last month and has polled behind most other candidates whose names are included in polling results.
Polls conducted before the state's certified list of candidates was released showed 3 to 5 percent of voters said they planned to support Jenner in the recall election. A late July poll conducted by Emerson College found Jenner polling at 7 percent—behind Elder, but tied with Cox and ahead of Faulconer and state lawmaker Kiley. Subsequent polls by Change Research, SurveyUSA, Trafalgar Group and YouGov have said Jenner was polling between 1 and 4 percent.
Kevin Kiley
Another Republican candidate in the mix with Cox and Faulconer is California Assemblyman Kevin Kiley. Kiley entered the race in early July as a state lawmaker who frequently criticized Newsom and challenged the Democratic governor's decisions in the state legislature. Last month, Kiley received the endorsement of one of his former business partners who was also running in the recall. Doug Ose, a former California congressman, is listed on the ballot as a Republican but dropped out of the race last month after suffering a heart attack.
Though Ose was leading some of his fellow Republicans in summer polls, he is not included on this list because he ended his campaign and endorsed another candidate.
Like Cox and Faulconer, Kiley has polled several points behind Elder, and he has yet to poll in the double digits. Voter surveys conducted in July and early August found Kiley polling between 2 and 5 percent, putting him either just behind or tied with Cox or Faulconer. Polls conducted in late August found Kiley similarly polling between 3 and 5 percent.
Jacqueline McGowan
Though the California Democratic Party has discouraged Democratic voters from picking amongst the recall candidates, there are nine Democrats who appear on the ballot. Aside from Democrat Kevin Paffrath, other self-identified Democrats on the ballot were not polling ahead of or near Republicans like Cox, Faulconer and Kiley, but that began to change over the last couple of weeks. Of the Democrats who have begun to emerge in the polls is Jacqueline McGowan, who is listed on the ballot as a cannabis policy adviser.
After polling at 1 percent in a University of California Berkeley Institute of Governmental Studies (UCB IGS) poll published in mid-July, McGowan jumped to polling at 5 percent in last month's Change Research poll, suggesting she was in competition with Paffrath—who polled at 6 percent in the same poll—and Republicans like Cox and Faulconer. A SurveyUSA poll conducted in late August also said McGowan was polling at 5 percent, in close competition with Paffrath but more than 20 points behind Elder.
Kevin Paffrath
The Democratic candidate leading among members of his party in recall polls is Kevin Paffrath, who is listed on the ballot as a financial educator and analyst. Paffrath, known by his YouTube username "Meet Kevin" who says he is running as a "JFK-style Democrat," began appearing in the polls in late July and has since become the only Democratic candidate to poll in the double digits.
Paffrath has in most polls placed second to Elder, but one SurveyUSA poll conducted in early August showed Paffrath leading Elder by four points and all other candidates by 17 points or more. While Elder declined to participate in any of the recall debates held last month, Paffrath joined three other Republican candidates for a debate on August 25, becoming the first Democratic recall candidate to do so.
Holly Baade, Brandon Ross, Daniel Watts
Few Democrats besides Paffrath and McGowan have appeared in voter surveys, but there are a few whom some pollsters have said polled between 3 and 5 percent.
Holly Baade is running in the recall as a Democrat and is listed on the ballot as a mother and business owner. Her name first appeared in a July UCB IGS poll, in which she polled at 1 percent. Since then, she polled in late August at 2 percent in a Change Research poll and at 5 percent in a SurveyUSA poll.
Democrat Brandon Ross is listed as a physician and attorney on the recall ballot. Like Baade, he first appeared in the UCB IGS survey, polling at 1 percent, and subsequently jumped to 3 percent in last month's Change Research poll and 5 percent in the most recent SurveyUSA poll.
Daniel Watts is similarly running as a Democrat and appears on the ballot as a free speech lawyer. Watts polled at 2 percent in the UCB IGS poll—ahead of McGowan, Ross and Baade—and later polled at 3 percent in the Change Research poll.