Travel Bans for Abortion Uncharted Legal Territory in Wake of Roe v. Wade
Questions continue to arise after a leaked opinion draft indicated that the conservative-majority Supreme Court could strike down the landmark 1973 ruling of Roe v. Wade—including how the potential decision could make it more difficult to travel across state lines for abortions.
While a number of states have enacted new restrictions on the right to abortion in recent years, the refusal of Supreme Court Justices last year to block a Texas law banning abortion after six weeks signaled to many that the court was open to a comprehensive challenge of abortion rights. Since September, when the Texas law went into effect, the number of new restrictions and proposed bans passed by state legislatures has snowballed, with many apparently looking for new ways to ensure that abortion is inaccessible.
In some cases, states are trying to make it more difficult for women to travel across state borders for abortions. Elsewhere, politicians are looking at laws restricting medication abortions, which have increased as surgical abortion providers have found it more difficult to operate in many states.
"Our rights shouldn't depend on where we live," Andrew Beck, senior staff attorney with the American Civil Liberties Union's (ACLU) Reproductive Freedom Project, told Newsweek. "Abortion is central to our equality, dignity and liberty, and no one should have to leave their home state to get the health care they need or be threatened with punishment for seeking essential care."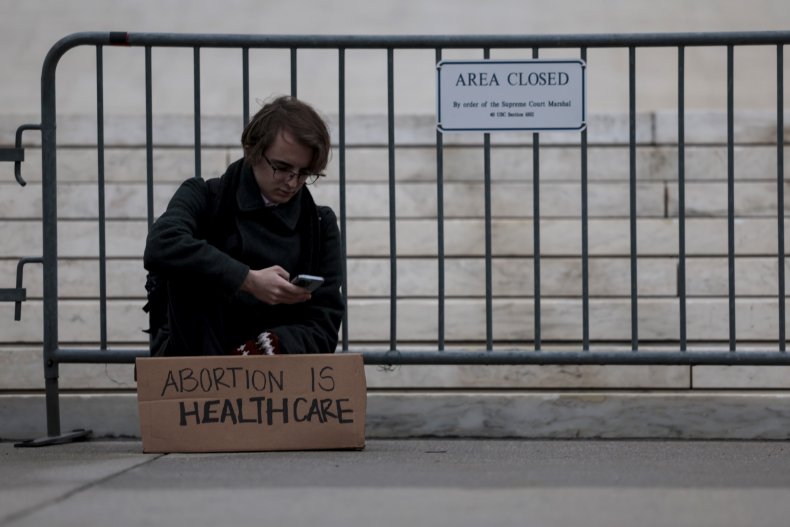 Curtailing the right to travel?
In March, a Missouri legislator introduced a bill that would make it illegal to "aid or abet" out-of-state abortions. The bill is reportedly aimed at women from the state who have often sought abortions in neighboring Illinois after Missouri approved new restrictions on abortion in 2019.
Whether or not such a law is likely to be viable is a "loaded question that, regrettably, might depend on the composition of the reviewing court," Melissa Murray, the Frederick I. and Grace Stokes Professor of Law at New York University told Newsweek. Murray added that the proposed bill also raises questions about the right to travel and the Dormant Commerce Clause, which says that states can not discriminate against, or unduly burden, interstate commerce.
A 2007 Missouri state Supreme Court case struck down a similar type of law for minors needing parental consent for abortion, saying the state could not apply its laws to conduct taking place wholly outside of Missouri, noted David Cohen, a professor at Drexel University's Thomas R. Kline School of Law, while speaking to Newsweek.
"For conduct that takes place partly in Missouri and partly outside the precedent isn't clear," he said.
The proposed Missouri bill, like many of the so-called "trigger laws" across the country, is anticipating a world without Roe v. Wade and the day when abortion bans are lawful, said Murray.
"If abortions are no longer lawful, it is perhaps easier to justify all measures to prevent them, including prohibitions on leaving the state," she said.
Murray added that the Virginia law ultimately overturned in the Supreme Court's 1967 Loving v. Virginia ruling both prohibited interracial marriages and made it unlawful to leave the state in order to transact an interracial marriage.
Medication Abortion Next Battleground
The use of medication abortions, which involve a two-drug protocol to end a pregnancy, is already expanding rapidly as the number of abortion providers continues to decline in states with the harshest restrictions. In the event that Roe is overturned, the ability of states to restrict access to abortion pills, including those supplied via international websites, is likely to be the next battleground.
In March, South Dakota passed one of the most restrictive bills in the country affecting abortion drugs. The law requires pregnant women to make at least three separate trips to a clinic to obtain abortion medication. Other states have also tightened prescribing rules.
While it is harder to enforce such restrictions on medication received through the mail, the legal experts say, the current composition of the Supreme Court and political polarization mean all bets are off.
"If Roe falls, there will be no end to what inhospitable states will do to curb abortion access," Murray explained. "Criminal bans, licensing restrictions. It's all on the table."