Trevor Noah's 'Daily Show' Debut: New Host, Same Beloved Show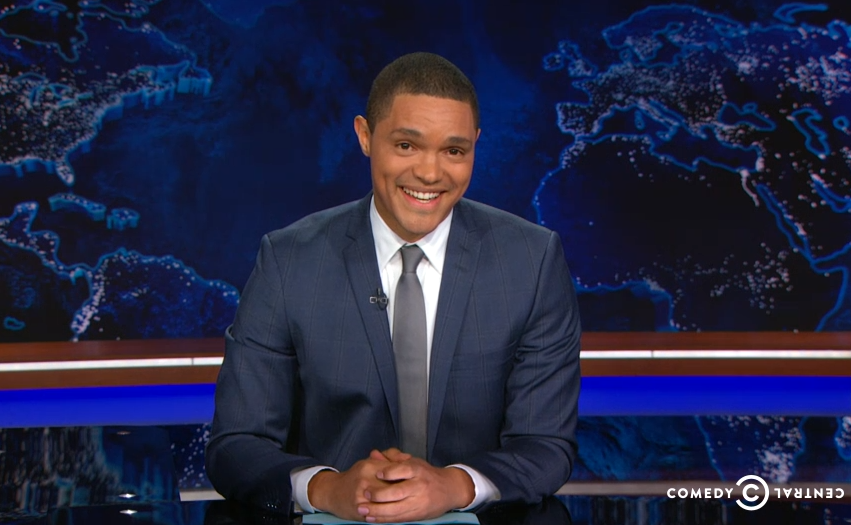 Trevor Noah spent much of his Daily Show debut seemingly reassuring viewers that much would stay the same after longtime host Jon Stewart's departure.
The guitar theme and opening shot of that gigantic globe? Still there, even with minor tweaks in the set. The show format (which typically starts with a monologue followed by a segment involving a show correspondent or two, followed by a celebrity interview)? Pretty much identical. The host's tone of deadpan-newscaster sarcasm? It's there, though it'd be unreasonable to expect the 31-year-old Noah to match Stewart's remarkable vocabulary of comic-delivery mechanisms in his very first hosting gig.
Noah, a South African comedian previously known for stand-up comedy, remained confident and smooth Monday night, while also publicly acknowledging the giant shoes he has to fill. In his very first moments as host, he thanked Stewart and marveled at the unlikely circumstances that have led him to address about 2 million American viewers every night.
"I can only assume this is as strange for you as it is for me," Noah said in his opening monologue. "Jon Stewart was more than just a late-night host. He was often our voice." The new host thanked his predecessor for believing in him—"I'll make you not look like the crazy old dude who left his inheritance to some random kid from Africa"—and then referenced Stewart's closing monologue as he turned his attention directly to his viewers: "To you, the Daily Show viewer, both new and old, at home or on your phone, thank you for joining us as we continue the war on bullshit."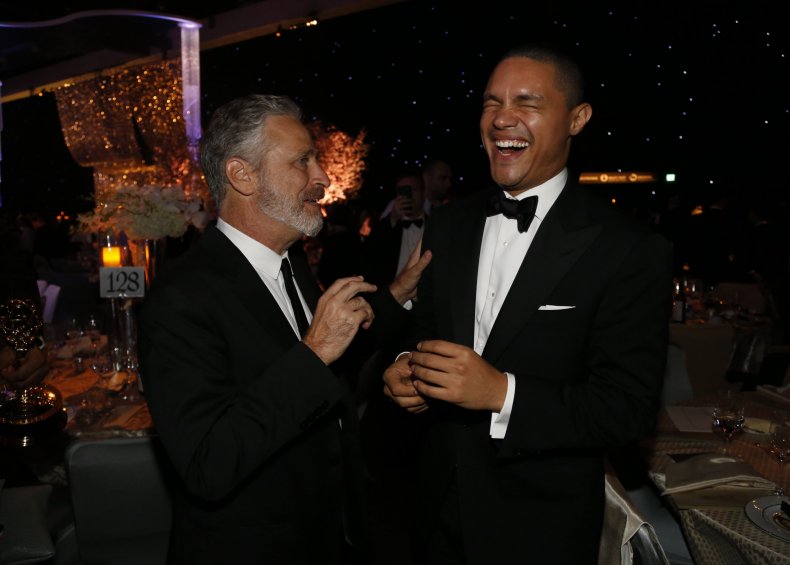 Noah also referenced his international roots, which he brings to a uniquely American late-night format.
"Growing up in the dusty streets of South Africa, I never dreamed that I would one day have two things, really," Noah said. "An indoor toilet and a job as host of The Daily Show. Now I have both. And I'm quite comfortable with one of them."
A little discomfort is warranted. Noah's transition period has not been entirely smooth. Within hours of his announcement, the comedian faced a backlash over tasteless tweets he had sent years ago. More recently, a Vanity Fair photo spread brought attention to the men-only late-night lineup. Hinting at that kerfuffle in his opening monologue, Noah struck a somewhat defensive, albeit good-humored, tone.
"It turns out that Comedy Central did ask women to host, and the women they asked turned the job down because they all had better things to do—and clearly knew something I didn't," Noah said to laughs. (The joke's premise is true: Amy Poehler and Amy Schumer were reportedly offered Stewart's job and turned it down.)
The rest of the show proceeded on track, following Stewart's lead with minimal incident or reference to Noah's greenness. No one was blowtorched or eviscerated, though the show did milk a wealth of jokes from the pope's U.S. visit, including a particularly funny punch line combining sexting with pope-themed emojis. Later, Noah turned to correspondent Jordan Klepper to give House Speaker John Boehner a typical Daily Show farewell. Several off-color jokes fell strangely flat (including one about congressmen having "aides"—ha-ha, get it?), though the staff's grief at not having Boehner to kick around anymore undoubtedly rang sincere. (Boehner was long a favorite target of Stewart's.) Though he played it straight, Noah rarely seemed timid or unsure in his deliveries.
Noah has said that his biracial background would bring a new perspective to the show, and this became apparent during a stand-out segment about scientists' discovery of water on Mars. He turned to comedian and "Senior Mars Correspondent" Roy Wood Jr. for an exchange that quickly escalated into a funny argument about whether African-Americans might live on Mars. "Being a black pioneer is stressful!" Wood exclaimed, something that the new Daily Show host has likely realized by now. "Bunch of Martians yelling the N-word at me. How'd they even learn the word?"
In familiar fashion, Noah's first Daily Show wrapped up with an interview segment with Kevin Hart, whom Noah reminded viewers is among the most popular comedians in the country right now. The two shared a spirited discussion about Hart's success, while the guest gifted Noah with a new tie and some timely advice about addressing a large audience: "It's your job to make that environment as intimate as possible." Hart's energy was contagious, but it also overpowered any real insight we might get into Noah's interviewing style.
One final reminder that the format Stewart perfected over a decade and a half isn't going anywhere: the show-closing "Moment of Zen." This was a particularly delicious snippet of an interview with House Minority Leader Nancy Pelosi answering the question "Are you going to miss [Boehner]?" Pelosi stumbled through the answer, but Noah handled his big-time debut with considerably more ease.