Trump Addresses Nikki Haley's Jab at His Age
Nikki Haley's call for mental competency tests for candidates of a certain age is now being supported by former President Donald Trump.
Haley, who last Wednesday in South Carolina was the second Republican to officially kick off a 2024 presidential campaign (joining Trump), pushed for all political candidates age 75 years and older to undergo "mental competency tests" prior to running for office.
Trump, 76, and President Joe Biden, 80, would require such testing under Haley's proposal. Biden has not yet officially announced a reelection campaign.
"ANYBODY running for the Office of President of the United States should agree to take a full & complete Mental Competency Test simultaneously (or before!) with the announcement that he or she is running, & likewise, but to a somewhat lesser extent, agree to a test which would prove that you are physically capable of doing the job," Trump wrote Tuesday on Truth Social.
"Being an outstanding President requires great mental acuity & physical stamina. If you don't have these qualities or traits, it is likely you won't succeed," he added.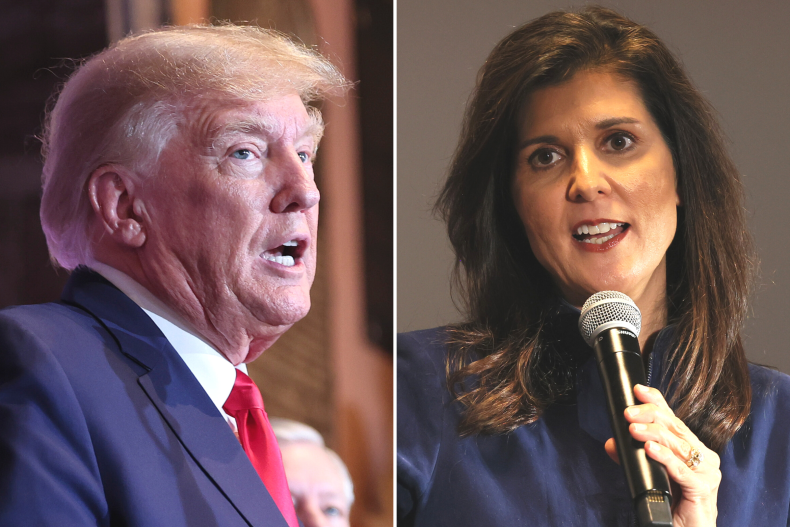 Other politicians, like Democratic Senator Bernie Sanders, have dismissed Haley's proposal as "absurd." Sanders said Sunday on CBS News' Face the Nation that "there are a lot of 40-year-olds out there who ain't particularly competent."
Last week, Biden underwent a physical performed by presidential physician Dr. Kevin O'Connor.
Biden "remains a healthy, vigorous, 80-year-old male, who is fit to successfully execute the [duties] of the Presidency, to include those as Chief Executive, Head of State and Commander in Chief," according to a summary issued by O'Connor based on a "comprehensive review" of Biden's medical history and "detailed physical examination" at Walter Reed National Military Medical Center in Bethesda, Maryland.
The physical was quickly deemed a "cover-up" by Republican Representative Ronny Jackson of Texas, the former White House doctor to former presidents Trump and Barack Obama. Jackson and Haley recommended cognitive tests in 2021.
"In the America I see, the permanent politician will finally retire," Haley said last week at her campaign launch. "We'll have term limits for Congress and mandatory mental competency tests for politicians over 75 years old. ... America is not past its prime, it's just that our politicians are past theirs."
Age is among voters' concerns in a hypothetical rematch between Biden and Trump. An NBC News poll published January 29 showed that about half of respondents said they were "very uncomfortable" with having Biden and Trump run in 2024. Only about three in 10 voters (28 percent) said that Biden has "the necessary mental and physical health to be president.
Kirk Randazzo, professor of political science and department chair at the University of South Carolina, told Newsweek that Trump's newest comments aren't a surprise.
"In his mind, he'll pass either of those tests with flying colors," Randazzo said. "Remember, when he was president, his physician stated that Trump was in top physical health [without providing evidence] and Trump reported out the results of his cognitive test, which he stated he aced.
"This is the infamous 'Person, woman, man, camera, TV' test. So, I strongly believe that Trump thinks he can pass any test administered to him, while Biden would likely fail [in Trump's opinion]."
Polling conducted on February 15 and 16 by the Harvard CAPS-Harris Poll showed that almost half of the GOP voter base supports Trump in 2024, doubling the support for potential nominee Florida Governor Ron DeSantis.
Newsweek reached out to the campaigns of Haley and Trump for comment.