Trump Adviser Rebukes Admin Official Who Broke With President on Hydroxychloroquine: He 'Hasn't Looked at the Data'
White House trade adviser Peter Navarro criticized another official within President Donald Trump's administration on Monday for comments he made about the effectiveness of hydroxychloroquine as a COVID-19 treatment over the weekend.
Admiral Brett Giroir, the assistant secretary for health at the U.S. Department of Health and Human Services (HHS), oversees COVID-19 testing for the Trump administration. During an interview with NBC News' Meet the Press on Sunday, Giroir said there was "no evidence" supporting claims that hydroxychloroquine helps patients who are fighting COVID-19.
"Right now, hydroxychloroquine, I can't recommend that," Giroir said.
When CNN's Jim Sciutto mentioned Giroir's comments on Monday and asked Navarro if the administration should focus on "proven treatments," Navarro denounced the testing czar's statements about the contested drug.
"I take exception to Giroir's analysis," Navarro said. "He hasn't looked at the data."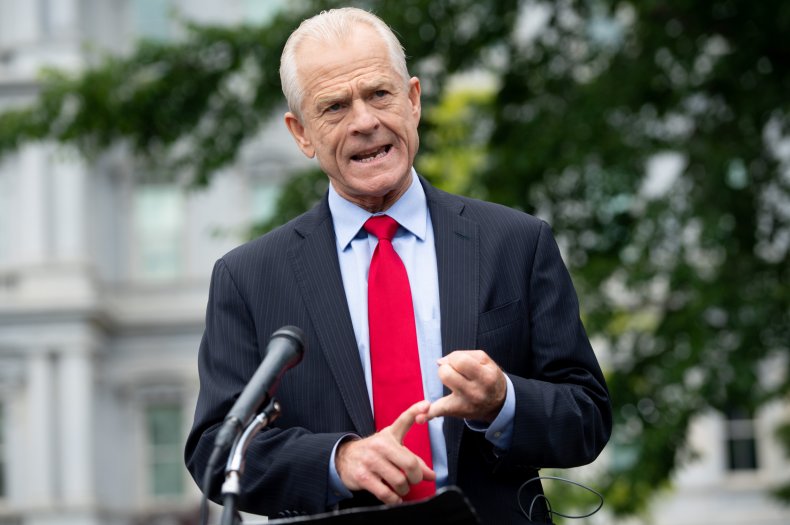 Navarro went on to reference a Yale epidemiologist who penned an article earlier this year voicing support for hydroxychloroquine and a study published last month by the Henry Ford Health System, which said the drug reduced death rates in COVID-19 patients "significantly."
"My view on this now is that doctors' opinions are a dime a dozen," Navarro said. "You've got some doctors who say it doesn't work, you've got some doctors who say it does."
Hydroxychloroquine is typically used to treat malaria and lupus, but the Food and Drug Administration approved it for emergency use to treat COVID-19 patients at the end of March. The FDA repealed that approval in June due in part to the side effects some patients experienced.
Even so, Trump has repeatedly endorsed the drug publicly and told reporters earlier this year he was taking it daily to protect himself from infection. Officials within Trump's administration and some congressional Republicans echoed the president's support for the drug over the last few months. After testing positive for the virus last week, Texas Rep. Louie Gohmert said he was taking the drug to treat his infection, and Navarro last week suggested half of the Americans who died from the virus would still be alive if doctors used hydroxychloroquine in their treatment.
According to Giroir, the drug "looked very promising" as a potential treatment in the early days of the country's battle with the pandemic, but further research indicated it wasn't effective.
Instead of relying on hydroxychloroquine, Giroir said Americans "need to move on from that and talk about what is effective." Giroir used face coverings as an example and said if 85 or 90 percent of Americans wear them, the results would be equivalent to shutting down the country.
Newsweek reached out to the HHS for comment but did not receive a response in time for publication.