Trump-Allied Lawyer John Eastman Decries 'Unlawful' Phone Search in Lawsuit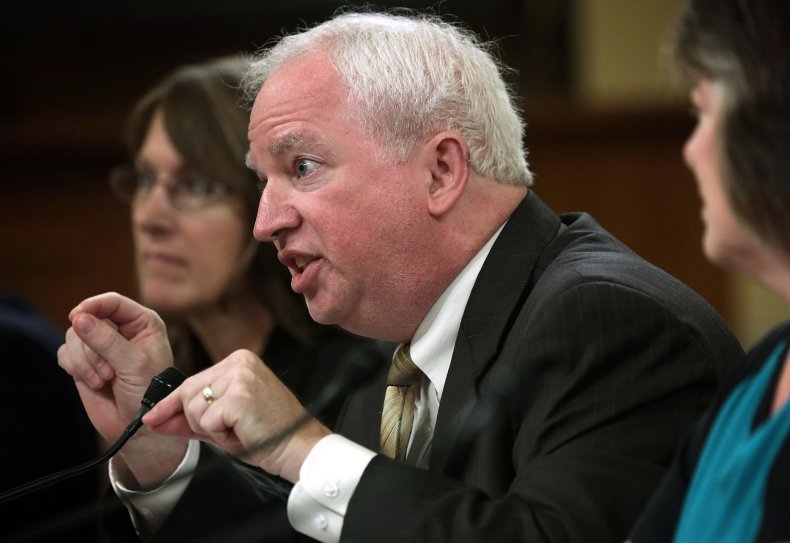 John Eastman, conservative former election lawyer to ex-President Donald Trump, is arguing against what he called the "unlawful" search and seizure of his phone by FBI agents last week.
Attorneys for Eastman filed a motion on Monday to retrieve the iPhone 12 Pro, force federal agents to erase any data they might have taken from it and block any further access to the device. The phone was seized June 22 when FBI agents served Eastman, who allegedly helped Trump map out a legal strategy to overturn his 2020 election loss, with a search warrant as he left a restaurant in New Mexico.
The warrant was issued June 16 by the U.S. District Court for the District of New Mexico. Eastman's motion argues that the warrant is "unlawful for at least three reasons." The warrant allegedly being issued "at the behest of" the Department of Justice's Office of the Inspector General (DOJ-OIG) was cited as the first reason. The document says agents intended to transport the phone to a DOJ-OIG forensic laboratory in Virginia following the seizure.
Additionally, Eastman's attorneys argued that the warrant was "overbroad" and provided "no probable cause link to any suspected criminal activity" in violation of the U.S. Constitution's Fourth Amendment. The motion claims an alleged violation of Eastman's Fifth Amendment rights due to agents forcing him to "testify" by unlocking the phone, while alleged violations of his First and Sixth Amendment rights are also cited.
"[Eastman] respectfully requests that this court order OIG to return [his] property—both the cell phone and 'all information' in it, as well as to destroy any information that has already been retrieved or copied from the device," the motion concludes. "[He] further requests that any access to the cell phone and its information be stayed until he has a full and fair opportunity to assert and protect his Constitutional rights and the privileged communications of his many clients."
The seizure of Eastman's phone came on the same day that FBI agents raided the home of former DOJ lawyer Jeffrey Clark, whom Trump allegedly had hoped to install as attorney general in order to reverse President Joe Biden's 2020 win.
Clark blasted the raid of his home as "highly politicized" during a Fox News appearance one day later, while saying that it was part of "a nationwide effort" that included "multiple states where multiple people were roughly simultaneously raided for their electronic devices."
Federal agents also reportedly served subpoenas on GOP officials in Nevada and Georgia at around the same time, while top Republicans in Michigan and Pennsylvania also said they had been interviewed by the FBI.
During a recent MSNBC interview, former Trump lawyer Michael Cohen, who served a three-year federal prison term for tax evasion, campaign finance violations and lying to Congress, predicted that the ex-president would soon throw Eastman and Clark "under the bus" to save his own skin.
"[Trump will say] anything that John Eastman or Jeffrey Clark did was done at their own volition. And then of course, destroy their lives," said Cohen. "Welcome to under the bus club."
Newsweek reached out to Eastman's attorney Charles Burnham for comment.