Trump Allies May Be Prosecuted as Accessories to 'Crimes': Glenn Kirschner
Former U.S. Army prosecutor Glenn Kirschner floated the idea that allies of former President Donald Trump could be prosecuted as "accessories" for alleged "crimes" committed by the former president.
Kirschner, an attorney who now works as an analyst for MSNBC and NBC News, has previously called on the Justice Department to indict Trump as well as some of his prominent allies over the events of January 6, 2021. The prominent lawyer released a new video on YouTube Saturday, contending that Trump allies—including former White House chief of staff Mark Meadows, former White House strategist Steve Bannon, former Trump administration trade adviser Peter Navarro and former White House deputy chief of staff Dan Scavino—are part of a "cover-up club."
"When they are referred to the Department of Justice for prosecution, will they be prosecuted?" Kirschner asked in the new video. "For their crimes against Congress, contempt of Congress," he said. The legal analyst was referring to the four men's unwillingness to cooperate with the House select committee investigating the pro-Trump January 6 attack against the U.S. Capitol.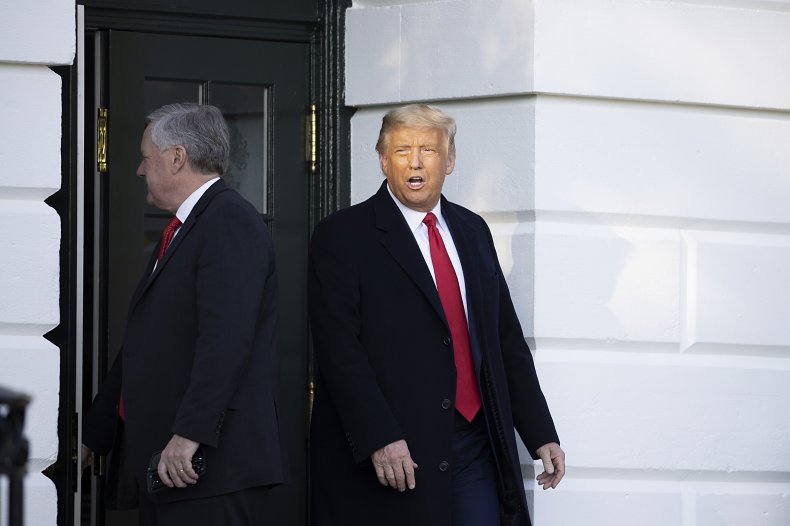 "Will they be considered for prosecution as accessories after the fact to Donald Trump's crimes?" the former Army prosecutor continued to ask. "For covering up Donald Trump's crimes, for assisting Donald Trump in getting away with the crimes he committed? Because, you know, there's a federal law for that."
The attorney went on to read 18 U.S. Code § 3 - Accessory after the fact, which states: "Whoever, knowing that an offense against the United States has been committed, receives, relieves, comforts or assists the offender in order to hinder or prevent his apprehension, trial or punishment, is an accessory after the fact."
"Assisting Donald Trump in getting away with his crimes is precisely what people like Bannon and Meadows and Navarro and Scavino continue to do," the legal analyst assessed.
Hundreds of Trump's supporters violently stormed the U.S. Capitol on January 6 in an apparent effort to disrupt the formal certification of President Joe Biden's Electoral College victory. That assault came shortly after Trump urged his followers at a nearby rally to walk to the federal legislative building and "fight like hell" to save their country. The then-president had falsely claimed for months that the 2020 election results were fraudulent.
Although Trump and many of his Republican allies continue to claim that the election was "rigged" or "stolen," evidence has not emerged corroborating the allegation. Dozens of election challenge lawsuits brought by the former president and his supporters failed in state and federal courts. Even Trump-appointed judges dismissed the cases. Audits and recounts across the country—including in states where the election was overseen by pro-Trump Republicans—have consistently reaffirmed Biden's win.
Former Attorney General William Barr, who was widely viewed as one of Trump's most loyal Cabinet members, has said repeatedly that there is "no evidence" to support claims of widespread voter fraud being behind Trump's loss. Barr wrote in his memoir published in March that he told the former president directly to his face that the claims were "bulls**t."
Trump insists that he did nothing wrong in connection with January 6. He has repeatedly attacked the House select committee investigating the attack and his efforts to overturn the 2020 election results. The former president has dismissed the probe as a "witch hunt," saying it is purely political and partisan.
Newsweek reached out to Bannon, Meadows, Navarro and Scavino for comment.