GOP Voter Sentenced for Casting Dead Mom's Ballot, Said Election Not 'Fair'
An Arizona judge sentenced a registered Republican to two years of felony probation after she pleaded guilty to voter fraud in the 2020 election.
Former President Donald Trump and many other Republican allies continue to falsely claim that President Joe Biden only won the last presidential election due to widespread voter fraud. Despite their continued allegations, no evidence has emerged corroborating the claims. To the contrary, dozens of election challenge lawsuits failed in state and federal courts—with even Trump-appointed judges dismissing the cases.
Tracey Kay McKee, 64, was sentenced Friday by Maricopa County Superior Court Judge Margaret LaBianca after she pleaded guilty to the voter fraud charge in January, The Arizona Republic reported. McKee signed and cast an early voting ballot on behalf of her deceased mother, Mary Arendt, who was also a registered Republican.
Arendt died on October 5, 2020, just days before early mail-in ballots were sent out to voters, according to the Phoenix-based newspaper. In McKee's trial, the prosecutor played a clip of her denying her wrongdoing to investigators.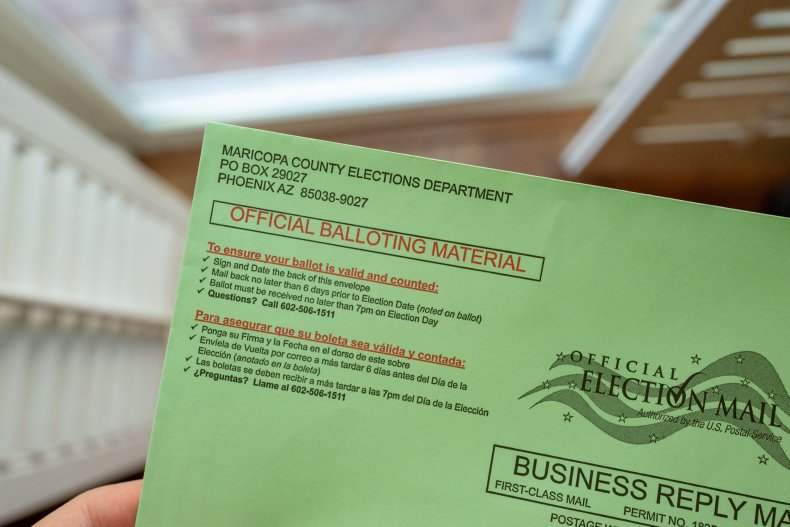 "The only way to prevent voter fraud is to physically go in and punch a ballot," the GOP voter told the investigator in the recording, the newspaper reported. "I mean, voter fraud is going to be prevalent as long as there's mail-in voting, for sure. I mean, there's no way to ensure a fair election."
"And I don't believe that this was a fair election," she added. "I do believe there was a lot of voter fraud."
Arizona's KTVK 3TV and KPHO CBS 5 News reported that prosecutors had called for 30 days of jail. However, the judge sentenced McKee to just probation instead. Her lawyer contended that jail would be too harsh a penalty. McKee cried as she apologized in her court hearing.
"Your Honor, I would like to apologize," McKee told LaBianca, The Arizona Republic reported. "I don't want to make the excuse for my behavior. What I did was wrong and I'm prepared to accept the consequences handed down by the court." It's unclear whether McKee cast a ballot for Trump, as she was not asked who she voted for.
Newsweek reached out to McKee's attorney for further comment.
Trump continues to contend that the 2020 election was "rigged" or "stolen" in favor of Biden. In addition to more than 60 failed legal challenges, audits and recounts across the country—including in states where the election was overseen by pro-Trump Republicans—have consistently reaffirmed Biden's win.
Former Attorney General William Barr, who was widely viewed as one of Trump's most loyal Cabinet members, has said repeatedly that there is "no evidence" to support claims of widespread voter fraud being behind Trump's loss. Barr wrote in his memoir published in March that he told the former president directly to his face that the claims were "bulls**t."
In depth studies of voter fraud in U.S. elections have shown that instances are rare. One such report by the Brennan Center for Justice at New York University School of Law "found incident rates between 0.0003 percent and 0.0025 percent." The research concluded that given "this tiny incident rate for voter impersonation fraud, it is more likely" that a person "will be struck by lightning than that he will impersonate another voter at the polls."
Cases like that of McKee may often draw national attention however, giving Americans the inaccurate impression that incidents of voter fraud are more common than they actually are. Trump, along with many GOP lawmakers and activists, also continue to raise alarms that U.S. elections are insecure, despite a lack of evidence to support the allegations.
Notably, Trump's former White House chief of staff Mark Meadows is currently under investigation for alleged voter fraud in the 2020 election.
The New Yorker first reported on March 6 that Meadows appeared to have registered to vote at a mobile home in Scaly Mountain, North Carolina—a home where he allegedly never lived. He registered to vote at the home in September of 2020 in order to vote in the state during the last presidential election, according to the report. Meadows previously represented North Carolina's 11th District in Congress from January of 2013 to March of 2020.
Later in March, Raleigh-based television station WRAL first reported that the state attorney general's office asked the North Carolina Bureau of Investigation to probe the matter. Then earlier this month, the Asheville Citizen Times reported that Meadows had been removed from the state's voter rolls as the investigation moves forward.
Under federal law, it is a crime to provide false information when a citizen registers to vote. Meadows previously owned a home in Sapphire, North Carolina, but sold that property just before he took on the role of White House chief of staff in March 2020, according to The New Yorker. He and his wife reportedly also had a condo in Virginia, close to the nation's capital. The Washington Post reported on April 22 that Meadows, until this month, was simultaneously registered to vote in three different states: North Carolina, Virginia and South Carolina.
Newsweek previously reached out to Meadows for comment.