Trump and North Korea: Majority of U.S. Not Confident President Can Handle Nuclear Crisis With Kim Jong Un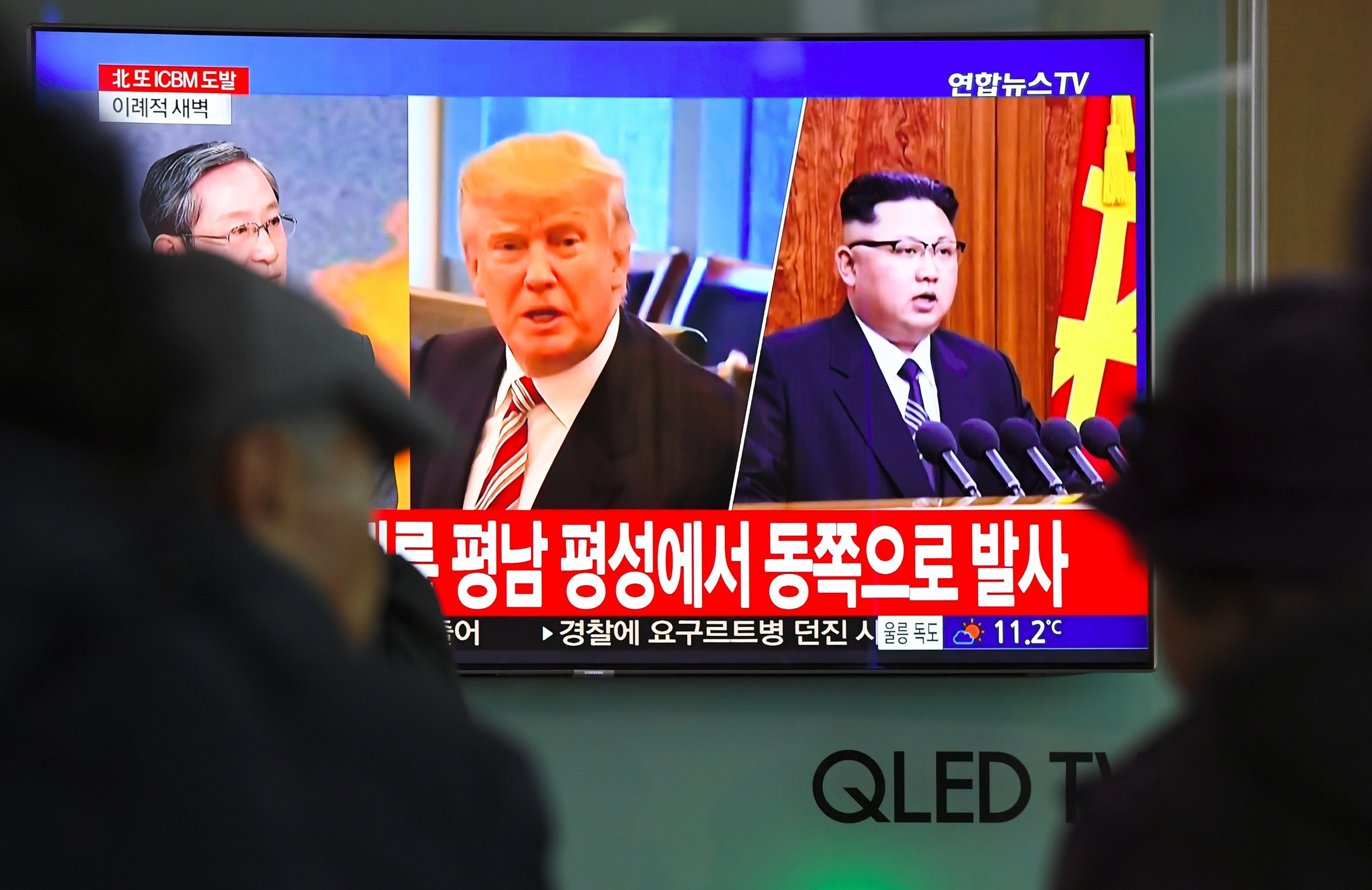 America thinks President Donald Trump is in over his head when it comes to dealing with North Korean leader Kim Jong Un.
The vast majority of Americans—61 percent—are not confident in Trump's ability to handle the situation with North Korea, according to a new Quinnipiac poll. Overall, just 36 percent of U.S. voters said they're feeling confident about the president in this regard.
The poll also found most Americans—59 percent to 27 percent—believe the U.S. will be able to resolve its difference with the rogue state diplomatically, as opposed to the use of military force. Along these lines, the poll showed a majority of voters—66 percent to 26 percent—do not believe a nuclear conflict with North Korea is likely in the near future.
The survey of 1,106 voters nationwide took place on January 5-9, concluding on the same day North and South Korea held talks for the first time in two years. As a result of the dialogue, North Korea is heading to next month's Winter Olympics in Pyeongchang. The poll also came not long after Trump was widely criticized for his "nuclear button" tweet directed at Kim on January 2: "North Korean Leader Kim Jong Un just stated that the 'Nuclear Button is on his desk at all times.' Will someone from his depleted and food starved regime please inform him that I too have a Nuclear Button, but it is a much bigger & more powerful one than his, and my Button works!"
Democratic Representative Ted Lieu of California recently told Newsweek Trump's tweet was "highly stupid" and increased "the chances of North Korea making a fatal miscalculation and using nuclear weapons first."
Trump engaged in a heated war of words with Kim over the course of 2017, threatening his country with "fire and fury" and giving him the nickname "Rocket Man." Kim has responded in kind, at one point referring to Trump as a "dotard," an insulting term for an old, senile person.
This is why recent comments from Trump regarding the nature of his relationship with Kim from an interview with The Wall Street Journal are quite baffling. "I probably have a very good relationship with Kim Jong Un," Trump said. "I have relationships with people. I think you people are surprised." But when asked if he'd talked to Kim, Trump refused to comment. The president recently said he'd be open to communicating with the North Korean leader, who he's referred to as a "madman" and "short and fat," under the right conditions.
Meanwhile, on Thursday, Russian President Vladimir Putin said Kim has outwitted Trump in the nuclear standoff between the U.S. and North Korea.