With just seven days to go until Election Day, President Donald Trump's approval rating sits at a similar level to the lows he experienced during his impeachment.
Trailing in national polling against Democratic nominee Joe Biden, and behind in the key swing states, Trump also faces the disapproval of a majority of voters asked their opinion of his presidency.
According to FiveThirtyEight's tracker, which is a weighted average of polls, 53 percent of likely or registered voters said they disapprove of the job the Republican incumbent is doing compared to 43.1 percent who approve.
This approval rating is around the same as it was at a number of points during his impeachment hearing—and even lower at certain points.
On the day the House impeached Trump, which was December 18 last year, his approval sat at 44.6 percent, according to the FiveThirtyEight tracker.
It sunk to a low of 42.7 percent throughout the process on January 8 and then rose to 44.1 percent on the eve of his acquittal by the Senate, which occurred on February 5, and was at the same level the day after.
Since then, his approval rating sunk to a low of 40.7 percent at the start of July, rising by around two points since then. Low points came amid the coronavirus pandemic, as separate polling showed dissatisfaction among Americans with his handling of the crisis.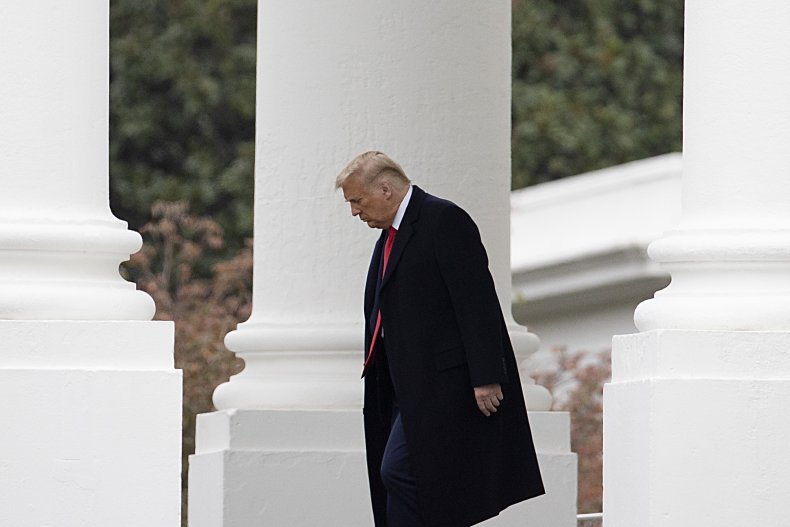 In recent polling conducted by Morning Consult, Trump's approval rating of 40 percent among the 1,848 registered voters asked on October 23 is slightly below the average.
Ipsos polling, carried out October 20 to 22 among 1,214 registered voters, also had Trump slightly below his average at 42 percent approving.
However, Trump's approval rating close to the election is above that of recent one-term presidents at similar points in the race, though it is low in comparison to those who have won second terms in recent years.
Other polling has seen Trump's approval rating among men, seniors and independents dip. His support from men and older voters assisted his victory last time out.
Newsweek has contacted the Trump campaign for comment on the president's approval rating.
As well as suffering in his approval ratings, the president lags behind Biden in national polling by around 9.2 percent according to FiveThirtyEight's election tracker.
He is also lagging in several key states as November 3 approaches. However, Trump and his campaign have long disputed the poll numbers.
He has branded polling as "fake" while touting the supposed enthusiasm behind his campaign. On Monday, Trump tweeted: "We are winning big on the voting numbers. Get out and Vote. Bigger than 2016!!!"
He did not state what specific numbers he was referring to.