Trump's Attacks on the LGBT Community in 2017 Contradict His Campaign Promises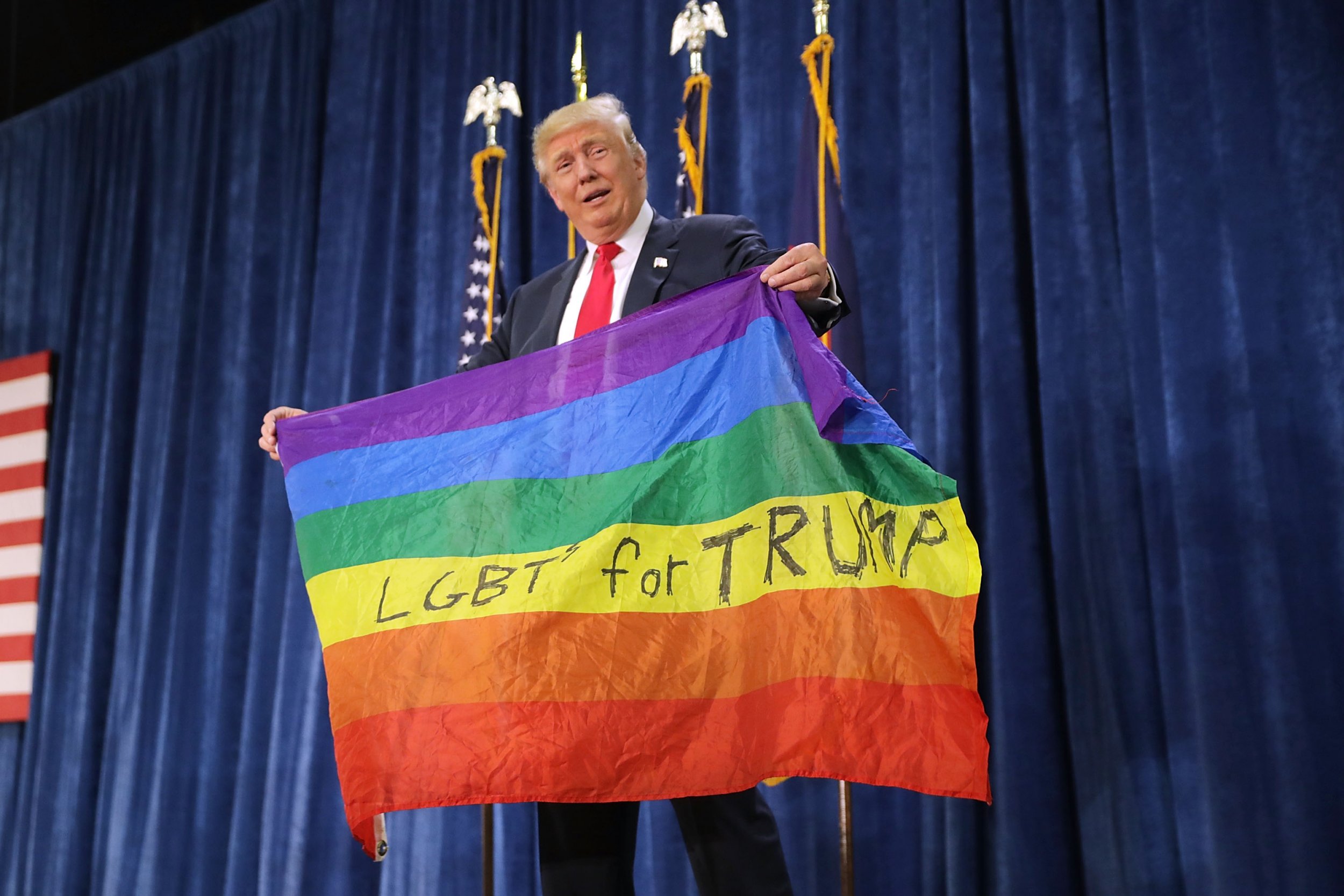 President Donald Trump and his administration's policies and statements in 2017 have taken aim at the LGBT community despite his campaign promises to "fight" for the rights and beliefs of LGBT individuals.
During his 2016 presidential campaign, then-Republican candidate Donald Trump boasted his advocacy for LGBT Americans. "Thank you to the LGBT community! I will fight for you while Hillary brings in more people that will threaten your freedoms and beliefs," he wrote in a June, 2016 tweet.
A year later, in June, 2017 six members of the Presidential Advisory Council on HIV/AIDS (PACHA), announced their resignations in an open letter published by Newsweek, explaining how the Trump administration was pushing policies that would be harmful to individuals with HIV and AIDS. PACHA, started in 1995, was a group of experts and advocates that has worked with the president to provide recommendations to the Secretary of Health and Human Services.
Trump fired the remaining member of the council last Wednesday.
In July, 2017 President Donald Trump back peddled on his commitment to the LGBT community when he announced a ban on transgender people joining the U.S. military via Twitter. The president said he had made the decision after consulting with generals and military experts. On Friday, the Trump administration quietly said it would abandon its bid to stop transgender people from joining the military come January 2018.
After the June, 2016 Pulse Nightclub shooting, then-candidate Trump stood in solidarity with the LGBT community, saying that his fight against radical Islamic terrorism would protect the LGBT community. 49 people were killed and dozens were injured during the deadly Orlando shooting. Trump did not mention the LGBT community when he tweeted about the shooting anniversary one year later. "We will NEVER FORGET the victims who lost their lives one year ago today in the horrific #PulseNightClub shooting. #OrlandoUnitedDay," he tweeted on June 14, 2017
Members of the Trump administration have also worked against the rights of LGBT Americans in 2017, namely Attorney General Jeff Sessions. In October, Sessions wrote a memo to the Justice Department saying that courts would no longer recognize Title VII as protecting transgender individuals against workplace discrimination.
"Title VII's prohibition on sex discrimination encompasses discrimination between men and women but does not encompass discrimination based on gender identity per se, including transgender status," Sessions wrote in the October memo, according to The Hill.
On December 1, World AIDS Day, Trump again snubbed the LGBT community by ignoring them in a White House statement that focused his support on women and girls in African countries who suffer from the deadly virus. While the White House prayed for those living with HIV and AIDS in sub-Saharan Africa, Human Rights Campaign data said that 55 percent of about 1.2 million Americans living with HIV in the United States were gay men.
When Trump signed the GOP tax bill into law on December 22, the LGBT community took another hit. The bill will cut funding for social programs including healthcare, food stamps, housing, and homeless support efforts.
"This bill is a disaster for everyone really, but specifically for LGBT [people]," senior staff attorney at the National Center for Lesbian Rights, Christopher Stoll, told Newsweek in December. "It will result in deep cuts in programs that LGBT people depend on."