Trump-Backed Vernon Jones' Chances of Beating Mike Collins in Georgia Race
Former Georgia state Representative Vernon Jones is set to face off against Mike Collins in a June runoff to determine who will be the Republican candidate in the 10th Congressional District this November.
Jones, a former Democrat, has been endorsed by former President Donald Trump. Meanwhile, Collins, the son of former Georgia Representative Mac Collins, voiced support for Trump when he launched his campaign last year, attacking the GOP establishment and asserting he'd be "a great teammate for Congresswoman Marjorie Taylor Greene," a Georgia Republican.
In Tuesday's GOP primary, Jones and Collins both came out on top in a crowded field of Republican candidates, but neither came close to securing more than 50 percent of the vote. Under Georgia law, candidates must receive a majority of votes to win, not just the most votes, as is the case in many other states.
Despite Trump's backing, Jones came in second place, with just under 22 percent of GOP voters casting their ballots for him. Collins was narrowly ahead, with about 25.5 percent.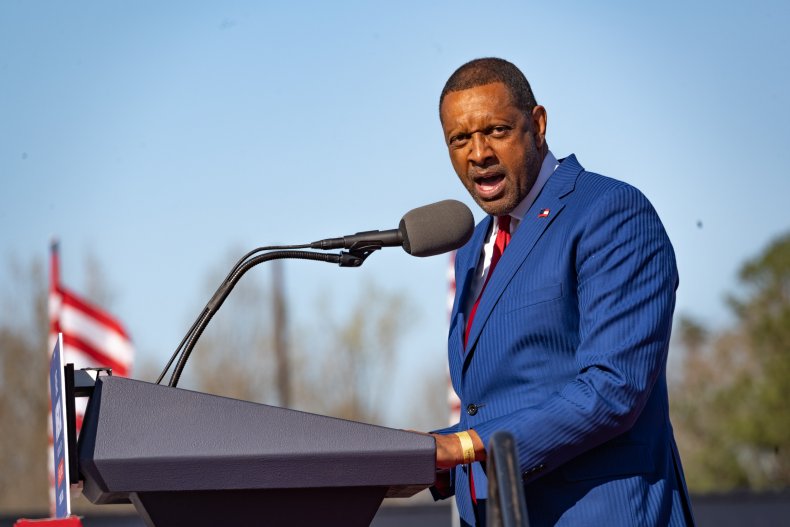 Public polls ahead of the primary were few and far between, but one conducted by Remington Research Group from April 10 to 11 found Jones in the lead following Trump's endorsement, Breitbart News reported. Jones received the backing of 20 percent of respondents, compared with 16 percent who supported Collins. That survey of 703 likely GOP primary voters had a margin of error of plus or minus 3.7 percent.
Polling carried out at the beginning of February, just before Trump's endorsement of Jones, showed Collins was the clear front-runner. That survey, conducted by Trafalgar Group from February 1 to 3, showed Collins with the backing of 35.6 percent of likely GOP voters. Paul Broun, who was in fourth place after Tuesday's voting, was in second place in that poll, at only 11.1 percent. The survey of 754 respondents had a margin of error of plus or minus 3.56 percent.
Although Jones gained Trump's backing, some Republicans in Georgia are skeptical about the former Democrat. Jones announced on January 6, 2021, at the now infamous rally ahead of the U.S. Capitol riot that he had officially become a Republican. Before that, he had endorsed Trump in the 2020 election.
"Today, I'm coming home, I'm coming home to the Grand Old Party. I am officially joining the Republican Party," Jones declared at the Washington, D.C., rally shortly before hundreds of Trump's supporters stormed the federal building.
On Wednesday, Jones touted his candidacy ahead of the runoff against Collins.
"Last night, our campaign advanced to a runoff that the media and RINO Right said was impossible," he tweeted. "For MONTHS, they sought to portray me as a racist, a bigot, and everything else. They failed."
Collins tweeted as well, writing: "THANK YOU GA-10! Mark your calendar for June 21st. Game on!" In a statement, he said he was "honored and humbled" to come in first place in the initial primary results.
Whether Jones can ultimately win against Collins in the June 21 runoff is not certain. Trump's endorsement continues to be sought by Republican candidates across the country, but the former president's influence appeared to falter significantly in Georgia on Tuesday.
Trump's preferred candidates for governor and secretary of state lost by double-digit margins in that state. GOP Governor Brian Kemp won nearly three-quarters of the vote in his primary, compared with just under 22 percent for his Trump-backed opponent, former Senator David Perdue.
Similarly, Republican Secretary of State Brad Raffensperger garnered more than 52 percent in the voting, while his Trump-backed rival, Representative Jody Hice, received 33.4 percent.