Trump, Grasping for Effective Attack, Lands on 'Corrupt Joe Biden'
As presumptive Democratic nominee Joe Biden rides high in the polls, President Donald Trump, under mounting pressure over his controversial responses to multiple crises, has struggled to land blows on his 2020 election rival. Nothing appears to be sticking.
Trump's efforts to taint Biden as a far-left radical in cahoots with the socialists cancel out his criticism of the former vice president as just another veteran politician from the Washington political establishment, also known as "the swamp."
The president's ongoing use of "Sleepy Joe Biden" about Biden's gaffes and verbal stumbles is blunted by his own issues with articulacy, accuracy, and eccentricity, such as the recent fuss about the way he awkwardly drank from a glass of water.
On China, Trump's accusation that Biden is weak was undercut by John Bolton, his former national security adviser, who alleged in a new book that the president backed Beijing's policy of putting Muslims into reeducation camps and asked President Xi Jinping to help him win re-election by purchasing more products from farmers in swing states. Trump denies both claims.
Biden leads the incumbent nationally, across key swing states, and on almost all issues, barring the economy, where Trump generally polls higher, though the margin is shrinking. Facing a landslide loss unless something changes, Trump is grasping for an effective political attack.
And he might have found one. Seven times in four days, President Donald Trump has newly referred to "Corrupt Joe Biden" on Twitter. The president may be making good on a promise back in March—to bring up the Biden-Burisma controversy during the campaign.
"That will be a major issue in the campaign. I will bring that up all the time because I don't see any way out. I don't see any way out for them, I don't see how they can answer those questions," Trump told Fox News host Sean Hannity during an interview.
Trump and some of those around him, including his personal lawyer Rudy Giuliani, have pushed conspiracy theories about Joe Biden and his son Hunter Biden, specifically regarding the latter's lucrative work on the board of Burisma, a Ukrainian gas company, between 2014 and 2018.
Those theories, which claim Joe Biden used his position as vice president to force out a Ukrainian prosecutor investigating Burisma for corruption to protect his son, have long been debunked.
But aside from the conspiracies, Hunter Biden's role on the board—despite apparently having no previous experience in the gas industry or Ukraine—raised a number of legitimate ethical concerns about his proximity to the White House, conflicts of interest, and nepotism.
The president has repeatedly called the Obama administration corrupt, based on a number of controversies, such as Hillary Clinton's emails, the "Fast and Furious" scandal, and what he calls the "Russia hoax."
This buffet of corruption claims rarely, if ever, cuts through to swing voters, and are mostly red meat for diehard Trump supporters. But there is evidence that one allegation of corruption hurled at Biden does hurt him: Burisma.
Polling from when the Burisma issue was hot, prior to and during the Trump impeachment over the president's alleged abuse of power towards Ukraine, suggests it could be a damaging problem for Biden, who has repeatedly denied any wrongdoing.
A Monmouth University poll of 1,017 registered voters in late September last year found that 43 percent believed Trump's unsubstantiated claim that Biden put pressure on Ukrainian officials so they did not investigate his son's business dealings there.
Crucially, the figure was 39 percent among independents. Patrick Murray, director of the Monmouth University Polling Institute, said at the time the results were "a warning sign" for the Biden campaign. "How the candidate fights back against this charge will be crucial to his argument of electability," Murray said.
Last October, YouGov pollster Kathy Frankovic noted that Trump's Ukraine attacks on Biden were hurting the latter's ratings and political standing, knocking him off the top spot among likely Democratic primary voters at the time.
And in February, a POLITICO/Morning Consult poll of 1,996 registered voters also found that many were uneasy about Hunter Biden's business activities. More than half (52 percent) of all voters thought his Burisma job was inappropriate and 57 percent thought it a scandal.
Broken down, 54 percent of independent voters, whose support is essential to winning elections, viewed Hunter Biden's dealings as inappropriate. And 57 percent said it was a scandal, with 28 percent calling it a major scandal and 27 percent a minor one.
There are still months to run before the election and Trump is in a particularly weak position for an incumbent president seeking reelection.
America is facing big problems right now—the pandemic, a deep recession, and protests against racial injustice to name the three foremost—which will likely eclipse in voters' minds any worries they have about Hunter Biden's business dealings.
But races tend to tighten as polling day nears. Should anything resembling a normal campaign take shape over the summer and into the fall, if the chaos settles, the Burisma problem could become a headache for the Biden campaign.
Still, even if Trump deploys it, the president must also overcome his own deep problems, not least a negative approval rating that is in steady decline. Trump's volleys at Biden will not pass without a response, and there is plenty of ammunition for the Democrats to use.
In that arsenal is Trump's own actions in Ukraine that led to his impeachment. And voters are clear on that issue too—Trump was in the wrong. Polling shows majorities of them believe the president acted improperly.
"Bottom line is the story didn't stick," Monmouth's Murray told Newsweek about Trump's previous attacks on Biden over Burisma.
"It was swamped by the impeachment proceedings. It could return as part of a multi-pronged effort to undermine Biden's acceptability to the small persuadable group of voters who have swung to the Democrat and could potentially swing back.
"It's not likely to work as a line of attack on its own though, because this one charge pales in comparison to these voters' assessment of Trump's performance."
The Trump and Biden campaigns have been asked for comment.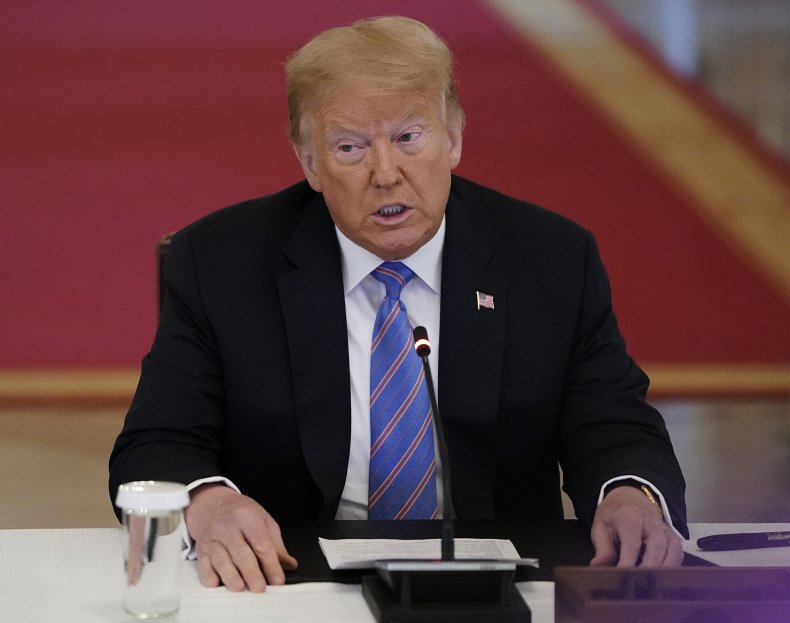 This article was updated with a comment by Patrick Murray.