Trump's Plan to Stop Drug Cartels Comes Straight out of Tom Clancy Book
Donald Trump frequently discussed the idea of bombing drug labs in Mexico while president in order to stop the illegal drug trade, according to a new book.
New York Times reporter Maggie Haberman's new book Confidence Man, obtained by The Washington Post ahead of its October release, described how the former president discussed launching bombs at Mexican drug labs on the advice of one of his public health officials.
Assistant Secretary for Health Brett Giroir, a four-star admiral in the U.S. Public Health Service Commissioned Corps, told Trump that putting "lead to target" and bombing Mexico would stop the flow of drugs across the border.
Haberman suggests Trump listened to his health adviser to launch an attack on Mexico as Giroir often wore his military dress uniform for meetings with Trump, which "confused" the former president.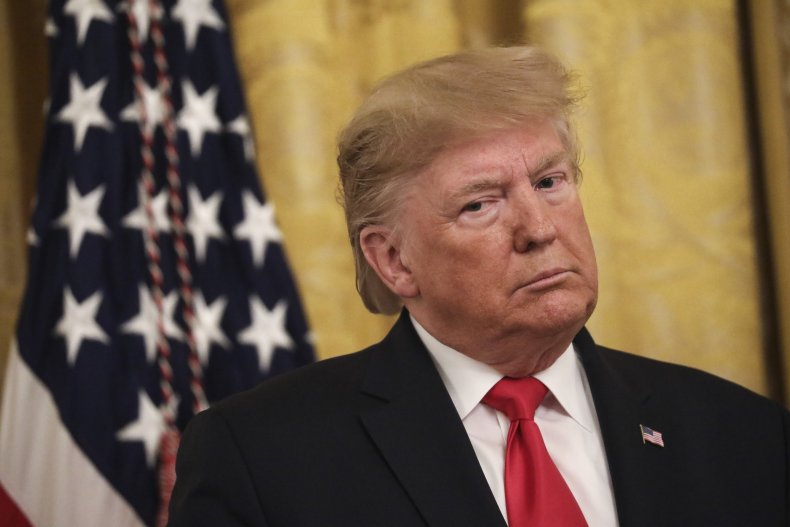 "He raised it several times, eventually asking a stunned Defense Secretary Mark Esper whether the United States could indeed bomb the labs," Haberman wrote. "The response from White House aides was not to try to change Trump's view, but to consider asking Giroir not to wear his uniform to the Oval Office anymore."
If the idea that the U.S. would bomb a foreign country in order to stop the drug trade sound like something which would come out of a Hollywood movie or book, that's because it was.
In Tom Clancy's 1989 political thriller Clear and Present Danger, the U.S. government launches a covert operation known as Operation Reciprocity to destroy drug cartels in Colombia, which included using a smart bomb to target the home of a known drug kingpin during a meeting with several other cartel members.
The bombing of the mansion was included in the 1994 movie adaptation of the book, starring Harrison Ford as the main character Jack Ryan the deputy director of the C.I.A.
The title of the book and film derives from the section of U.S. law that prohibits the use of American military power except in situations where there is "a clear and present danger to the national security of the United States."
This is not the first time that claims Trump wanted to bomb Mexico to target drug labs while in the White House have emerged.
In his book released earlier this year, entitled, A Sacred Oath: Memoirs of a Defense Secretary in Extraordinary Times, Esper said Trump weighed up the possibility of firing missiles into Mexico to target drug cartels and that the former president believed "no one would know it was us" and therefore could keep it a secret.
"We could just shoot some Patriot missiles and take out the labs, quietly," Trump said, according to Esper's book.
In a statement to CBS in May, Trump described Esper, whom he fired in November 2020, as being "weak and totally ineffective" and because of it "I had to run the military."
When asked if it was true that he was open to firing missiles into Mexico to target drug cartels, Trump said: "No comment."
Newsweek has reached out to Trump for further comment.