Trump Calls on Arizona Governor Ducey to Provide Security for 'Patriots' Conducting Election Audit
Former President Donald Trump demanded that Arizona Governor Doug Ducey provide "large-scale security" for the state's Senate Republicans who are carrying out a hand recount of all the 2.1 million ballots from Maricopa County.
Despite election officials already carrying out two audits of the ballots, Trump and Republicans continue to claim without evidence that President Joe Biden's victory by about 10,000 votes in Arizona was fraudulent. GOP state senators in Arizona have enlisted a private Florida-based company to execute the recount. Maricopa County is home to the bulk of Arizona's voters, and Biden carried the county.
"The Republican Party is demanding that Governor Ducey of Arizona immediately provide large-scale security for the brave American Patriots doing the Forensic Audit of the 2020 Presidential Election," Trump said in an early Saturday morning statement. "Governor Ducey will be fully responsible for the safety of those involved. State police or National Guard must immediately be sent out for protection."
The former president said that Democrats "do not want to have this information revealed, and they will do anything to stop it. Governor Ducey must finally act!"
It's unclear what Trump believes Democrats or others would attempt to do that would require police or the National Guard to intervene. Security concerns have been raised about the audit, but these are related to a lack of adequate security for the election equipment and ballots being counted. Democrats have said that Republicans are not doing enough to ensure the equipment and ballots are not compromised.
"I think the fact of the matter is that there have been numerous legitimate audits that have shown that there were no discrepancies," state Senator Rebecca Rios, the leading Democrat in the Arizona Senate, told local news site Arizona Family, part of local CBS News affiliate KTVK 3TV and KPHO 5.
"I don't know how people walk away feeling comfortable about what is going on. We have asked repeatedly, 'What is the plan? What is the plan for security?'" Rios said.
Trump loyalist Representative Marjorie Taylor Greene, a Georgia Republican, shared Trump's statement on Saturday, tweeting that "people have every right to demand transparency in elections and every single part of the government!" She added that "if there is nothing to hide, why worry about audits?"
Ducey, a Republican, certified Biden's victory and the election results on November 30, drawing immediate backlash from Trump, who claimed that Ducey had "betrayed the people of Arizona." But Clint Hickman, a Republican who chairs the Maricopa County Board of Supervisors, asserted in mid-November that there is "no evidence of fraud or misconduct or malfunction."
Trump and his allies have repeatedly pushed lies and conspiracy theories about the 2020 election. They have made a range of bizarre claims, saying that Democrats and Biden conspired with foreign nations, such as China and Venezuela, to "rig" or "steal" the election. But they have not provided evidence to substantiate the extraordinary allegations.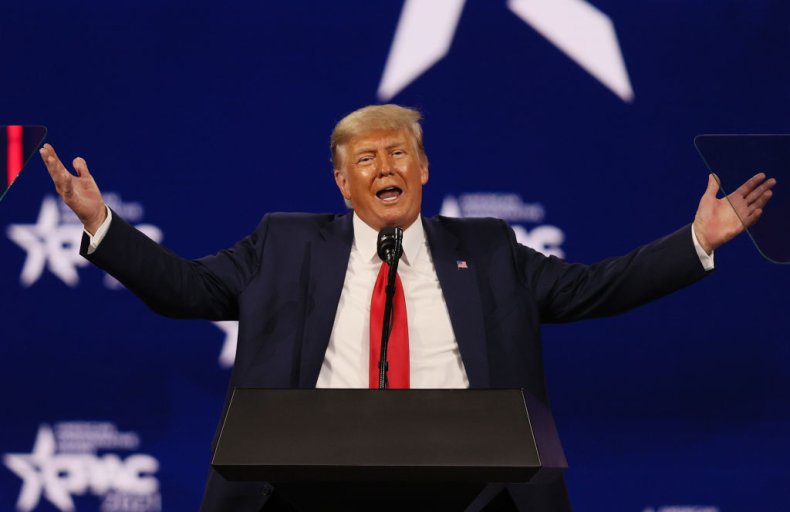 Dozens of election challenges across the country brought by Trump and his allies have been rejected or dismissed in state and federal courts. Even judges appointed by Trump and other Republicans have pointed out that lawyers for the former president and his supporters did not provide evidence to support their allegations. Numerous audits and recounts in key battlegrounds states—like Arizona—have reaffirmed Biden's victory.
In mid-November, the Cybersecurity and Infrastructure Security Agency at the Department of Homeland Security released a statement describing the 2020 election as "the most secure in American history." The agency, which was led by a Trump appointee, added that "there is no evidence that any voting system deleted or lost votes, changed votes, or was in any way compromised."
Former U.S. Attorney General William Barr, who was widely viewed as one of Trump's most loyal Cabinet members, said at the beginning of December that there was "no evidence" of widespread fraud that would change the election's outcome.
Newsweek reached out to Ducey's press secretary for comment, but did not immediately receive a response.