Trump Campaign Says Election 'Not Over' as Biden Takes Lead in Pennsylvania, Georgia
President Donald Trump's campaign is defiantly insisting the race for the White House is not over, despite Democratic presidential candidate Joe Biden inching closer to an Electoral College victory with leads in Pennsylvania and Georgia.
Matt Morgan, the Trump 2020 campaign's general counsel, said in a statement that projections of a Biden victory are based upon "states that are far from final," taking issue specifically with Georgia, Pennsylvania, Nevada, and Arizona.
"Biden is relying on these states for his phony claim on the White House, but once the election is final, President Trump will be re-elected," Morgan said.
Outlining the issues in each state further, Morgan said:
Georgia is "headed for a recount," campaign confident of "improperly harvested" ballots
"Many irregularities in Pennsylvania," volunteer legal observers prevented "meaningful access to vote-counting locations"
In Nevada, "thousands of improperly cast ballots"
Trump "on course to win Arizona," branded earlier calls of the state "irresponsible"
Newsweek has asked the Trump campaign for further detail to back up points within the statement.
Trump previously prematurely declared himself to be the winner, prompting a backlash from rivals as well as some supporters, and has insisted he will be if only votes he deems to have been cast legally are accounted for. He has said the dispute should be escalated to the U.S. Supreme Court.
Trump has also, without evidence, suggested the election is being stolen by Democrats. While some Republicans have backed aspects of his rhetoric, many have sidestepped or condemned his fraud claims. The validity of his remarks has been in dispute, with several news networks cutting away during live broadcasts of a press conference he held on Thursday evening.
Biden has stopped short of outright declaring victory, though has spoken of being confident that he will win once all the votes are in.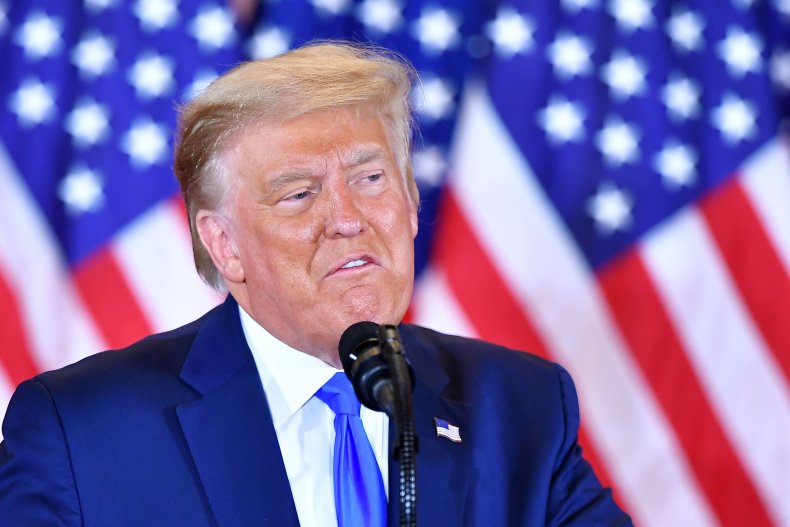 "We have no doubt that when the count is finished, Senator Harris and I will be declared the winners," Biden said previously. "So, I ask everyone to stay calm—all the people to stay calm. The process is working. The count is being completed and we'll know very soon."
While Trump has taken issue with those four specific states, based on calls elsewhere Biden would not necessarily need to win all of them to achieve an Electoral College victory.
At present, The Associated Press puts him on 264 Electoral College votes without Nevada or Georgia.
If Arizona were taken away, that would take him to 253. A win in just Pennsylvania, if those calls were correct, would take him to 273, securing the majority needed for victory.
As well as being closer to Electoral College victory, Biden is also ahead in the popular vote having secured more votes than any candidate in preceding races, according to a tally from AP.
Trump has also broken records, with his haul being only second to that of Biden's this year in terms of all-time rankings.
This has led to speculation of a 2024 run from Trump if he were to be defeated, with polling also indicating he could muster support for such a bid.
Newsweek has contacted the Biden campaign for comment.
With each candidate looking to secure the coveted 270 Electoral College votes needed for victory, the graphic below from Statista shows the tightest Electoral College victories since 1896.