Trump Supporters Handed 'Top Secret Documents' For Attending Rally in Video
A satirical clip showing attendees of Donald Trump's recent rally in Pennsylvania being handed out fake classified documents has gone viral.
The video shows Jason Selvig, one half of the political comedy due The Good Liars, offering Trump supporters "free top secret documents" at the event at the Mohegan Sun Arena at Casey Plaza, in Wilkes-Barre on Saturday.
Selvig says the documents are being offered to those at the rally are "just for coming in," with some appearing happy to accept them.
"Yeah, he's giving them out to everybody," Selvig says in the clip which has been viewed more than two million times on Twitter.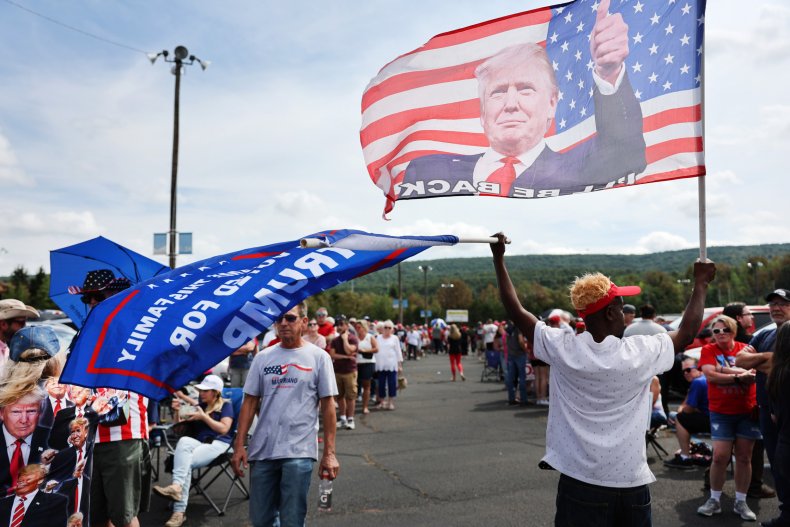 Elsewhere, Selvig claims he is able to declassify the documents by saying "declassify" at them. In another part of the 23-second clip, Selvig drops a pile of the fake sensitive materials on the ground.
"I'm declassifying those. Those are declassified so we're good," Selvig adds while the mock top secret papers are strewn over the tarmac.
The parody video from The Good Liars, who often post videos mocking Trump or highlighting controversial remarks made by his supporters at the former president's rallies, was posted after further details about the FBI raid at the Mar-a-Lago resort emerged.
On Friday, one day before the Pennsylvania rally, a list of items seized from Trump's Florida home on August 8 revealed that at least 90 folders which were marked classified were empty, with no explanation of where the missing sensitive material may actually have been kept.
In total, federal agents recovered 18 documents marked top secret, 54 listed as secret and 31 marked confidential during the search of Trump's home in August.
Trump's legal team are reported to have previously said all the classified documents had been returned when the FBI visited in June, with 15 boxes already recovered by the National Archives in January.
The inventory was compiled by the Justice Department and unveiled by a judge overseeing the former president's request to get a so-called special master brought in to review the materials seized by the FBI.
Trump made repeated references to the FBI raid at his Florida home during his first public appearance since the search for classified materials was carried out.
"It was not just my home that was raided last month," Trump said. "It was the hopes and dreams of every citizen who I've been fighting for since the moment I came down the golden escalator in 2015."
Trump also attacked the FBI and the Justice Department as "vicious monsters, controlled by radical-left scoundrels, lawyers and the media, who tell them what to do."
Trump has been contacted for comment.