Trump Does Complete 180 on Election Issue
Donald Trump has implied he is now for ballot drop boxes, which would represent a complete reversal of his views widely shared prior to his 2020 presidential election loss.
The first candidate of the 2024 GOP pool seconded a suggestion by conservative commentator Jack Posobiec to put ballot drop boxes behind all churches in states where they are legal.
"BEST IDEA I'VE HEARD IN A LONG TIME...PUT THEM ALL OVER THE PLACE," Trump wrote Friday on Truth Social. "RNC, EVERY REPUBLICAN, GET TO WORK ON THIS NOW!!!"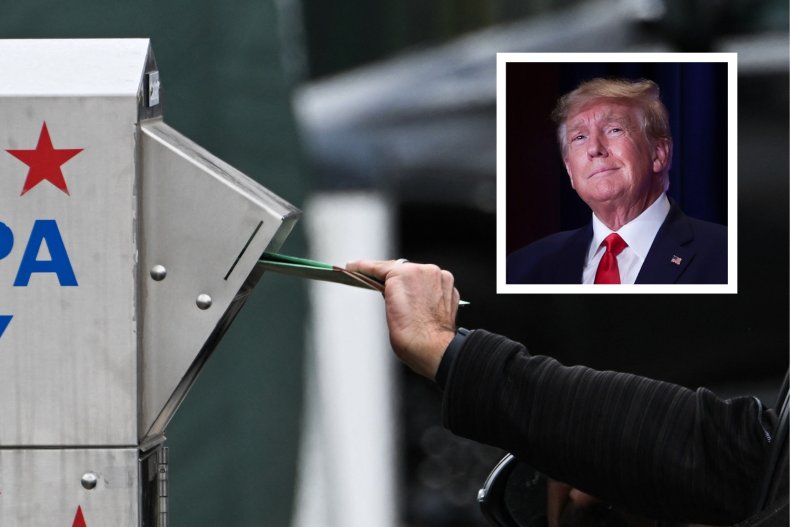 Not only does that represent a complete shift from over two years ago, but it's antithetical to what Trump said as recently as January as part of his second official campaign event January in New Hampshire.
"We have 64 days to vote now—someday we'll be back to paper ballots, we'll be back to voter ID, back to one day voting," Trump said at that rally, according to Axios reporter Josh Kraushaar.
When Trump was president and still had a Twitter account, he used the platform to sow doubt about the legitimacy of mail-in ballots and expanded voter access. It led to Twitter issuing notices on Trump's tweets, which referred to them as "misleading" as reported by CBS News in August 2020.
"So now the Democrats are using Mail Drop Boxes, which are a voter security disaster," Trump tweeted less than three months prior to the election. "Among other things, they make it possible for a person to vote multiple times. Also, who controls them, are they placed in Republican or Democrat areas? They are not Covid sanitized. A big fraud!"
Nick Penniman is the CEO and founder of One Issue, a cross-partisan political reform organization based in Washington D.C. He told Newsweek he was happy to see a shift in Trump's perspective.
"It's great to see the former president reverse course and throw his support behind a safe and popular voting method that millions of voters have been using for years, including in the secure 2020 election," Penniman said. "The recent attacks on drop boxes by many right-wing propagandists have been full of odd and specious claims. Whether voting in-person or by mail or drop box, making our elections secure and convenient for all voters is a good thing for democracy."
Joshua Graham Lynn, CEO of the anti-corruption organization RepresentUs, is more skeptical of Trump's sudden statement.
"It's like the old saying goes: a broken clock is right twice a day," Lynn told Newsweek. "If this is a genuine change of position, we're glad the former president is encouraging the use of more drop boxes. They're a safe, convenient and secure way to help people vote—and that should be the goal of every politician, especially those running for president."
What Are Ballot Drop Boxes and Where Are They?
Democracy Docket, a self-defined progressive platform that informs citizens about voting rights and elections, wrote in January 2022 that ballot drop boxes were popularized due to the COVID-19 pandemic and the avoidance of in-person voting.
Oregon was the first state to vote entirely by mail in the year 2000 and was joined by Hawaii, Colorado, Utah and Washington prior to the Trump-Biden election.
A record of nearly three out of every four voters, or 73 percent, in Washington used drop boxes in every single election in almost every county in the state in 2020.
One survey from Harvard University found that the majority of voters in Colorado (73 percent), Washington (65 percent) and Oregon (59 percent) submitted their 2016 ballots through a physical location, like an election office or drop box.
On July 8, 2022, the Wisconsin Supreme Court issued an opinion that state law does not permit drop boxes anywhere other than election clerk offices, and that only state lawmakers may make new policy stating otherwise.
Trump immediately took to social media, PolitiFact reported, to praise the Wisconsin Supreme Court and retroactively declare that the decision meant he actually won the state against Biden.
PolitiFact called Trump's claims "nonsense," in the process debunking his myriad past statements regarding alleged election fraud in Wisconsin—including one from September 2020 that claimed ballots "are being dumped in rivers."
Newsweek reached out to the Trump 2024 press office for comment.
Update 02/03/23, 1:59 p.m. ET: This story was updated with comment from RepresentUs CEO Joshua Graham Lynn.