Representative Tom Rice, a South Carolina Republican, said Donald Trump is "consumed by spite" after the former president attacked him during a Saturday rally at the Florence Regional Airport.
Rice was among the 10 House Republicans who voted to impeach Trump for inciting his supporters to attack the U.S. Capitol on January 6, 2021. Trump has repeatedly condemned the congressman and has endorsed his Republican primary challenger South Carolina state Representative Russell Fry.
During his rally, which drew thousands of supporters despite poor weather, the former president described Rice as a "total fool" and a "disaster," adding, that he is "respected by no one, he's laughed at in Washington, he was never thought highly of in Washington."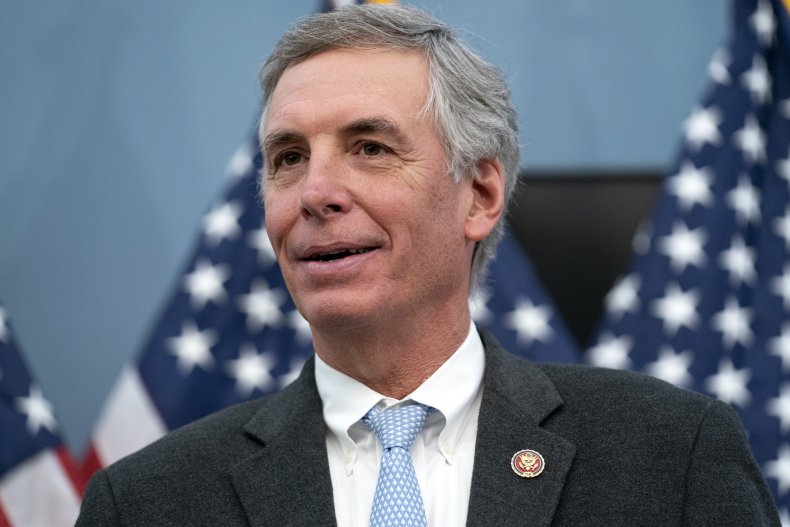 Shortly after Trump issued the attack, Rice put out his own statement in response:
"Trump is here because, like no one else I've ever met, he is consumed by spite," the Republican congressman said in the statement, which was reported by Florence's CBS-affiliate local WBTW News 13. "I took one vote he didn't like and now he's chosen to support a yes man candidate who has and will bow to anything he says, no matter what."
"If you want a Congressman who supports political violence in Ukraine or in the United States Capitol, who supports party over country, who supports a would-be tyrant over the Constitution, and who makes decisions based solely on reelection, then Russell Fry is your candidate," Rice continued. "If you want a Congressman who cowers to no man, who votes for what is right, even when it's hard, and who has fought like hell for the Grand Strand and Pee Dee, then I hope to earn your vote."
The South Carolina lawmaker voted in favor of Trump-backed policies and bills about 94 percent of the time, according to a FiveThirtyEight analysis. Notably, Rice even voted in favor of objecting to the Electoral College votes of Arizona and Pennsylvania—part of the former president's efforts to unconstitutionally overturn President Joe Biden's 2020 election victory.
Representative Liz Cheney, a Wyoming Republican who voted to impeach Trump, praised Rice in a Sunday morning Twitter post.
"Our country needs Republicans to be sane, responsible, and speak the truth. @RepTomRice is right. Most of our Republican colleagues know this. Their silence enables the danger," she tweeted. Like Rice, the Wyoming lawmaker is facing a Trump-endorsed opponent.
Trump also attacked South Carolina's GOP Representative Nancy Mace. Although she declined to vote in favor of Trump's impeachment, she condemned his actions on January 6, 2021, and previously said that she and other Republicans may have voted in favor of the former president's impeachment if a more thorough investigation had been conducted before the vote.
Trump mocked Mace on Saturday, pointing out that the congresswoman had created a video of herself speaking in front of Trump Tower in New York City despite his opposition to her reelection.
"She went to New York and stood in front of the magnificent Trump Tower—has anyone ever heard of Trump Tower—and did a commercial insinuating that I was endorsing her," the former president said. "I'm saying 'can you believe this?' It was untruthful just like everything else she does." Trump has endorsed Mace's GOP primary challenger, former South Carolina state Representative Katie Arrington.
Austin McCubbin, Mace's campaign manager, defended the congresswoman's record in a Monday morning email to Newsweek.
"Our opponent has proven two things—she's the only Republican to lose this district in 40 years, and she will say just about anything. Voters in the 1st know Nancy Mace. They voted for her before and will do so again. They appreciate her standing up for the Lowcountry and her trustworthiness, something our opponent lacks," he said.
In late February, Mace said she was "gonna win without him," referencing Trump in an interview with The State, and added that she is going to "spend every dime" and "break every record" in order to achieve that goal.
Newsweek reached out to Trump's press office for further comment, but did not immediately receive a response.
This article was updated with comment from Mace's campaign manager.