Trump Must Stop Criticizing Scientists Amid COVID-19 Vaccine Talks: Experts to FDA
Over two dozen experts in medicine and regulatory science have called on U.S. Food and Drug Administration (FDA) commissioner Stephen Hahn to prevent President Donald Trump and White House advisers from criticizing federal scientists and their conclusions, amid fears the approval of a coronavirus vaccine may be politicized.
The letter was signed by 33 doctors and academics, including Dr. Eric Topol, director of the Scripps Research Translational Institute, former chief FDA scientist Dr. Luciana Borio, and Dr. Aaron Kesselheim, head of the Program On Regulation, Therapeutics, and Law at Harvard Medical School and Brigham and Women's Hospital.
The authors called on Hahn to make eight commitments. Their first demand read: "[We call on you to] insist that the President and his White House advisers refrain from criticizing federal scientists, their scientific conclusions, measurements, or methodologies."
The signatories wrote they were concerned about decision-making at the FDA, in light of reports questioning its standards and authority to make science-driven assessments on the authorization and approval of a COVID-19 vaccine.
The letter comes after Trump claimed earlier this week that the White House could override FDA guidelines on the approval of a vaccine, following reports the agency was considering stricter rules for an emergency use authorization (EUA) of a coronavirus vaccine. An EUA has a lower threshold than an approval. An FDA spokesperson declined to comment when contacted by Newsweek at the time.
Reports suggested this would push authorization past the November 3 presidential election. Contradicting the forecasts of government scientists including Dr. Anthony Fauci, President Trump has said a vaccine could be ready in October.
The president said at a news conference at the White House on Wednesday: "We're looking at that [the reports on potential changes to FDA guidelines] and that has to be approved by the White House. We may or may not approve it. That sounds like a political move."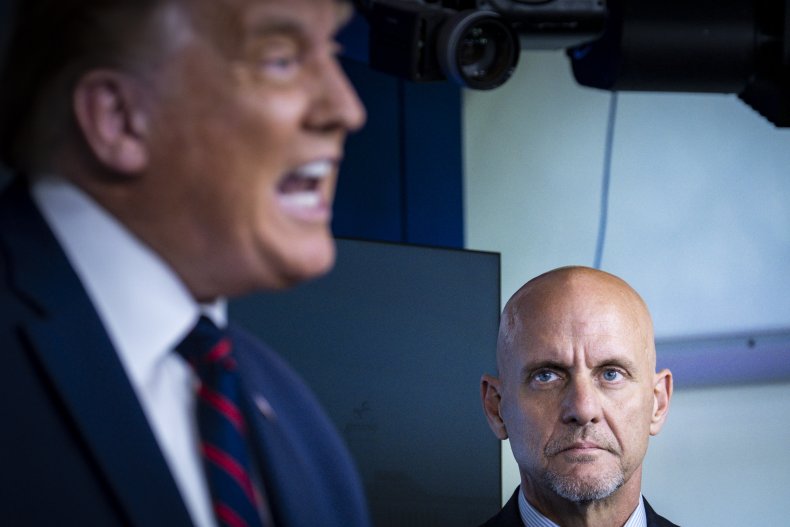 Trump's remarks came after he said Centers for Disease Control and Prevention (CDC) Director Dr. Robert Redfield was "confused" when he suggested to a senate subcommittee that a coronavirus vaccine may not be widely available in the U.S. until the summer of 2021. The president has also previously stated he doesn't "agree with Fauci on everything," and called White House coronavirus task force member Dr. Deborah Birx "pathetic."
Signatory Aaron Kesselheim, professor of medicine at Harvard Medical School told Regulatory Focus, the news service of the Regulatory Affairs Professionals Society, the letter was a reaction to an "almost daily stream of concerning statements and tweets coming out of the executive branch about the FDA and in particular the vaccine approval process."
Kesselheim said: "We thought it was important to take a step back and affirm the basic principles about why the FDA exists and highlight the great work that the FDA's scientists have done and can still do, when given the appropriate levels of support, in protecting patients and the public health."
In August, almost 400 infectious disease experts called on Hanh a separate letter to make its out safety and efficacy reviews of potential coronavirus vaccine public.
On Wednesday, FDA Commissioner Stephen Hahn told a Senate hearing on the government's coronavirus response: "I will fight for science." Hahn went on: "I will fight for the integrity of the agency, and I will put the interests of the American people before anything else."
Four potential coronavirus vaccines are currently in phase 3 clinical trials in the U.S., by Johnson & Johnson, Moderna, Pfizer and AstraZeneca.
Newsweek has contacted the FDA and the White House for comment.