President Donald Trump reportedly wants stricter gun control laws and is keen on beefing up background checks as Republicans face a barrage of criticism for inaction in the wake of the Dayton and El Paso mass shootings.
Trump is also taking heat for his incendiary rhetoric on migration, language echoed in an anti-Hispanic manifesto thought to have been authored by the alleged El Paso shooter, a supporter of his. He visited both cities Wednesday to meet first responders and victims.
There is no clear path to gun reform because too many Republicans oppose it and, according to The Washington Post, National Rifle Association (NRA) chief executive Wayne LaPierre warned Trump directly that he risks upsetting his base if he tries to move on the issue.
With previous shootings such as Parkland in Florida, Trump has touted gun reform. But nothing ever came to fruition, the buds of change nipped by the political reality in the Republican Party and fierce opposition from the powerful gun lobby, which is spearheaded by the NRA. The respective figures spent by both pro-gun and gun control groups is explained in a graph below from Statista.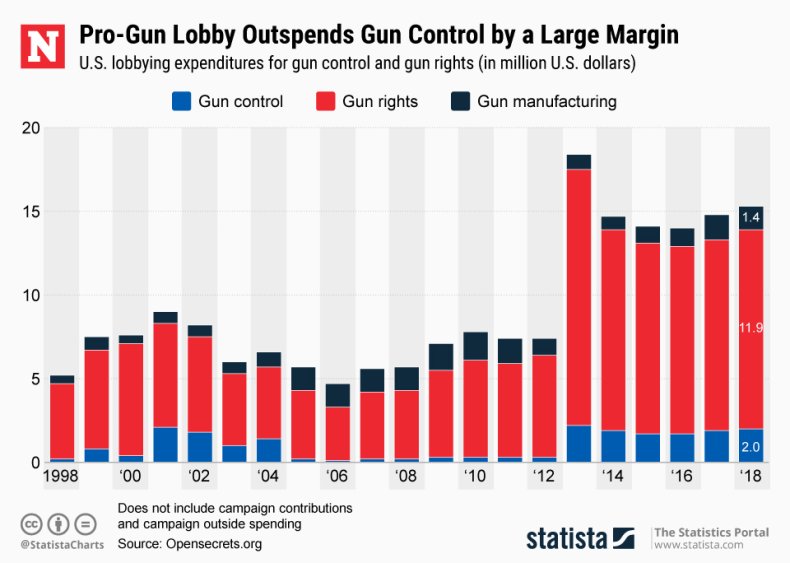 "He seems determined to do something and believes there is space to get something done this time around," Senate Judiciary Committee Chairman Lindsey Graham, a South Carolina Republican who has spoken regularly to Trump since the latest shootings, told the Post.
"The president has a pretty ­common-sense point of view. He's never been a sports or gun enthusiast. But he is more determined than ever to do something on his watch."
The White House did not respond immediately to Newsweek's request for comment.
On Saturday, 21-year-old Patrick Crusius is alleged to have entered a Walmart in El Paso and shot dead 22 people and injured dozens more, many of who were Hispanic, in what is under investigation as an act of domestic terror. He was arrested at the scene.
Then on Sunday, Connor Betts, 24, shot dead nine people, including his own sister, at a bar in Dayton, Ohio. Police killed Betts within a minute of him opening fire. Police have not yet established a suspected motive. He had a history of violent misogyny, and leftist politics.
There are a range of options in front of Trump if he wishes to pursue gun control measures, ranging from outright bans, to stricter background checks on those purchasing weapons, to limits on ammunition.
But writing any gun control legislation that his party will back seems a near-impossible task. Democrats control the House, and are pushing for much tougher gun control, but the GOP has a Senate majority.
Moreover, Trump infuriated Democrats by suggesting in a tweet that any gun laws could be linked to immigration reforms, which he cannot currently pass in the House.
Though Trump used an executive order to ban bump stocks earlier in the year, Politico reported that the administration has made several quiet changes to gun regulation that have actually expanded gun ownership, such as limiting the number of people—including the mentally ill—from a national database used to block certain individuals from purchasing guns.
"This president has in a very intentional, sweeping way made it easier for people to access firearms, not more difficult," Rep. David Cicilline, a Rhode Island Democrat and a vice chairman of the House Gun Violence Prevention Task Force, told Politico.
"He's systematically gone and undone all the protections that were put in place to try to limit the ability of dangerous people to access firearms."