What Alyssa Milano, Jim Gaffigan and Other Celebrities Have Said About Trump's Drive-by Stunt
President Donald Trump left the Walter Reed National Military Medical Center to greet supporters from his vehicle Sunday in a move he has been widely criticized for.
Several well-known anti-Trump celebrities have not minced words about the stunt, with most labeling it irresponsible.
An attending physician at the hospital even called move "insanity" after the President put the health of Secret Service agents at risk by having them in a confined space with him while he has COVID-19.
Footage of the drive-by photo opportunity has been widely shared on social media since it was released.
Trump can be seen waving at supporters from the back seat of the black Chevrolet Suburban.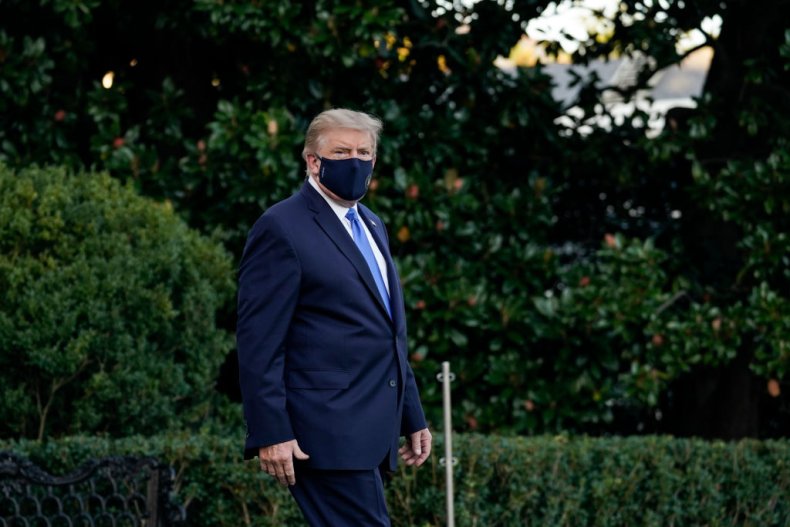 Stand up comedian Jim Gaffigan—who has been extremely critical of Trump in recent weeks—shared a clip of the drive-by and used it to urge his followers to vote.
"Sound on!!! This man yelling embodies all my fears and why this elections is so important. Please vote," he tweeted.
The man yelling in the clip can be heard saying: "God bless our president, I will die for him."
Another high profile Democrat, Alyssa Milano of Charmed fame deemed the stunt "dangerous" and "selfish."
"I haven't said an ill word about him since I heard about his diagnosis," the 47-year-old wrote. "But what the f*** is he doing? Is he trying to kill people? He's locked in a sealed SUV with members of secret service. No one told him this was a dangerous idea? A bad idea? A selfish idea? #TrumpCovid."
Author Stephen King condemned Trump for "risking lives" for a "publicity stunt."
"Trump risked the lives of the Secret Service personnel who were in the drive-by SUV with him. Lives risked for a publicity stunt," the "It" author said. "They will need to quarantine for 14 days, doctors say."
Comedian Rosie O'Donnell tweeted: "#AmericaOrTrump - a few dozen people - he rewards with a drive by - after a tan free tease - god this is absurd on every level - vote him out #AmericaOrTrump."
Frequent Trump critic Bette Midler quoted Walter Reed physician Dr. James P. Phillips and tweeted: "'Every person in the vehicle during that unnecessary Presidential 'drive-by' has to be quarantined for 14 days,' Dr. Phillips, attending physician, Walter Reed. 'They may get sick; they may die. For political theater. Commanded by Trump to risk their lives for theater. #INSANITY.'"
Singer Nancy Sinatra said of the President: "You know how he loves to put on shows. It's all he does."
Actor Billy Baldwin made a dark joke by tweeting: "Trump attends his own funeral procession."
While Medium star Patricia Arquette also showed concern for the Secret Service agents tasked with accompanying the President during the photo op.
"The secret service put their lives at risk to protect the President," she tweeted. "He should protect their lives too. Not put them directly at risk."
TV presenter Caitlin McGee added: "As he drives by in an enclosed vehicle, symptomatic with a deadly virus, needlessly endangering the lives of those secret service men. All to stroke his own ego. I've never seen anything like this... he doesn't care about anyone's life but his own. Including his supporters."
This latest round of criticism comes as Trump has started the steroid drug dexamethasone as part of his treatment at Walter Reed.
The incumbent is reported to be "doing really well" and "if everything continues to go well," he could potentially be discharged as early as Monday to continue his treatment at the White House, doctors confirmed.