Trump Endorsements Face Toughest Test Yet in 27 Primary Election Battles
A stern test of the power of a Donald Trump endorsement will be seen in primaries across several states on Tuesday, as the former president has endorsed a number of candidates who are not incumbents and therefore not already the overwhelming favorite.
Voters are set to cast their ballots in Idaho, North Carolina, and Pennsylvania on Tuesday May 17 to determine who the GOP candidate will be in the Senate, House and gubernatorial midterms elections.
As with all other GOP primaries, there are a number of people who have got the much sought-after backing of Trump, which is seen as giving a boost to any candidate's hopes of election victory.
However, as with previous election cycles, Trump has often backed the incumbent, who almost never lose their nomination or midterm election, or even those who ran uncontested.
Of the 27 candidates Trump has backed on Tuesday, only six are not the incumbents: Dr. Mehmet Oz, state Sen. Doug Mastriano, and Jim Bognet in Pennsylvania, Lt. Gov. Janice McGeachin in Idaho, former college football player Bo Hines in North Carolina, and Rep. Ted Budd, who is running for the GOP Senate in North Carolina.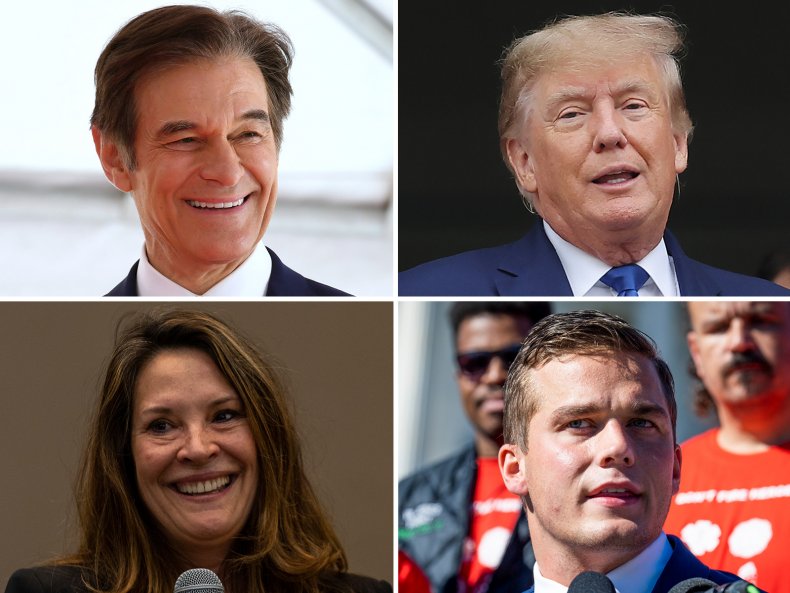 Pennsylvania Senate Republican Primary
Celebrity heart surgeon Oz is the favorite to win the GOP Senate candidacy in the state, having got the backing of Trump, but needs to fight off the momentum which has steam rolled rival Kathy Barnette into second place.
Pollsters and bookmakers have suggested that Barnette, a virtual unknown until a few weeks ago, may have a decent chance of winning the vote if her popularity continues to surge off the back of a Trump-esque campaign.
According to Betfair, Oz is currently the 2/9 favorite to win the GOP Senate candidacy in Pennsylvania, with Barnette on 6/4.
Pennsylvania Gubernatorial Primary
In a highly divisive race, Trump gave an 11th hour endorsement to Doug Mastriano, a far-right candidate who was part of the January 6 "stop the steal" protests and had attempted to overturn the 2020 Election results.
According to an Emerson College poll published just prior to the vote, the controversial candidate currently holds a significant lead of 34%, with former congressman Lou Barletta second on 22%.
Pennsylvania's 8th District
Jim Bognet, the GOP nominee who lost to Rep. Matt Cartwright in 2020, could face the Democrat again in a November rematch if he beats former Hazelton Mayor Mike Marsicano in the Northeastern Pennsylvania district.
Idaho Gubernatorial Election
One of Trump's bolder endorsements was his baking of Lt. Gov. Janice McGeachin, a candidate with links to extremist groups and white nationalists, who is challenging Idaho Gov. Brad Little in the GOP primary.
However, a number of polls have shown that Little holds a substantial lead over McGeachin and the other candidates, with the current governor often polling at more than 60 percent.
North Carolina Senate Primary
One election where Trump's pick looks likely to win is in the North Carolina Senate primary, where rep. Ted Budd is running.
According to a CBS 17/The Hill/Emerson College poll published on May 11, Budd is way out in the lead with 43%, with his nearest challenger, former governor Pat McCrory, on 16%.
Budd managed to claw back a significant lead held by McCrory last year ever since Trump endorsed the congressman for the Senate seat.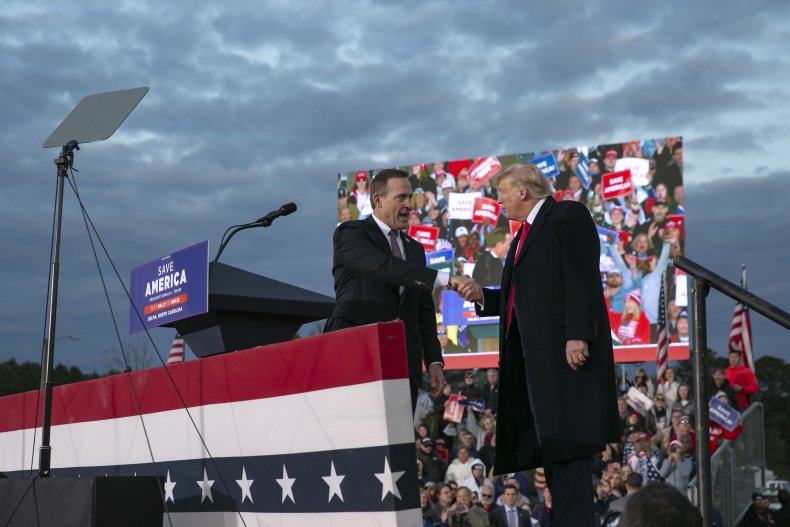 North Carolina's 13th Congressional District
Trump has shown his support for 26-year-old Bo Hines in the GOP primary in the crowded North Carolina's 13th District.
Hines, a political novice, is also backed by Reps. Madison Cawthorn and Matt Gaetz, as well as the influential Club for Growth, which has pumped millions of dollars behind his campaign.
North Carolina's 11th Congressional District
Elsewhere, Trump has continued to show his support and endorsement for embattled North Carolina rep. Cawthorn, who enters Tuesday's primary in the 11th congressional district amid a string of controversies, and reports that the GOP is trying to oust him from the party themselves.
Trump had urged voters to give Cawthorn a "second chance" following his "foolish mistakes" in a May 16 statement, such as being cited for bringing a loaded gun to an airport.
Despite the scandals, a survey by the Republican GOPAC Election Fund published in April found that the congressman still has support of 39%, compared to 21% for his nearest rival, State Senator Chuck Edwards.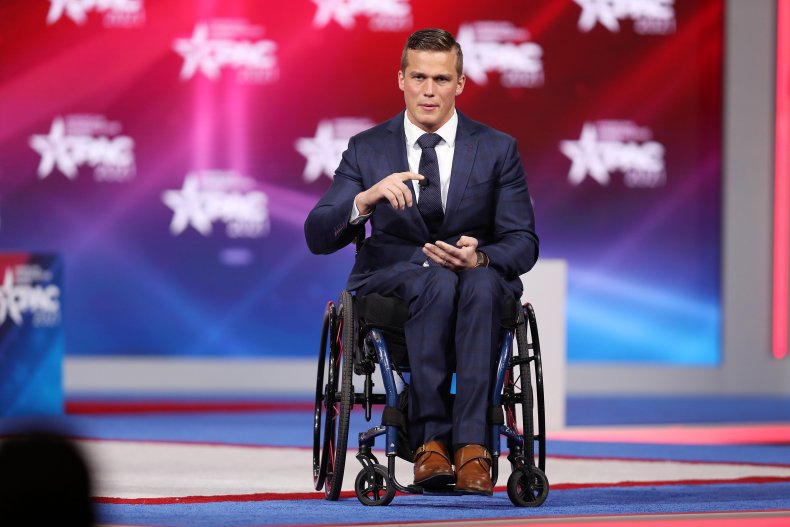 Trump had previously endorsed 55 candidates in a row who all won their election outright, or advanced into a run off.
The run came to an end when Charles Herbster, the GOP gubernatorial election in Nebraska accused of sexual assault by eight woman, lost the May 10 primary to Jim Pillen.
Of the 55 victories endorsements that resulted in runs or runoff across all forms of government, only five have been non-incumbents.
These include Hillbilly Elegy author J.D. Vance's victory in the Senate primary in Ohio, and Max Miller, a White House aide under Trump, who won the Republican primary in Ohio's newly drawn 7th Congressional District.
"No one can take the Trump 'winning percentage' seriously when his endorsements include candidates running unopposed and others without serious opposition, and when he un-endorses candidates like Mo Brooks who fail to flourish," David Niven, a political science professor at the University of Cincinnati, previously told Newsweek.