Trump 'Failed in Duty' on Jan. 6, 'Reveled in' Riot, Says GOP Rep. Tom Rice
Rep. Tom Rice, a South Carolina Republican who voted to impeach Donald Trump after the January 6 Capitol riot, is standing firm in his stance that the former president "failed in his duty" to stop the assault.
Rice made his latest comments in a Friday interview with The New York Times just days before facing a high-stakes primary race on Tuesday. The South Carolina Republican is up against State Representative Russell Fry, whom Trump has endorsed as part of an ongoing effort to unseat those who oppose him.
But while some Republican lawmakers have responded to Trump's attacks by apologizing and attempting to regain his good graces, Rice has doubled down on his views.
"To me, his gross failure—his inexcusable failure—was when it started," Rice told the Times of the Capitol riot. "He watched it happen. He reveled in it. And he took no action to stop it. I think he had a duty to try to stop it, and he failed in that duty."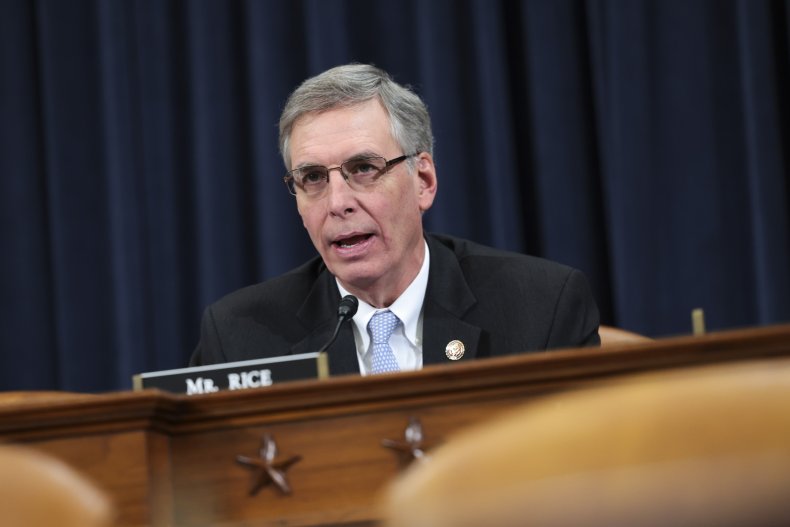 Rice was one of just 10 Republicans who voted to impeach Trump in the aftermath of the attack. He told the newspaper on Friday that after reading dozens of reports about the ex-president's actions that night, he had "zero question in my mind" about whether Trump should be incriminated.
Prior to that realization, Rice had a long history of agreeing with the ex-president, and he served as a key figure in helping him craft a new tax code in 2017.
Rice told the Times that he hopes the former president does not run for office again in 2024, noting that the GOP "desperately needs somebody who's going to bring people together. And he is not that guy."
Rice has become the subject of attacks by Trump, who has referred to him as a "total fool" who is "respected by no one," and was "never thought highly of in Washington." Rice has responded by chalking up Trump's remarks to political theater, and remains confident that voters will still come out on Tuesday to support him.
"Bring on the circus," he told the Times Friday, referring to Trump's involvement in the primary. "You know, some people are afraid of clowns. I'm not afraid of clowns."
The South Carolina Republican echoed those views in a lengthy interview with Newsweek last month, in which he noted that many voters in the state have "thanked him" for his efforts to speak out against Trump.
"I get approached all the time by people if I'm in a restaurant or grocery store or whatever, and they come up and thank me...I'll see how many of each of them there are come Election Day," Rice told Newsweek.
"I know that this election will be harder than...my primary elections in the past," he added. "But, you know, I'm very proud of my record and very proud of what I've done for the district. I think people are much better off because of it. I'm reminding them of those things."