Former GOP Congressman Slams Trump for 'Feeding' Russian Collusion 'Narrative'
Former Republican Representative Mike Rogers of Michigan criticized Donald Trump's response to reports about alleged conspiracy with the Russian government, saying the president is "shooting himself in the foot" and "keeps feeding" the narrative.
Rogers, who previously served on the House Intelligence Committee, appeared on CNN Monday to discuss Trump and reports that the FBI had launched a counterintelligence investigation into the president after he fired FBI Director James Comey in May 2017. He also commented on a report by The Washington Post that the president had gone to "extraordinary lengths" to conceal his conversations with Russian President Vladimir Putin since taking office.
"The Russians will use things in these meeting in their information operations around the world," Rogers, who is now a CNN national security contributor, warned. "We saw that after the Helsinki meeting," between Trump and Putin, he pointed out.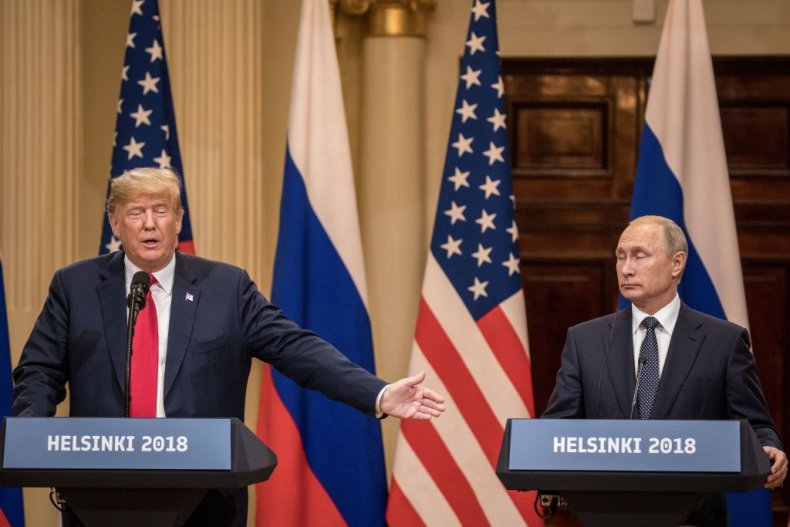 Trump "keeps walking into [the Russian] narrative," Rogers said later in the interview.
"I mean, the only time the president is not shooting himself in the foot on the Russia investigation is when he's reloading the gun," Rogers said. "He continues to interject himself in these conversations in a way that is not helpful for people to now understand what's going on with Russia. He keeps feeding that narrative with these kinds of things."
On Monday morning, Trump appeared to comment on the explosive weekend reports about his alleged links to Russia, posting another attack on the media to Twitter.
"The Fake News gets crazier and more dishonest every single day," he wrote. "Amazing to watch as certain people covering me, and the tremendous success of this administration, have truly gone MAD! Their Fake reporting creates anger and disunity. Take two weeks off and come back rested. Chill! [sic]"
Addressing reporters outside the White House, Trump also denied ever having worked for Russia.
"I never worked for Russia," the president said, according to The Hill. "Not only did I never work for Russia, I think it's a disgrace that you even asked that question because it's a whole big fat hoax," he added. Trump also took aim at the FBI agents who opened the reported investigation, calling them "scoundrels" and "dirty cops," while praising his decision to fire Comey as "a great thing I did for our country."
Over the weekend, Trump defended himself by again insisting he has been tougher on Russia than his predecessors. The president has implemented harsh sanctions targeting Russian businessmen and oligarchs, armed Ukraine against Russian-backed separatist rebels and ordered attacks on the Russian-backed Syrian military. However, he has routinely praised Putin and called for closer ties with Moscow. He also announced in December that the U.S. would withdraw from Syria, a move that some analysts have classified as a win for the Kremlin.
Special counsel Robert Mueller has continued to investigate Russian interference in the 2016 election and whether any of Trump's campaign associates cooperated with the Kremlin. So far, several former top Trump aides have been indicted in the probe. The president's former campaign chairman Paul Manafort is also known to have shared confidential polling data with an associate linked to Russian intelligence, according to court filings reported last week. The president's strategy for distancing himself from the inquiry has been to dub the investigation a "witch hunt," routinely attack the media as "fake news" and dismiss the actions of those who've been indicted and convicted.
"The way [Trump] is kind of sleaking [sic] around this, begs the question," Rogers pointed out to CNN. "It makes people want to ask more questions about what may be happening, or what happened in the past."