Donald Trump Grand Jury Evidence Gives 'Optimism' for Indictment: Kirschner
Former federal prosecutor Glenn Kirschner said he is "optimistic" that Donald Trump will be charged over attempts to overturn the 2020 election results in Georgia after reading interviews from the special grand jury who heard evidence as part of the investigation.
Speaking on his Justice Matters show on YouTube, Kirschner, a legal analyst for NBC and MSNBC, discussed the recent interviews given by five members of the 23-person jury in Fulton County who spent eight months listening to testimonies from dozens of witnesses as part of the expansive probe headed by prosecutor Fani Willis.
Talking to the Atlanta Journal-Constitution, the unnamed special grand jury members revealed they heard a telephone call Trump made to then-Georgia House Speaker David Ralston in which the former president sought to reverse Joe Biden's election victory in that state.
One jury member said that there will be "massive" details when their full report, which is likely to include recommendations for criminal charges, is released.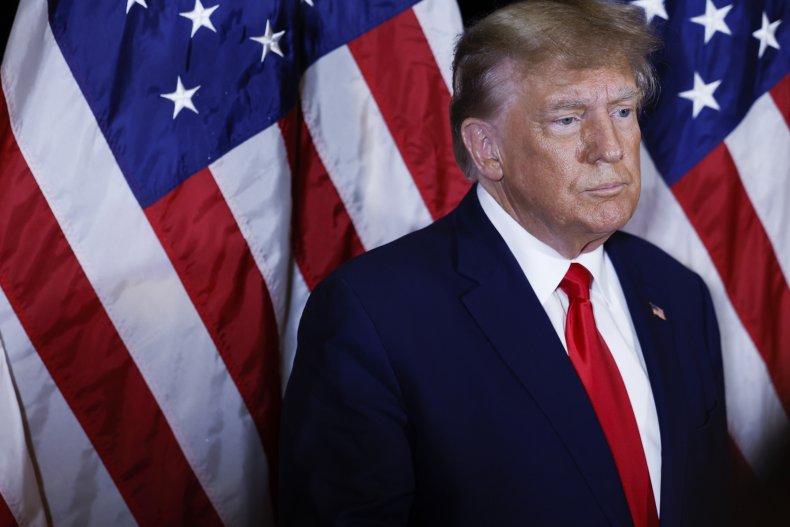 In addition to the election tampering probe, Trump is currently facing a host of legal challenges, including Department of Justice probes into his role in the Capitol riots on January 6, 2021, and his alleged mishandling of classified documents. A formal charge from any of those investigations would make Trump the first former president in U.S. history to be indicted.
"I generally feel like I'm a glass-half-full kind of guy, even if I acknowledge that half a glass is not nearly enough to quench our thirst for justice," Kirschner said.
"I have to admit reading about the experiences of those grand jurors left me feeling optimistic—hopeful, even.
"Not just optimistic that Donald Trump and his criminal associates will be indicted for their crimes. But it left me feeling optimistic about the good people, the good citizens who sit on grand juries every day, and how seriously they take their responsibilities," Kirschner added.
Kirschner encouraged his viewers to read the AJC piece themselves.
"If you read the article, I hope that, like me, it will give you at least some reason for optimism," he said.
Several members of the Fulton County special grand jury said they decided to speak out in response to criticism that that foreperson Emily Kohrs received over her numerous media appearances in February, which included fears she may have hindered the criminal probe.
"I just felt like we, as a group, were portrayed as not serious," one of the jurors told the newspaper. "That really bothered me because that's not how I felt. I took it very seriously. I showed up, did what I was supposed to do, did not do what I was asked not to do."
While discussing the phone call Trump made to Ralston—in which the former president asked the fellow Republican to convene a special session of the legislature to overturn Biden's election victory—one juror said Ralston, who died in November 2022 aged 68, proved to be "an amazing politician."
The juror described how the speaker "basically cut the president off. He said, 'I will do everything in my power that I think is appropriate.' ... He just basically took the wind out of the sails," the juror said. "'Well, thank you,' is all the president could say."
The Fulton County investigation originally centered on Trump's January 2021 phone call to Georgia Secretary of State Brad Raffensperger. The former president asked him to "find" the 11,780 votes needed to beat Joe Biden in Georgia. The probe has since expanded to include allegations Trump and his allies plotted to send a group of fake electors to falsely claim that Trump had won the state in 2020.
Elsewhere, one grand juror recalled how South Carolina Senator Lindsey Graham, one of a number of Trump allies who testified in front of the special grand jury, described how the former president would have believed "aliens came down and stole Trump ballots" if somebody had told him so in the wake of the 2020 election.
The jury also gave another indication that Trump may be one of those whom they will recommend that Willis indict as part of her investigation when the report is fully released.
"A lot's gonna come out sooner or later," one of the jurors said. "And it's gonna be massive. It's gonna be massive."
In February, parts of the report were made public, showing that the jury had concerns that some witnesses "may have lied under oath" while giving their testimonies. Trump was not one of those who testified before the special grand jury.
Trump has frequently denied any wrongdoing and accuses Willis of carrying out a "witch hunt" against him.
"THE FAKE INVESTIGATIONS BY RADICAL LEFT DEMOCRAT PROSECUTORS ARE NOTHING OTHER THAN ELECTION INTERFERENCE INTO THE POLITICS OF A FAILING NATION," Trump posted on Truth Social on Wednesday.
Newsweek has reached out to Trump's team via email.