Trump 'Gleefully' Watched TV on Jan. 6 and 'Did Nothing': Adam Kinzinger
Representative Adam Kinzinger, an Illinois Republican, said Sunday that the House select committee investigating the January 6, 2021, Capitol riot will "prove" that Donald Trump did not reach out to deploy the National Guard during the attack—asserting that the former president "gleefully" watched television instead.
In the first primetime televised hearing of the committee's findings on Thursday, vice chair Representative Liz Cheney, a Wyoming Republican, said that Trump did not call for the Pentagon or the Justice Department to intervene to protect the federal legislative branch of government last year.
"Not only did President Trump refuse to tell the mob to leave the Capitol, he placed no call to any element of the United States government to instruct that the Capitol be defended," she said during the hearing.
"He did not call his secretary of defense on January 6. He did not talk to his attorney general. He did not talk to the Department of Homeland Security," the GOP lawmaker continued. "President Trump gave no order to deploy the National Guard that day. And he made no effort to work with the Department of Justice to coordinate and deploy law enforcement assets."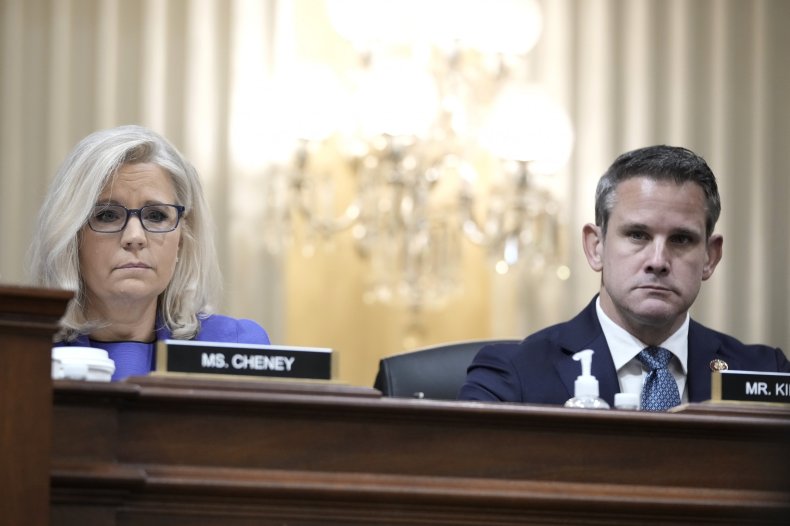 Kinzinger, the only other Republican member of the investigatory committee, was asked about Cheney's remark during an interview on CBS News' Face the Nation. The host pointed out that Trump disputes the allegation.
"I think it's very obvious that the president didn't do anything, but gleefully watch television while this was going down," Kinzinger, who has emerged as one of Trump's harshest critics on the right, said. "He can say anything he wants. The real leader, the only person in charge that made those calls was Mike Pence. And we'll prove that."
The committee utilized video testimony from Joint Chiefs Chairman General Mark Milley to back up their allegation that Trump did not order the National Guard to be deployed. In that clip, Milley said the then-vice president told Defense Department leaders to "get the Guard down here, put down this situation." The general explained that Trump's White House chief of staff Mark Meadows, conversely, was merely concerned about controlling the narrative.
Marc Short, Pence's former chief of staff, seemed to back up Milley's testimony in a Thursday evening interview with Fox Business after the televised hearing.
"The vice president's first calls were to [GOP House Minority Leader] Kevin McCarthy, [GOP Senate] Leader [Mitch] McConnell, [Democratic House] Speaker [Nancy] Pelosi and [Democratic Senate] Leader [Chucks] Schumer, to make sure they were safe and to make sure their functions were okay. He, at they're encouragement, reached out to the Pentagon to make sure additional reinforcements were sent," the Pence aide explained.
When asked if Pence spoke to Trump as the riot unfolded, Short said his boss did not believe it would be "constructive" to do so at the time.
"I think the president's opinions were pretty clear at that point. I'm not sure the vice president felt that it would be constructive to engage in that conversation, his focus was working with the people in the Capitol to get the work done," he said.
Trump pushed back against the evidence laid out in the Thursday hearing, doubling down on his discredited claims that the 2020 election results were fraudulent. "The so-called 'Rush on the Capitol' was not caused by me, it was caused by a Rigged and Stolen Election!" he wrote on his TruthSocial account Friday morning.
Despite Trump's claims, no evidence has emerged corroborating allegations of widespread voter fraud leading to Biden's election win. To the contrary, more than 60 legal challenges to the election filed by Trump and his allies have failed in state and federal courts. Even judges appointed by the former president have ruled against the lawsuits.
Trump's former attorney general, William Barr, who was widely viewed as one of his most loyal Cabinet members, has said repeatedly that there is "no evidence" to support the fraud claims. He wrote in his memoir that he told Trump directly that the allegations were "bullsh*t" and that his legal team after the 2020 election was a "clown show."
The House select committee on Thursday showed video of Barr's testimony to investigators in which he made similar comments. The former Trump administration official asserted again in the clip that the claims about election fraud were "bullish*t."
"Frankly a year and a half later I've seen nothing to change my mind on that," Barr said.
Kinzinger, along with Cheney and eight other House Republicans, voted with all House Democrats to impeach Trump for inciting his supporters to carry out the January 6 violence. Four of those GOP lawmakers, including Kinzinger, are not seeking reelection. Cheney will face off against a Trump-backed opponent in what is expected to be a difficult August primary.
Newsweek reached out to Trump's press office for comment.