Donald Trump could end up seeing two of his endorsed candidates in Georgia lose their GOP primaries for the U.S. House on Tuesday having both advanced into a run-off.
Having suffered arguably his biggest defeat since the 2020 election after Georgia Governor Brian Kemp defeated Trump-endorsed David Perdue in the gubernatorial primary in May, the former president risks seeing two of his congressional picks, Vernon Jones and Jake Evans, also face defeat in the June 21 election.
In the closely contested and bitter GOP primary for Georgia's 10th district, Jones, a former state representative, is battling it out in a run-off against trucking company owner Mike Collins after the pair received 21.6 and 25.6 percent of the votes in the May 24 primary respectively.
Jones, a former Democrat, received the backing of Trump after he abandoned his own attempt to oust Kemp from office at the former president's request over concerns he could pull votes away from Perdue.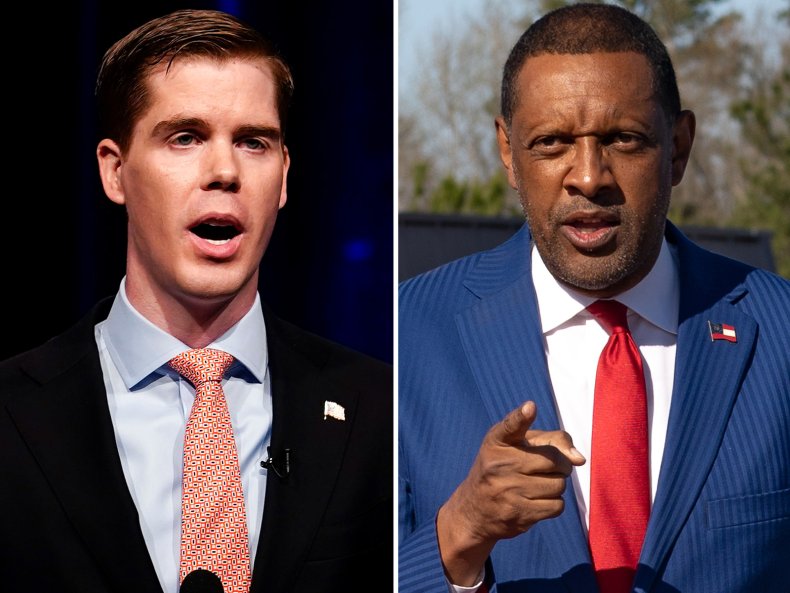 After winning a greater share of the votes in the first primary, Collins' campaign has since received a major boost after Kemp—who remains a popular figure in Georgia, as seen by the gubernatorial primary—endorsed him in the race.
Jones dismissed Kemp's endorsement of Collins, arguing that getting the nod from an established Republican figure may be detrimental to his rival's campaign.
"That's something to be proud of — not ashamed of — and is exactly why President Trump endorsed me," Jones said in a statement. "I'm not running for Congress to join the establishment. I'm running for Congress to destroy it."
However, despite getting the backing of Kemp—who Trump desperately wanted to be voted out of office for not supporting his baseless claims of voter fraud in the 2020 election—Collins is by no means an anti-Trump candidate.
Collins has also framed himself as a supporter of the former president and supports the false claim that Trump only lost in 2020 because of widespread voter fraud.
As there has been no polling for the 10th district runoff, it is hard to predict who may actually come out on top in the currently too-close-to-call race.
Elsewhere, Evans, who Trump endorsed in Georgia's 6th district, does face an uphill battle to win his primary after advancing into a run-off with physician Rich McCormick.
In the May 24 primary, McCormick comprehensively beat Evans 43.2 percent to 23 percent but did not cross the 50 percent threshold needed to avoid the run-off.
McCormick is now seen as the favorite to win the GOP primary on Thursday.
As with the 10th district, both candidates in the 6th have pushed false claims about the 2020 election results and expressed their support for Trump, despite only Evans getting the highly sought-after endorsement.
During a debate in May between all nine candidates, McCormick, who lost in the neighboring 7th District race in 2020, noted that he never conceded that election while claiming that "no one was hurt by voter fraud more than myself."
Just like Trump, McCormick's claims of voter fraud are based on the fact he was leading in the race before all the ballots were counted. McCormick went on to lose to Democrat Carolyn Bourdeaux by more than 10,000 votes in November 2020.
Georgia's 6th and 10th districts are both hugely Republican, meaning whoever wins the GOP primaries will be the overwhelming favorite to win in November's midterm elections.