Former President Donald Trump leads President Joe Biden by a double-digit margin in a hypothetical 2024 matchup in Nevada—a state that Trump lost in 2020 as well as in 2016.
Democratic presidential candidates have won in Nevada in every election going back to 2008—when former President Barack Obama flipped the state blue after it had gone for former President George W. Bush in 2000 and again in 2004. Obama won the western state during his successful reelection bid in 2012, while Trump lost there to former Democratic presidential contender Hillary Clinton in 2016, then again to Biden in 2020.
However, new polling shows that Nevada is leaning to the right in favor of Trump. The survey results released by Blue Print Polling on Friday had the former president backed by 44.1 percent of likely voters in the state while Biden was supported by just 34.2 percent—an approximately 10 point difference. An additional 9.3 percent said they would cast ballots for a third party contender and 12.3 percent were undecided, demonstrating that the numbers could still shift substantially before 2024.
Notably, Biden carried Nevada in 2020 with 50.1 percent of the vote while Trump garnered just 47.7 percent. Clinton did not do quite as well, garnering only 47.9 percent of the vote compared to Trump's 45.5 percent.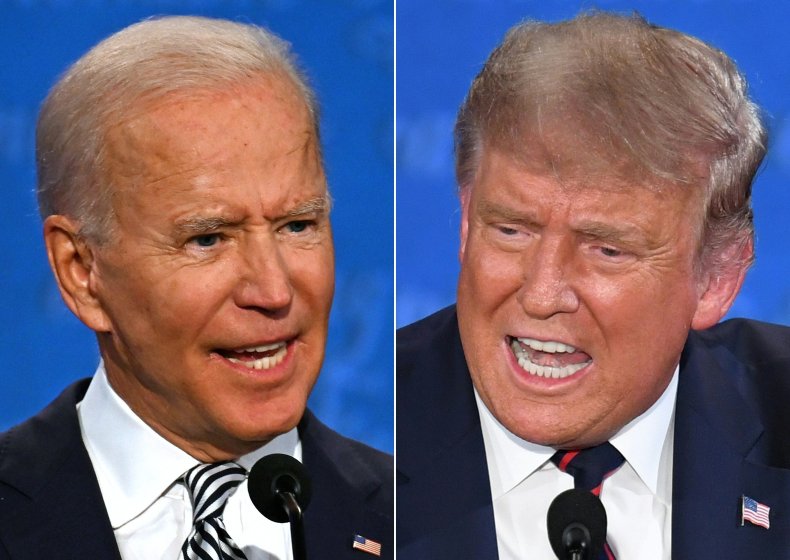 The new poll was conducted from March 21 to 24 and has a relatively large margin of error of plus or minus 3.8 percentage points. However, numerous polls over the past year show Trump ahead of Biden in hypothetical 2024 matchups. Several polls have also shown Biden narrowly in the lead.
A recent nationwide survey carried out by Echelon Insights showed Biden 2 points ahead of Trump. That poll had the current president with the backing of 46 percent of likely votes while the former president was supported by 44 percent. The survey was conducted from March 18 to 21.
Polling conducted on March 20 by Redfield & Wilton Strategies showed a tied 2024 race between Trump and Biden. Both potential contenders were backed by 41 percent of likely voters. Another survey by Emerson College conducted from March 18 to 20 had Trump up by 3 points. The former president had the support of 45 percent of registered voters and Biden had the backing of just 42 percent.
The current Real Clear Politics average of national polls shows Trump with a lead of 3.7 points over Biden. On average, Trump beats Biden with the support of 45.6 percent of voters while Biden garners just 41.9 percent.
Trump has not officially announced an intention to seek the presidency again in 2024. However, the former president has repeatedly teased the possibility, regularly saying his supporters will be "very happy" with his decision. Conversely, Biden has repeatedly said that he plans to seek another term—despite even some prominent Democrats speculating about possible alternatives.
In a December interview with ABC News, Biden reiterated his intention to seek a second term in the White House. He also said that Trump deciding to run again in 2024 would motivate him further. "Why would I not run against Donald Trump if he were the nominee? That would increase the prospect of running."