Trump Official Dubs Six GOP Reps. 'Vlad's Cover-Up Crew' for War Crime Vote
Former Trump administration official Miles Taylor slammed six Republican congressional lawmakers after they voted against investigating and preserving evidence of Russia's alleged war crimes in Ukraine.
Russian President Vladimir Putin and his military forces have been called "war criminals" after numerous international journalists and Ukrainian officials reported images and video of what appear to be many civilians who were shot with their hands tied behind their backs in Bucha, Ukraine. Local officials in the Ukrainian city have said there is a mass grave, while many have warned that such alleged atrocities have been carried out by Russian soldiers in other regions as well.
On Wednesday night, the House of Representatives voted overwhelmingly in favor of investigating and preserving evidence of alleged war crimes reportedly committed by Russia in Ukraine. While most Republicans voted in favor along with Democrats, six GOP lawmakers opposed the measure.
Representatives Andy Biggs and Paul Gosar of Arizona, Marjorie Taylor Greene of Georgia, Warren Davidson of Ohio, Thomas Massie of Kentucky, and Scott Perry of Pennsylvania all voted against the war crimes probe.
Representative Liz Cheney, a Wyoming Republican and staunch Putin critic, initially voted against the investigation by mistake and later changed her vote.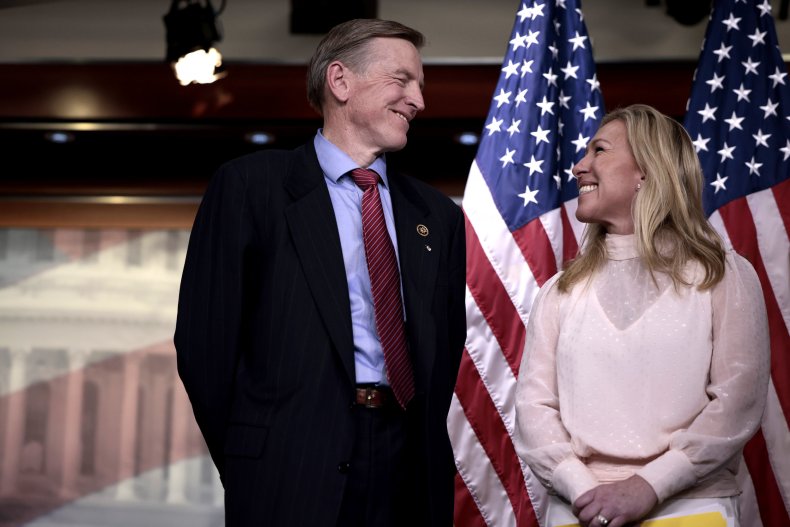 Taylor, who served in multiple roles within former President Donald Trump's Department of Homeland Security from 2017 to 2019, called out the Republican House members in a Thursday morning tweet.
"Six Republicans voted AGAINST a bill to preserve evidence of Russian war crimes in Ukraine. This is the GOP pro-Putin wing. Or as I like to call them, Vlad's Cover-Up Crew," he wrote.
The former Trump administration official then listed the GOP representatives' names.
Cheney, like Taylor, has repeatedly slammed Republicans that she and many others view as favorable to Putin and Russia amid the ongoing war with Ukraine. The Wyoming lawmaker previously dubbed this faction of the Republican Party the "Putin wing of the GOP."
Greene told Newsweek in a Thursday morning statement that the bill "would hand over authority and our intelligence to the ICJ [International Court of Justice] and ICC [International Criminal Court]—international courts that could put our military on trial."
The congresswoman added: "I will not vote for globalism and the slow slide to become a one-world government. I will only vote to protect America, our military, and our borders."
A spokesperson for Massie pointed Newsweek to a Thursday morning tweet explaining the congressman's vote.
"Some of my colleagues and I voted against this resolution in part because it contains language that could set the table for bringing spurious war crimes charges against American service members for mistakes made during military operations in theaters such as Afghanistan," Massie wrote in that post.
Newsweek reached out to the other four Republicans for comment on their votes but did not immediately receive responses. Several of the GOP lawmakers have repeatedly expressed "America first" or isolationist views, as well as skepticism about the need for the U.S. to be so heavily invested in supporting European allies.
Taylor has become a prominent conservative critic of Trump and his faction of the GOP. The former DHS official infamously penned the "Anonymous" September 5, 2018 opinion article for The New York Times, saying he and others were part of a "resistance" within the Trump administration. He went on to publish a November 2019 book titled A Warning—also using the pen-name "Anonymous"—in which he fleshed out his experience working under the former president.
The ex-Trump administration official admitted he was "Anonymous" in October 2020 as he campaigned against the former president's reelection. In August 2020, Taylor filmed an advertisement with the Republican Accountability Project calling Trump "dangerous."
"What we saw week in and week out, for me, after two-and-a-half years in that administration, was terrifying. We would go in to try to talk to him about a pressing national security issue—cyberattack, terrorism threat—he wasn't interested in those things. To him, they weren't priorities," he said in the ad.
Trump has been criticized by Cheney and other Republicans for comments he made that appeared favorable to Putin just ahead of Russia's February 24 full-scale invasion of Ukraine. The former president had described the Russian president as a "genius" and "smart." Those comments were then utilized on Russian state television as pro-Kremlin propaganda.
Update 4/7/22, 10:39 a.m. ET: This story has been updated with comment from Rep. Greene.
Update 4/7/22, 11:03 a.m. ET: This story has been updated with comment from Rep. Massie.