Trump vs. Pence Proxy War Ends in Decisive GOP Primary Election
Donald Trump has beaten Mike Pence in the proxy war which became a subplot in a number of GOP primary elections.
On Tuesday, Pence-endorsed former Lt. Gov. Rebecca Kleefisch conceded defeat to Trump-backed businessman Tim Michels in the Wisconsin Republican primary for governor.
Michels, another primary candidate who supports the false claim the last election was rigged against Trump, will now go on to face Democrat Tony Evers in November's midterm election.
The Wisconsin race was the third time Pence and Trump had backed opposing candidates in the GOP primaries. The results were seen as a signifier as to which direction the GOP, and its voters, are heading as both men are reported to be gearing up for a run for president in 2024.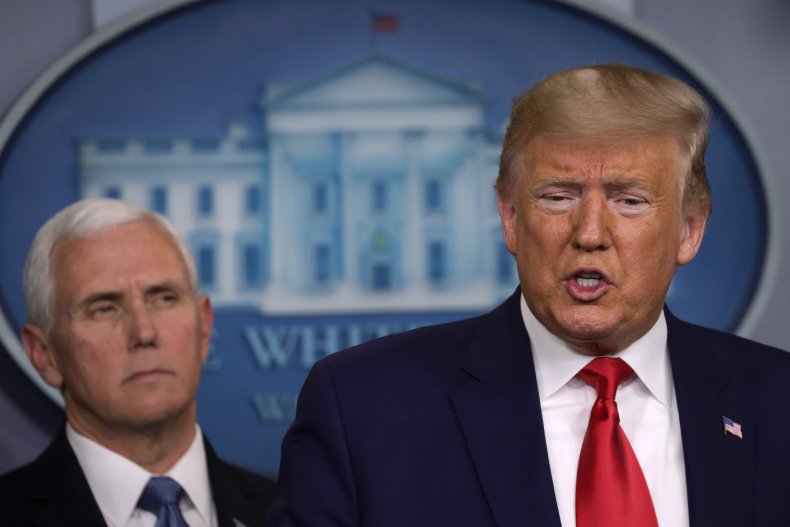 In Arizona, the Trump-endorsed candidate Kari Lake, who frequently pushes the false claim the 2020 election was "stolen" from the former president, beat the Pence-backed Karrin Taylor Robson in the race for the GOP nomination for governor, with the race declared on August 4.
However, Pence did manage to get one over Trump in the Georgia GOP gubernatorial primary in May, where he endorsed Gov. Brian Kemp for reelection.
Kemp comprehensively beat the Trump-endorsed candidate, former Senator David Perdue, by more than 50 percentage points.
With only a handful of primaries to go, none of which have any Pence-endorsed candidates, Trump has beaten his former running mate two to one in races where their chosen candidates were on opposite sides.
There are some candidates which both Trump and Pence have agreed on in the primaries. Both endorsed Sarah Huckabee Sanders, one time White House press secretary in the Trump/Pence administration, for Arkansas governor, as well as Iowa Reps. Randy Feenstra and Ashley Hinson.
Trump can also claim another victory from Tuesday, as one of the 10 House Republicans who voted to impeach him for inciting January 6 lost their primary.
Jaime Herrera Beutler was beaten into third place in the open primary in Washington's third district by the Trump-endorsed candidate Joe Kent. Democrat Marie Perez won in the race which saw the top two candidates advance to the midterms, regardless of their respective parties.
"Joe Kent just won an incredible race against all odds in Washington State. Importantly, he knocked out yet another impeacher, Jaime Herrera Beutler, who so stupidly played right into the hands of the Democrats," Trump said in a statement.
Beutler is now the third House Republican who voted to impeach Trump in January 2021 who went on to lose their primary. Michigan Rep. Peter Meijer lost his August 2 primary to Trump-endorsed, 2020-election denier John Gibbs. Rep. Tom Rice also lost to state Rep. Russell Fry in South Carolina's 7th District in June.
Rep. Dan Newhouse, another House Republican who voted to impeach Trump, was also on the ballot in Washington on August 2. He won his race with 25.5 percent of the vote, with Democrat Doug White advancing as the second placed candidate.