Trump Pokes Fun at Self With 'Covfefe' Post on Truth Social
Former President Donald Trump made his debut on his much-touted Truth Social platform with a self-deprecating post that referenced one of his most famous typos.
"I'M BACK! #COVFEFE" wrote Trump in his inaugural post that showed him tapping on a smartphone against the backdrop of his Mar-a-Lago resort in Palm Beach, Florida.
The post marks Trump's return to social media after being banned by Twitter in January 2021, after a mob of his supporters stormed the U.S. Capitol. Trump has grumbled about being kicked off Twitter while hatching plans to launch his own rival social media platform, which launched in February.
While in office, Trump was an avid user of Twitter, sending out tweets at all hours that sometimes included spelling other errors. One of Trump's most emblematic typos was included in a tweet sent out shortly after midnight on May 31, 2017, that read, "Despite the constant negative press covfefe."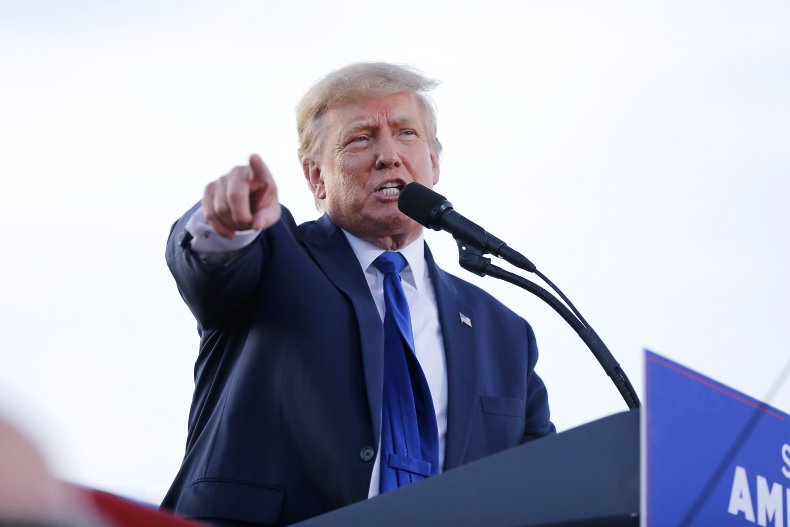 The presumed misspelling immediately went viral and became an internet meme, which Trump seemed to relish. He later tweeted "Who can figure out the true meaning of 'covfefe' ??? Enjoy!" He also had a giant display of the tweet printed out and displayed at a White House social media summit.
For the first time since its launch, Truth Social was the No. 1 app on Apple's top free apps chart Wednesday, beating out Twitter and TikTok. Truth Social had been downloaded roughly 1.4 million times since its launch, according to Sensor Tower.
Trump announced he was launching Truth Social last year as an alternative to other social media platforms that would "stand up to the tyranny of Big Tech." He specifically criticized Twitter for its uneven enforcement of community standards, pointing out that the Taliban is on the platform while he remained banished.
Following a rough start, Truth Social was marked by glitches and an inability to keep up with those wanting to join the network. However, it also attracted notable conservative media and political figures, raising questions if it would resemble right-wing networks, such as Parler or Gettr.
Trump's renewed social media presence comes as Twitter is poised for a major overhaul after tech mogul Elon Musk agreed to buy the platform for $44 billion. Musk has been critical of Twitter's content restrictions and has promised to relax in the interest of facilitating free speech.
Conservatives, who have complained that Twitter's content restrictions have censored their views, reacted optimistically to Musk taking over the platform, fueling speculation that Trump would be invited back.
Trump has shown little interest in rejoining Twitter since announcing his own social media platform. In an interview with Piers Morgan, he called the company's leadership "mentally ill" for banning him. He added Twitter has become "boring" after his departure.
Trump reiterated on Monday in an interview with Fox News that he would not be returning to Twitter.
"We're taking in millions of people, and what we're finding is that the response on Truth is much better than being on Twitter," Trump told Fox News. "Twitter has bots and fake accounts, and we are doing everything we can."
He said he did not see a Musk's ownership of Twitter as competition to his new platform. Trump also praised Musk's move to buy Twitter, saying "he'll make improvements to it and he is a good man."
Musk on Wednesday weighed in on Trump's new venture.
"Truth Social (terrible name) exists because Twitter censored free speech," Musk said in a tweet. "Should be called Trumpet instead!"
Newsweek has reached out to Trump for comment.