Donald Trump Could Meet the Same Fate as Steve Bannon Over Fundraising
A federal grand jury is reported to be looking into Donald Trump's fundraising efforts in the wake of the 2020 election just as the former president's close ally Steve Bannon faces his own fraud investigation.
On Thursday, Bannon, a former senior White House adviser, surrendered to authorities in New York to face allegations he defrauded thousands of people to the tune of $15 million who had donated to a "We Build the Wall" fundraising campaign, which promised to construct a barrier across the southern U.S.-Mexico border.
Bannon, who was previously charged in an almost identical federal investigation before being pardoned by Trump, pleaded not guilty to two felony counts of money laundering, two felony counts of conspiracy and one felony count of a scheme to defraud after turning himself in to prosecutors from the Manhattan District Attorney's Office.
The same day, The New York Times and ABC News reported that subpoenas were issued by a grand jury in Washington D.C. investigating the events which led up to the January 6 attack in an attempt to probe the inner workings of Trump's Save America PAC fundraising efforts.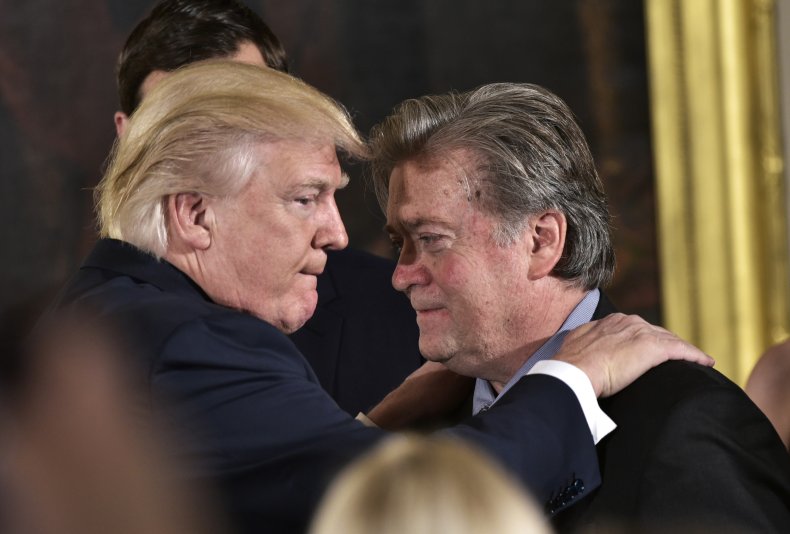 While the precise details of the subpoenas are not known, The Times said they were part of the Department of Justice's probe into the former president's fundraising following the 2020 election.
The Save America Super PAC, which was set up just days after the 2020 election, has raised more than $135 million in contributions, according to a report from ABC.
No formal investigation into the Save America PAC has been launched, but the move to issue subpoenas is the latest sign investigations into the former president are expanding.
The House Select Committee investigating the Capitol riot, which is not a criminal inquiry, hinted that Trump and his fundraising team may have defrauded his supporters out of millions of dollars by pushing the false claim the former president lost the last election.
On their first day of presentations, the January 6 committee alleged Trump constantly kept on pushing voter fraud claims so his irate supporters would continue to give donations.
In her opening statement in June, panel member Representative Zoe Lofgren, a California Democrat, said Trump's supporters gave their money on the assumption it would be used to cover legal costs fighting the false election fraud claims in the courts.
"But the Trump Campaign didn't use the money for that. The 'Big Lie' was also a big-rip off," Lofgren said.
In a statement provided to Newsweek, Trump's spokesperson Taylor Budowich said: "It should surprise no one that days after Biden declared Trump supporters a 'threat' to democracy, his admin goes after those very same supporters & Save America PAC, which is committed to Make America Great Again. Biden is using government to divide & destroy this nation."
While announcing the charges against Bannon, Manhattan District Attorney Alvin L. Bragg said: "It is a crime to turn a profit by lying to donors, and in New York, you will be held accountable.
"As alleged, Stephen Bannon acted as the architect of a multi-million dollar scheme to defraud thousands of donors across the country – including hundreds of Manhattan residents," Bragg continued. "Each and every day, my office works to ensure that when New Yorkers hand over money, they know where it's going and who it's going to – without any smokescreens or false promises."
Update 09/09/22, 10:22 a.m. ET: This article has been updated with comment from Taylor Budowich.