Donald Trump's Tax Returns at the Mercy of Leakers
The Supreme Court decision to allow Donald Trump's tax returns to be handed over to a House committee will not result in the former president's financial records becoming public, unless there is a leak.
In a ruling on Tuesday, Supreme Court justices rejected Trump's attempt to block a lower court decision to grant the Democratic-controlled Ways and Means Committee access to his Internal Revenue Service records.
The House committee is seeking Trump's tax returns from 2015 to 2020 as part of an investigation into his compliance with IRS auditing.
Trump, who became the first president in decades not to release his tax returns when he launched his run for the White House, has sought to keep his financial documents sealed for years. The former president has suggested that any attempt to gain access to his financial documents is actually designed to make them public.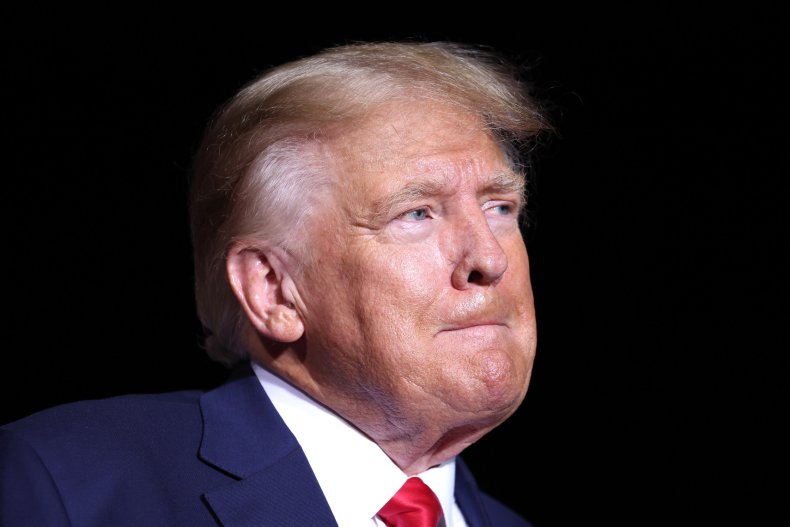 The House Ways and Means Committee is "legally forbidden" from making Trump's tax returns public once they gain access to them, explained University of California law professor and former U.S. attorney Harry Litman on Twitter.
However, Litman added, "these things have a way of seeing the light of day"—suggesting that a leak of the documents is likely.
Tom Fitton, a conservative activist, also discussed the likelihood of a leak.
"The Pelosi House, in a last abuse of power, will likely obtain for no good-faith reason—and then leak—the tax returns of former President Trump," Fitton tweeted. "That the courts failed to stop this is a failure of nerve and principle."
If a leak were to happen, it would need to happen soon. The Republican party is set to take control of the House and its committees in January after gaining a majority of the lower chamber in the midterm elections.
Once this happens, the GOP is almost certain to shut down any congressional work associated with Trump's tax returns.
According to the BBC's Anthony Zurcher, a leak of Trump's tax returns is one of the only meaningful outcomes left for the House committee. Any attempt to change federal law on presidential tax returns—the original purpose of the request—is now a "pointless effort" because of the timeframe.
"But a few weeks may be long enough to unearth evidence of any unusual or potentially improper accounting by Mr Trump—and for those details to leak to the public," Zurcher wrote.
In September 2020, Trump's tax returns were leaked to The New York Times. The newspaper published a lengthy investigation revealing that he had paid just $750 federal income taxes in 2016 and 2017 and that his luxury golf resorts had reported losses of more than $315.6 million since 2000.
In a post on Truth Social, Trump attacked the Supreme Court for its decision on his tax returns.
"Why would anybody be surprised that the Supreme Court has ruled against me, they always do! It is unprecedented to be handing over Tax Returns, & it creates terrible precedent for future Presidents," he wrote.
"The Supreme Court has lost its honor, prestige, and standing, & has become nothing more than a political body, with our Country paying the price. They refused to even look at the Election Hoax of 2020. Shame on them!"
In a statement after the court decision, the chairman of the Ways and Means Committee, Rep. Richard Neal said: "Since Magna Carta, the principle of oversight has been upheld, and today is no different.
"This rises above politics, and the committee will now conduct the oversight that we've sought for the last three-and-a-half years."
The Supreme Court has been contacted for comment.