Trump 'Terrified' as Walls 'Closing in' With Cipollone Hearing: Mary Trump
Mary Trump, the niece of former President Donald Trump, said Saturday that her uncle is "terrified" after former White House counsel Pat Cipollone was interviewed Friday by the House select committee that is investigating last year's Capitol riot.
Cipollone testified before the committee behind closed doors after the panel subpoenaed him following public testimony from Cassidy Hutchinson, who worked as a top aide for former White House chief of staff Mark Meadows. Hutchinson said Cipollone urged Meadows to respond after rioters called for then-Vice President Mike Pence to be hanged for not blocking Congress from certifying the election in Joe Biden's favor.
In an interview with CNN Friday following Cipollone's testimony, Representative Zoe Lofgren, a California Democrat who sits on the committee, said that Cipollone "did not contradict the testimony of other witnesses and I think we did learn a few things which we will be rolling out in hearings to come."
Appearing on MSNBC's The Katie Phang Show on Saturday, Mary Trump was asked about Cipollone's testimony and her uncle's reaction to it.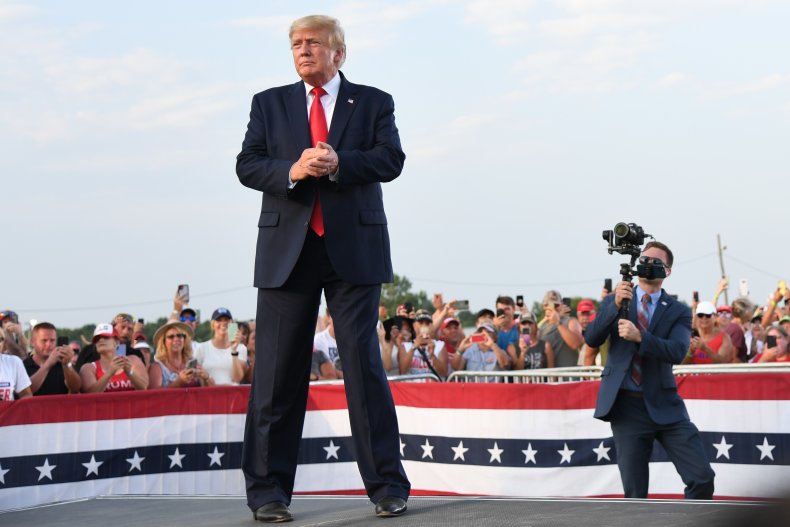 "What do you think is going through his mind right now? Because there's an incredibly getting even larger amount of damning testimony that's coming out, and notably he did not attack Pat Cipollone before Cipollone testified before the 1/6 committee," host Katie Phang asked.
"To say that Donald is terrified is accurate and also an understatement. I think this might be the first time in his entire life that even he can't deny that the walls may indeed be closing in," Mary Trump responded.
She added: "The amount of evidence that we've seen coming out of these committee hearings is overwhelming, but even more troubling for him is the witnesses are now coming forward are increasingly important in terms of access and in terms of their positions in his administration and they're unimpeachable. So it is not at all surprising that he would pull his punches when it comes to Pat Cipollone."
Newsweek has reached out to Trump's press office for comment.
Last month, Trump blasted the House select committee for subpoenaing Cipollone.
"Now that fake storyteller Cassidy Hutchinson has been totally discredited and marginalized for making up the most ridiculous ever story that I tried to commandeer control of a moving White House Limo, and even went for a choke hold on the other very strong Secret Service Agent sitting in the front seat, in addition to her other lies, the Unselect Committee is asking to interview the former White House counsel for dirt, even though that would set a terrible precedent for future Presidents. NO!," Trump wrote in a statement.
In a separate interview last month, Mary Trump said that her uncle "handed down a death sentence to Mike Pence" on January 6, and that the death of the vice president could have been an "excuse" he needed to do something "absolutely radical" to stay in power.
Meanwhile last December, she said that there is "no bottom" in her uncle's efforts to maintain control of the Republican Party.