Trump Touts New Kids' Book About 'King Donald' Battling 'Hillary Queenton'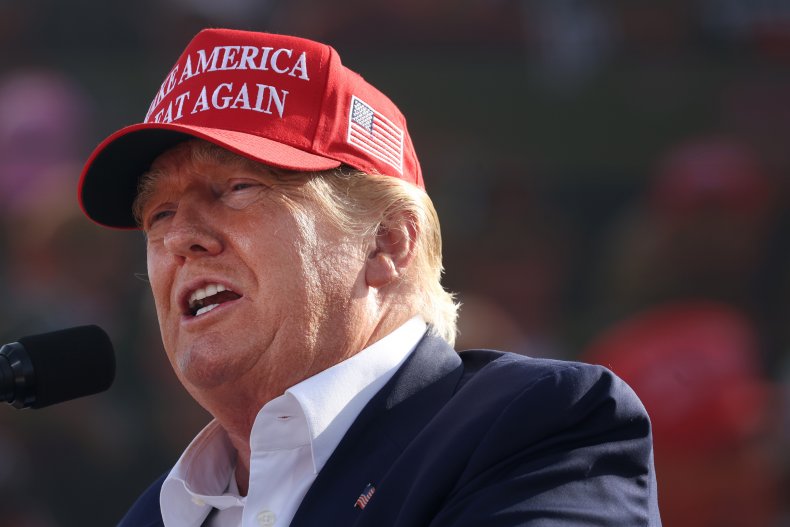 Former President Donald Trump is singing the praises of a new children's book that casts him as the victor in a battle between "King Donald" and the evil "Hillary Queenton."
Trump endorsed The Plot Against the King, which was written by his former Pentagon Chief of Staff Kash Patel, in a post to his Truth Social network on Wednesday. The illustrated children's book, which was released this week, tells a tale that mirrors a Trump-friendly narrative concerning the investigation into Russian interference in the 2016 presidential election, part of a nefarious attempt to stop King Donald from working to "Make the Kingdom Great Again."
"The Plot Against the King is the true story about the Russia Collusion Hoax, written for children, by my friend @Kash," Trump wrote on Truth Social. "Live the tale thru the eyes of great characters like the handsome King Donald and Kash the Wizard. This story showcases how Hillary Queenton and a Shifty Knight tried to destroy our democracy, but truth and the MAGA King prevailed."
"Support this great patriot, educate our children, and put a copy in every school across our land," he added.
Nick Merrill, a spokesperson for former Secretary of State Hillary Clinton, said in a statement to Newsweek: "Indoctrinating kids with their vitriol and conspiracy theories is about the only space the right hasn't touched, so I guess propagandizing children's books is the logical next step ... "
In addition to characters that represent Trump, Patel and Clinton, California Democratic Representative Adam Schiff—whom the ex-president has frequently called "Shifty Schiff"—appears as a "shifty knight," while former FBI Director James Comey appears as a slug wrangler named "Keeper Komey."
The book describes Patel's central character, a wizard dubbed Kash the Distinguished Discoverer, as being "known far and wide as the one person who could discover anything about anything." He works to investigate the plot against King Donald alongside "Duke Devin," a stand-in for former House Intelligence Committee Chair Devin Nunes.
A key plot element in the book sees Kash the Distinguished Discoverer finding a letter from Hillary Queenton to Keeper Komey, thanking him "for the service of delivering my papers with thine slugs to the steel box so sneakily"—a reference to the controversial Steele dossier, which contained several discredited claims but did not trigger the real-life FBI investigation.
After the heroes of The Plot Against the King prevail, Kash the Distinguished Discoverer delivers a speech declaring "we shouldn't have believed that the King was a cheater without any proof" and the "Knights of the Oval Table" banish the "shifty knight," Hillary Queenton and Keeper Komey from the kingdom "forever."
Patel's book was not the first notable instance when Trump was referred to as a "king." In 2019, future Supreme Court Justice Ketanji Brown Jackson, then serving as a D.C. district court judge, famously wrote that "presidents are not kings" in a ruling against Trump's former White House counsel Don McGahn, who had attempted to avoid a congressional subpoena by invoking executive privilege.
"This means that they do not have subjects, bound by loyalty or blood, whose destiny they are entitled to control," Jackson wrote.
Update 5/19, 3:50 p.m. EDT: This article has been updated to include a statement from Clinton spokesperson Nick Merrill.