Trump Transition: Ivanka Trump to Meet With Al Gore; Ben Carson Picked for Housing Post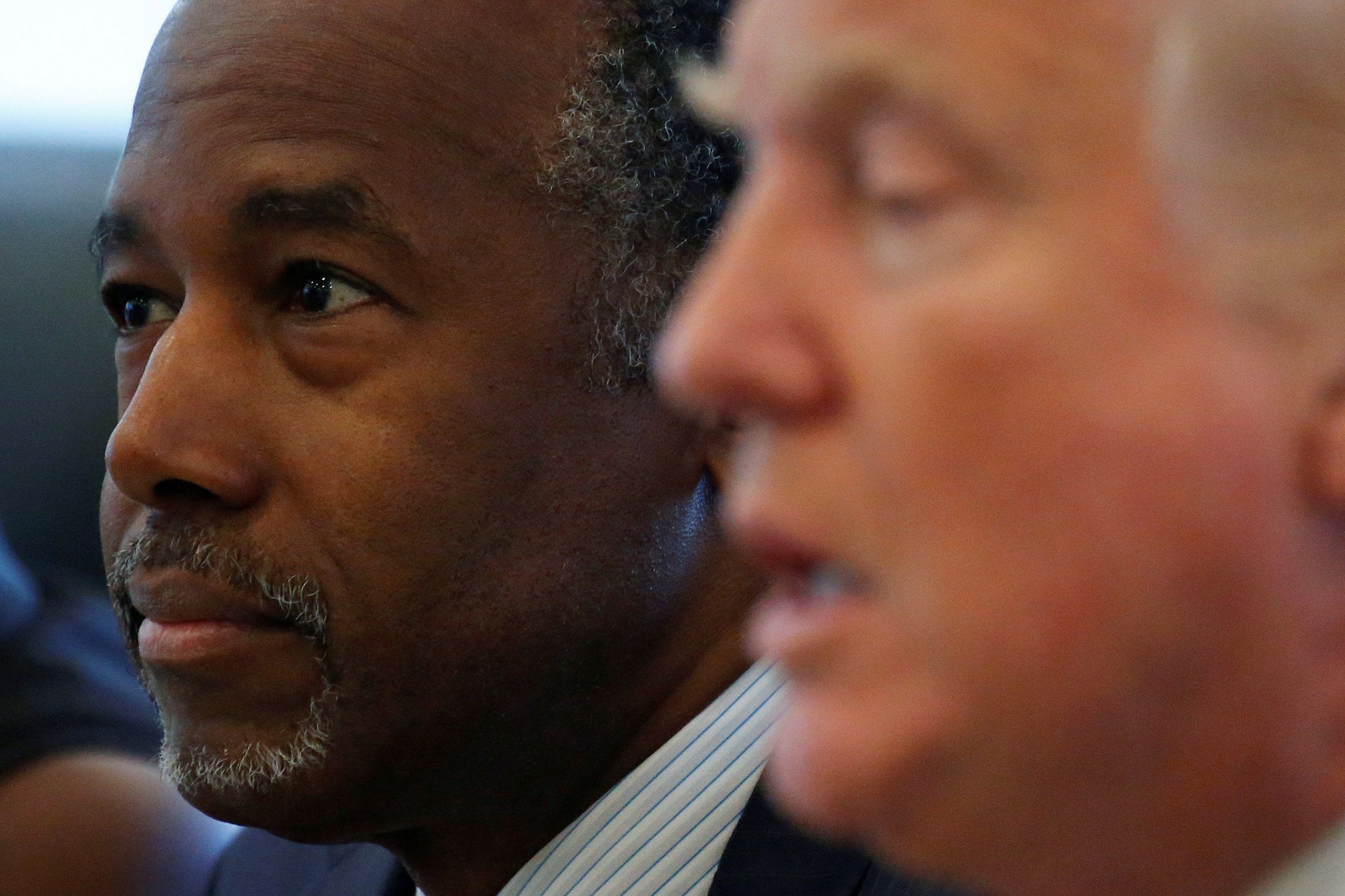 Welcome to Newsweek's daily rundown of President-elect Donald Trump's transition process. There are about 4,000 positions to fill, and we'll be keeping track of appointees through the January 20 inauguration.
It's official: Ben Carson has been nominated to join Trump's cabinet as secretary of housing and urban development. The announcement came on Monday morning, nearly two weeks after Carson posted a cryptic social media announcement "about my role in helping to make America great again."
The decision to put Carson, a retired surgeon and presidential candidate, in a cabinet position is a contentious one. Last month, Armstrong Williams, a Carson business associate, told multiple news outlets that Carson doesn't have enough experience to run a federal agency. While Carson's positions on running the agency aren't yet clear, he once criticized a rule enacted by the Obama administration known as "affirmatively furthering fair housing." The rule seeks to withhold funding from communities that don't do enough to desegregate their own housing, with the aim of reversing decades of housing segregation. In a July 2015 op-ed in the Washington Times, Carson said the rule is another example of "failed socialism."
Related: Who will be in Donald Trump's cabinet? Here's a list of possibilities
Trump named Carson despite the nominee saying a week after the election that he wouldn't seek a cabinet position because "it is vitally important for the Trump administration to have many outspoken friends and advisers who are outside of the Washington bubble." Like Trump, Carson has no government experience. The two men clashed on the campaign trail, with Trump once comparing Carson's "pathological temper" to that of a "child molester."
Cabinet nominee tally: 10
Attorney General: Jeff Sessions
CIA Director: Mike Pompeo
U.N. Ambassador: Nikki Haley
Education Secretary: Betsy DeVos
Secretary of the Department of Health and Human Services: Tom Price
Transportation Secretary: Elaine Chao
Treasury Secretary: Steve Mnuchin
Commerce Secretary: Wilbur Ross
Defense Secretary: Retired General James Mattis
Secretary of Housing and Urban Development: Ben Carson
White House staff tally: 5
Chief of Staff: Reince Priebus
National Security Advisor: Lt. General Michael Flynn
Deputy National Security Advisor: Kathleen Troia "KT" McFarland
Senior Counselor: Stephen Bannon
Assistant to the President and White House Counsel: Donald F. McGahn
While Trump and Vice President-elect Mike Pence's transition meetings continue on Monday, Ivanka Trump, the president-elect's daughter and a transition adviser, will meet with former Vice President Al Gore to discuss climate issues, it was disclosed during the transition team's daily call. Donald Trump and Pence will meet with former U.S. Attorney Debra Wong Yang; North Dakota Representative Kevin Cramer; South Carolina Representative Mick Mulvaney and Catherine Templeton, former head of the South Carolina health department under Governor Nikki Haley, who has been nominated to be the next U.N. ambassador.
On Tuesday, Trump and Pence will meet with Rex Tillerson, CEO of ExxonMobil; the mayor of Washington, D.C., Muriel Bowser; Iowa Govenor Terry Branstad and Laura Ingraham, the conservative radio host who is seen as a possible pick for Trump's White House press secretary. Meanwhile, Trump and Pence will continue their "thank you America tour" this week, making stops in Fayetteville, North Carolina (Tuesday); Des Moines, Iowa (Thursday) and Grand Rapids, Michigan (Friday).
Minutes after Monday's press call concluded, Trump tweeted yet another attack targeting the press:
Also continuing is the controversy around Trump's phone call with Taiwan's president. The conversation between Trump and President Tsai Ing-wen was the first communication between the countries' leaders since 1979, and it prompted a scolding from Chinese authorities. In response, Trump on Sunday tweeted criticism of China's monetary policy and its movements in the South China Sea. (Sunday nights are proving to be a prime time for tweet storms from the president-elect,)
On Monday, The Washington Post reported that the call was planned in advance to be "an intentionally provocative move that establishes the incoming president as a break from the past." When asked about the 10-minute call on Monday, Jason Miller, communications director for the transition team, referred reporters to comments made by Pence on various Sunday talk shows. Pence said the phone call was a "courtesy."
Meanwhile, Michael G. Flynn, the son of retired Lieutenant General Michael Flynn, Trump's pick for national security adviser, has been tweeting about the "Pizza Gate" conspiracy theory that led to the arrest of a man outside a Washington, D.C. pizzeria on Sunday. A North Carolina man identified as Edgar Maddison Welch, 28, walked into Comet Ping Pong and fired an assault rifle. He claimed he was there to "self-investigate" baseless claims that Hillary Clinton and John Podesta led a child sex ring in the basement of the pizza shop. Those who believe the unfounded claims point to the leaked Podesta emails as "evidence" and say the word "pizza" is in fact code for pedophilia.
Comet Ping Pong said it will "continue to operate safely and securely" and said the shooting "demonstrates that promoting false and reckless conspriacy theories comes with consequences."
Read more on Newsweek.com:
-Jon Huntsman, John Bolton, Exxon CEO among State Department possibilities
-Why did Donald Trump win? Just visit Luzerne County, Pennsylvania
-Taiwan call fallout, Sarah Palin blasts 'crony capitalism'