Sacha Baron Cohen, Other Celebs Urge Facebook and Twitter to Ban Trump After Capitol Riots
Sacha Baron Cohen is among the many high-profile voices calling on Twitter and Facebook to ban Donald Trump permanently following the violence at the U.S. Capitol on Wednesday.
Trump has now been barred from Facebook until at least the end of his presidency.
The president's Twitter account was locked temporarily for three posts that were published as a mob of his supporters stormed the Capitol in Washington, D.C. He is unable to access the social media site for 12 hours but his profile is expected to be restored on Thursday.
In the aftermath of his Twitter ban, Trump appears to have deleted several posts that led to his exclusion, with the company warning that he would remain blocked unless the offending posts were taken down.
Future violations of these rules can result in a permanent suspension—which is what many commentators have called for.
One of Trump's offending tweets read: "These are the things and events that happen when a sacred landslide election victory is so unceremoniously & viciously stripped away from great patriots who have been badly & unfairly treated for so long."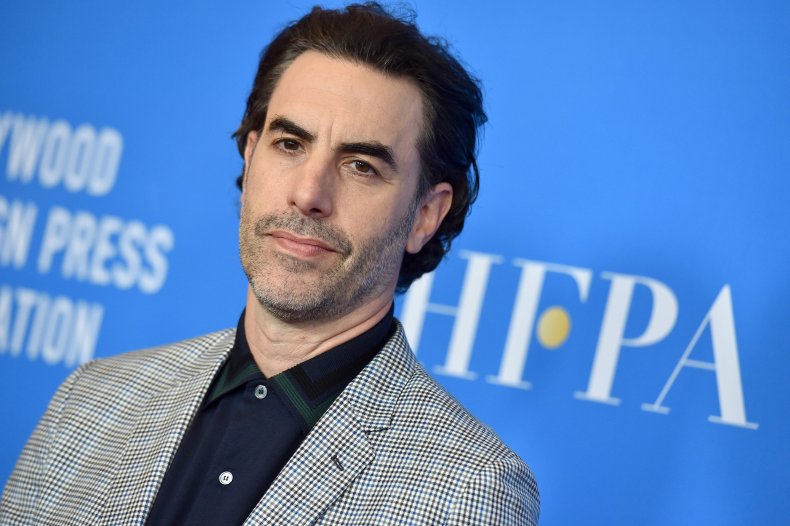 Despite the suspension, the president has gained more than 200,000 social media followers since Wednesday.
Baron Cohen is waging a long-standing campaign against Twitter and Facebook, describing them in 2019 as "the greatest propaganda machine in history."
Following Wednesday's events in D.C. the Borat star tweeted: "@twitter suspending Trump for 12 hours? Sorry @jack—not good enough. This is your chance to finally defend democracy. Ban Trump from Twitter—for good!"
After Trump was suspended from Facebook, Baron Cohen added: "Suspending Trump for a FEW HOURS for inciting a violent attack on the U.S. Capitol is NOT ENOUGH. Stop letting Trump use Twitter to incite violence and undermine democracy! #BanTrumpSaveDemocracy."
Singer Selena Gomez echoed these sentiments, with a post calling out Silicon Valley bosses.
Comedian Sarah Silverman didn't hold back, tweeting: "SHUT THIS LYING LUNATIC'S ACCOUNT DOWN NOW."
"Shut down his godd*** Twitter feed and throw him in m************ jail. NOW," said stand-up comic and actor Patton Oswalt.
Supernatural star Misha Collins—who was a White House intern during the Bill Clinton administration—tweeted: "The guy we don't currently trust to be responsible with a Twitter, Facebook, or Instagram account still has access to the nuclear codes. We need Trump removed NOW."
"I think Twitter needs to ban Trump for good," wrote Scott Dworkin of the Democratic Coalition. "It's already better without him."
Elon Musk, CEO of SpaceX and Tesla, also tweeted a meme blaming Facebook for the Capitol riot.
D.C. police have confirmed that four people died during the disturbances and more than 52 people were arrested. The violence has led to calls for Vice President Mike Pence to invoke the 25th Amendment, removing Trump from office.
Facebook CEO Mark Zuckerberg issued a statement explaining Trump's Facebook suspension.
"We believe the risks of allowing the president to continue to use our service during this period are simply too great," Zuckerberg said. "Therefore, we are extending the block we have placed on his Facebook and Instagram accounts indefinitely and for at least the next two weeks until the peaceful transition of power is complete."
Note: This article was updated to include new information on Trump's Facebook suspension.