Trump Visits Hurricane Harvey Victims In Houston, Takes More Active Role Amid Criticism Over Past Visit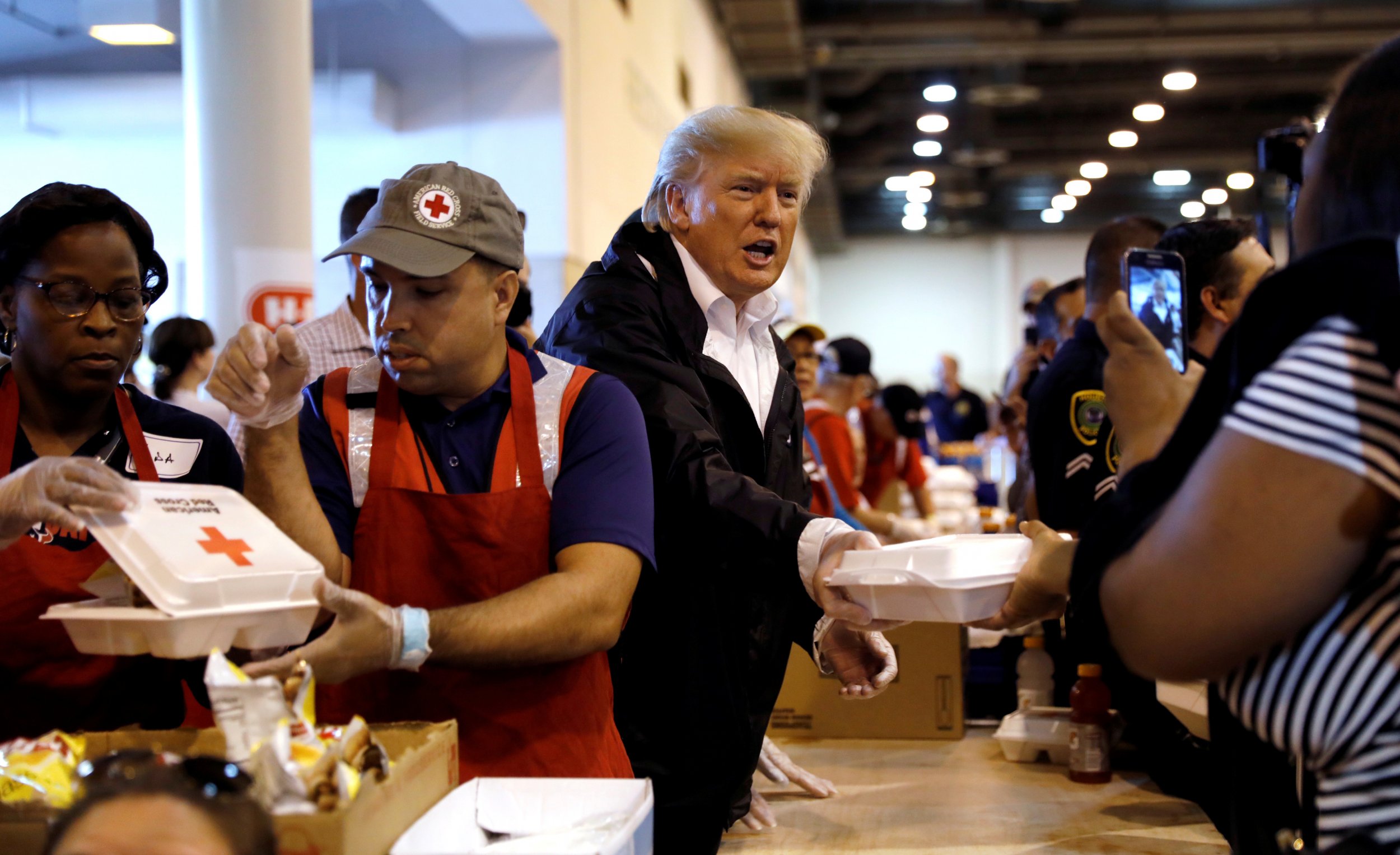 President Donald Trump visited Houston on Saturday to distribute supplies to victims of Hurricane Harvey. The trip came amid criticisms that the Republican leader was not doing enough to help those affected by one of the most destructive storms in the history of the United States.
Trump and his wife, Melania, mingled with residents and handed out food at the NRG Center, a massive convention hall that's been repurposed as a shelter for at least hundreds of roughly one million people displaced by the historic storm. As lawmakers spar in Washington over government spending, Trump requested Friday $7.85 billion in emergency relief spending and assured reporters outside the center that he would come through with the package.
Related: US Military Launches Massive Hurricane Harvey Operation; Dramatic Rescue Scenes Emerge
"We are signing a lot of documents to get money," Trump said, according to Reuters, who noted that the president appeared at ease and eager to help.
"It has been a wonderful thing," Trump said of he and his wife's experience meeting and assisting the victims.
The trip is Trump's second to Texas this week, but his first to an area directly affected by record-shattering rainfall and floods last week that killed up to 45 people. On Tuesday, Trump met with state and local leaders in Austin. Trump said he did not want he and his entourage to get in the way of search and rescue operations, but his absence irked many who felt the president should have shown his support in person.
He was further criticized for commenting on the crowd size for his appearance in Austin, echoing an earlier dispute about his inauguration attendance, which he argued was the largest ever.
Trump's off-the-cuff demeanor and tendency to relive past controversies, however, manifested itself in Houston too. While Trump prepared to hand out food to victims displaced from their homes, the president turned to the media and said, "My hands are too big," referring to the sanitary gloves worn by those assisting.
The comment was a likely reference to Florida Senator Marc Rubio's jab at the size of Trump's "small hands" during last year's Republican presidential run-offs. The remark, which was meant to imply that "something else must be small" in Trump's own words, elicited outrage from the real estate billionaire-turned politician. Trump showed his hands to the audience at the GOP debate to convince the crowd they were big and has been out to prove it ever since.
In addition to the multi-billion dollar package he's attempting to secure from the government, Trump pledged a $1 million personal donation to the Hurricane Harvey recovery process, which could end up topping Hurricane Katrina at $190 billion. Texas Governor Gregg Abbot, who Trump visited Saturday, said that he would need up to $125 billion for his state alone. Around 440,000 Texans have already applied for federal financial disaster assistance, and $79 million has been approved so far, according to Abbot.
Trump's son, Eric, also garnered controversy Thursday when he posted a tweet claiming CNN and other mainstream media would not cover his father's million dollar contribution. CNN responded to the tweet, highlighting that it had aired the report hours earlier.