Trump vs. Macron: France's President Warns of Nationalist Forces With 'No Memory,' Says Europe Must Unite to Prevent World 'Chaos'
French President Emmanuel Macron pushed again for the creation of a European army amid tensions with President Donald Trump, arguing that Europe "has the obligation not to let the world slip into chaos."
Speaking before the Bundestag, Germany's parliament, on Sunday, Macron urged for closer ties between Paris and Berlin, while also calling for a unified front across the continent. The 40-year-old French leader also warned against the rise of the far-right and nationalist movements throughout Europe, and said such groups have "no memory" of the continent's past.
"There are too many powers that wish to thwart us, that interfere in our public debates, attack our liberal democracies and are trying to pit us against each other," Macron said, the BBC reported. "And in this global order, which we have to take very seriously, our strength—our true strength—lies in unity," he said.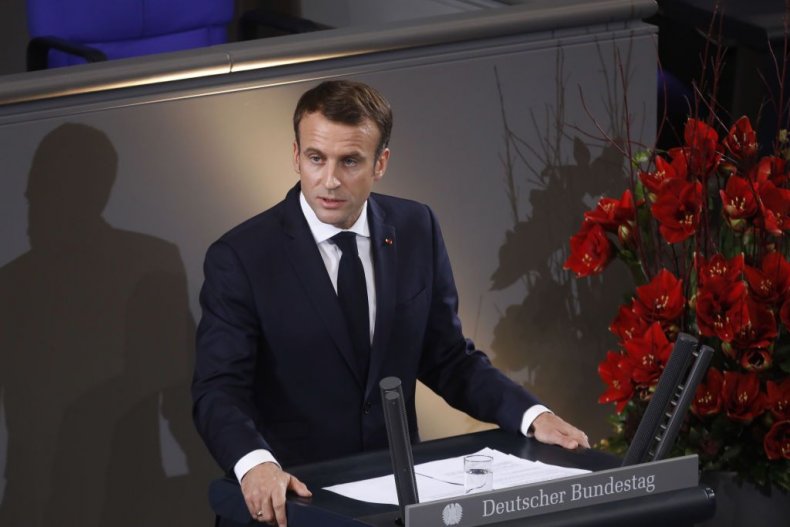 Over the past couple weeks, a war of words has developed between the French president and his counterpart in Washington. Earlier this month, Macron called for the establishment of a "true European army" to counter external threats. He pointed fingers at the U.S. as a security threat under the current administration, although Macron later emphasized he was referring to cybersecurity and cyberthreats, not military threats.
Trump responded a few days later, calling the remarks as "very insulting."
Although the two leaders met in Paris in a showing of friendship during a World War I commemoration event last weekend, Trump again went on the attack after he returned to the U.S. In a series of Twitter posts, the president mocked France for needing U.S. support to defeat Germany in the World Wars, took a jab at French wine and also appeared to back far-right French nationalists. He ended the string of tweets with the words "MAKE FRANCE GREAT AGAIN!"
A spokesperson for Macron responded by saying that Trump lacked "common decency," while Macron said he did "not do policy or diplomacy by tweets."
Amid the exchange, German Chancellor Angela Merkel also threw her support behind Macron's proposal. "A common European army would show the world that there will never be war again in Europe," she said, in a speech before the European Parliament in Brussels. "The times we could rely on others are over," she added, which many interpreted as a dig at the Trump administration.
Emphasizing the close ties between Germany and France in particular, Macron said in his Sunday speech that the European powers have a special responsibility to ensure global security.
"Europe, and within it the Franco-German couple, have the obligation not to let the world slip into chaos and to guide it on the road to peace," he said, according to Euractiv. "That's why Europe must be stronger…and win more sovereignty," he added.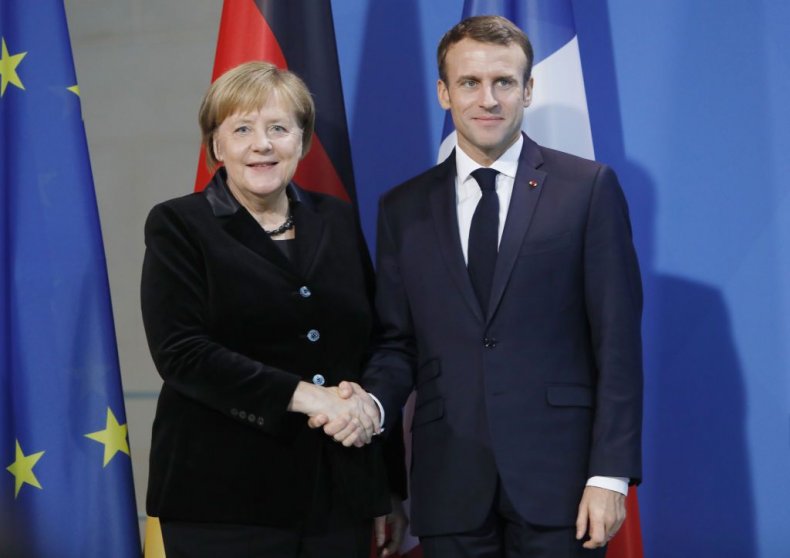 European leaders have found themselves at odds with the Trump administration over numerous issues, including the environment, international security, the Iran nuclear deal and bilateral trade.
Trump announced the U.S.'s withdrawal from the Paris climate accord in June 2017. As of last November, every nation in the world had signed the agreement, isolating the U.S. In May, the Trump administration also stepped away from the Iran nuclear agreement and moved to implement waves of sanctions in August and then again this month. European leaders have scrambled to salvage the agreement, working with Iran as well as Russia and China.
Far-right and nationalist movements have been on the rise in Germany, France and across Europe. Macron and Merkel also face significant political challenges within their respective countries. The French president's approval rating has dropped to 25 percent, and a recent poll showed that the majority of Germans believe Merkel should step down as chancellor next year.