Trump Wastes No Time Firing Verbal Shots at Recovering Mitch McConnell
Former President Donald Trump referred to Kentucky Senator Mitch McConnell as "a disaster" during a campaign event Monday just a few hours after the minority Senate leader was released from the hospital.
McConnell, 81, was admitted to George Washington University Hospital on Wednesday, sustaining a concussion after he tripped and fell at a reception for the Senate Leadership Fund in Washington, D.C. According to his spokesman, David Popp, McConnell's "concussion recovery is proceeding well," reported The New York Times, adding that he will move to a physical rehabilitation center before returning to Congress. Popp also said that the senator is being treated for a "minor rib fracture."
Trump, who appeared Monday at a campaign event in Davenport, Iowa, briefly addressed McConnell while fielding questions from the crowd, telling supporters: "We do have to do something about Mitch McConnell."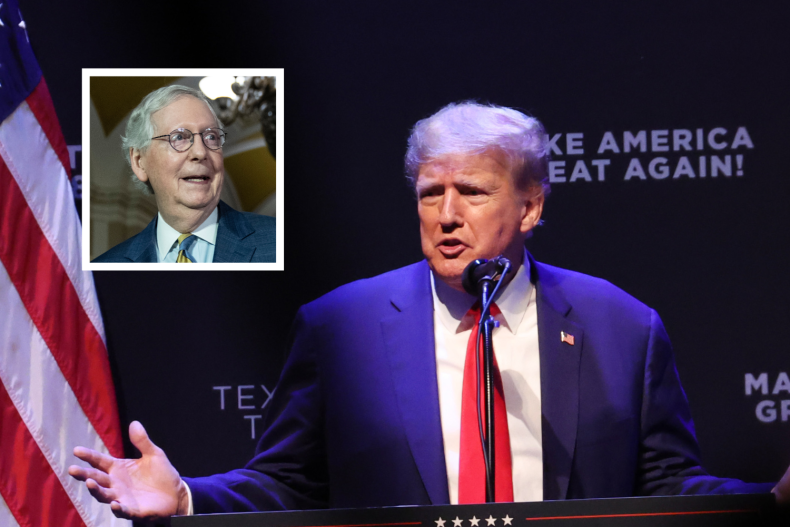 "He's a disaster," the former president continued. "He gets his 10 guys, and they give [President Joe] Biden whatever they want. There's something going on. That doesn't make sense. They get whatever they want."
"We got to get him the hell out," he added. "He's a problem, big problem. In the meantime, I hope he's feeling well, but he's a big problem."
Trump, once allies with McConnell, has had a rocky feud with the Kentucky lawmaker since the aftermath of the 2020 presidential election. The former president appears to hold a grudge over McConnell's willingness to work with President Joe Biden and Democratic lawmakers on bipartisan packages, including the $1.2 trillion infrastructure bill from 2021 or the $1.7 trillion omnibus bill passed in December.
In January, the former president also blamed the "unnecessary turmoil" within the GOP on McConnell and his wife, Elaine Chao, who is no stranger to Trump's attacks. After House Republicans failed to elect Speaker Kevin McCarthy on the first day of the new congressional term, Trump wrote on his Truth Social account: "There is so much unnecessary turmoil in the Republican Party, in large part due to people like the Old Broken Crow, Mitch McConnell, his 'wife', Coco Chow, who is a sellout to China, and their RINO allies, who make it difficult for everyone else by constantly capitulating to Hopeless Joe Biden and the Democrats."
Other Republicans have also followed suit in Trump's attacks against McConnell, such as Georgia Representative Marjorie Taylor Greene, a close ally of the former president who spoke out against the minority leader's support for the omnibus spending package last year.
Trump's former legal adviser Jenna Ellis was also caught in hot water on Twitter last week for mocking McConnell's injury. However, the former president reportedly told the Washington Examiner following reports of McConnell's accident that, "I disagree with almost everything he does, but what I certainly would like him to do, I want him to be well."
Newsweek has reached out to McConnell's press team via email for updates about the senator's recovery.