Former President Donald Trump praised Georgia Republican Congressman Marjorie Taylor Greene at his Waco, Texas campaign stop on Saturday, even pledging to "fight like hell" if she announced a run for Senate.
While criticizing his Republican colleagues during his campaign speech, Trump said, "Republicans cannot take it any longer. They have to get tougher, but they cannot take it. These Washington Republicans like Mitch McConnell who's the absolute worst. They've got to get tougher; they've got to get like Marjorie Taylor Greene."
Trump continued by asking her if she'd "like to run for the Senate?" adding he'd "fight like hell for you." Marjorie Taylor Greene responded on Twitter agreeing that "Republicans do have to get tougher — I agree, Mr. President!!"
Trump's campaign speech comes amid a turbulent week as he faces a possible indictment from Manhattan District Attorney Alvin Bragg. Trump is being investigated by Bragg's office over accusations that he concealed a $130,000 "hush money" payout made by his former lawyer Michael Cohen to adult film star Stephanie Clifford, better known by her stage name Stormy Daniels, ahead of the 2016 presidential election.
Prosecutors for the attorney have reportedly suggested that Trump's indictment might be imminent, though they haven't given an exact date. Trump has repeatedly denounced any wrongdoing, even saying at Saturday's campaign he is the "most innocent man" in America.
Greene has remained a staunch supporter for Trump amid Bragg's looming indictment, repeatedly criticizing Bragg on crime. Greene took to Twitter on Thursday saying, "Over HALF of all felonies under Alvin Bragg are downgraded to misdemeanors. Many violent crimes are dismissed altogether. So why is Alvin suddenly interested in UPGRADING President Trump's alleged misdemeanor?"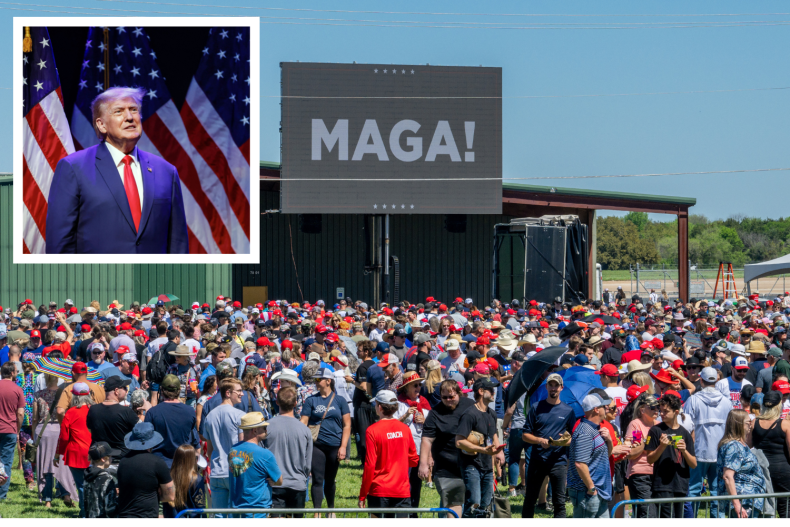 Meanwhile, political analyst and Dillard University Professor Robert Collins told Newsweek on Saturday, "If Marjorie Taylor Greene runs for the U.S. Senate in Georgia, she would have the same problems that Herschel Walker had. She is very popular with the base, and they will support her no matter what, but she's too controversial to get any significant votes from the independent voters."
Collins continued: "The State of Georgia is split in two with about 45-47 percent always voting for Republicans and 45-47 percent always voting for Democrats, and then less than 10 percent are independent swing voters. The Democrats won the last two US senate races because they were able to get the lion share of those independent swing voters. Marjorie Taylor Greene would max out in the high 40s.
"She cannot get a significant number of those independent voters. So she does not help him in Georgia," Collins added.