Trump's Connection to Jeffrey Epstein Explained by Roger Stone
Roger Stone recently explained Donald Trump's ties to Jeffrey Epstein as the former president faces new attacks from supporters of Florida Governor Ron DeSantis.
Trump exacerbated tensions with DeSantis this week after he shared a Truth Social post that accused the governor of "grooming" underage girls he was responsible for teaching at a Georgia high school in his latest tirade against the Florida Republican, who is widely seen as Trump's top competitor in the 2024 GOP presidential primary, despite not yet announcing a campaign.
Following the brouhaha, DeSantis' supporters came to his defense, drawing attention to Trump's ties to Epstein, who was arrested on federal charges of sex-trafficking minors in 2019. Many high-profile individuals and politicians have also faced scrutiny over alleged connections to the billionaire.
"Trump is falsely accusing DeSantis of pedophilia. It is only fair to point out the fact that he traveled on Epstein's Lolita Express seven times. It is also fair to point out that Trump lied about the number of times he traveled on that plane," Ian Miles Cheong wrote in a viral tweet on Tuesday that has been viewed more than 300,000 times as of Saturday afternoon.
Stone, a longtime Trump ally, weighed in on these connections during a recent appearance on Lindell TV. He said Trump only visited Epstein's Palm Beach, Florida, residence once, and added that he "told the traveling security guard, 'Wow, what a nice guy Jeffrey Epstein is, letting all the kids in the neighborhood swim in his pool."
"Reportedly, Trump left the Epstein residence after only 15 minutes because he was uncomfortable with the mix of younger women and the limited number of men," Stone said.
He dismissed any other assertions about their relationship as a "smear."
"But now I see these smears being recycled all over the internet," Stone said. "And I hate to say this, but they are courtesy of supporters of Governor Ron DeSantis."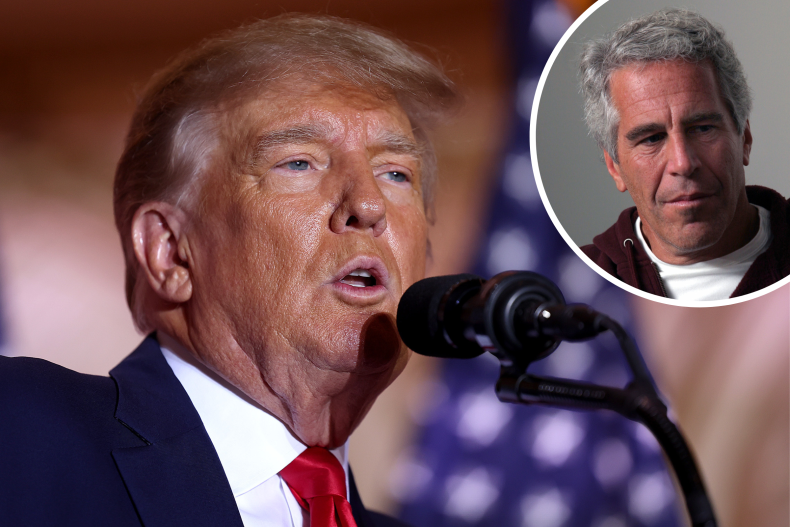 Although Stone tried to downplay the ties between the two, they for years ran in similar social circles. Newsweek previously reported that records show Trump boarded Epstein's plane, which allegedly flew underage girls to his properties, seven times, though no evidence of wrongdoing has been presented.
Stone continued to defend Trump in a Substack post, titled "Trump & Epstein: The Recycled Smear," on Friday. He acknowledged that Trump knew Epstein, but dismissed claims that the former president took multiple flights on Epstein's plane.
"Trump turned down numerous invitations to Epstein's hedonistic private island and his Palm Beach home. There is no evidence Trump did anything improper. Norma Foerderer, Trump's longtime personal assistant, told me that Trump thought Epstein was 'creepy,'" Stone wrote.
He also added that Trump "broke with" Epstein before he was prosecuted in Florida. The Washington Post reported in 2019 that their feud began when they both wanted to purchase a Palm Beach property, Maison de l'Amitie.
What Trump Has Said About Jeffrey Epstein
Over the years, Trump has distanced himself from Epstein. After Epstein's 2019 arrest, the then-president said he only knew Epstein because "everybody in Palm Beach" did.
"I had a falling out with him. I haven't spoken to him in 15 years. I was not a fan of his, that I can tell you," he said.
But earlier on, he offered more complimentary words toward his former friend.
"I've known Jeff for 15 years. Terrific guy," Trump told New York magazine in 2002. "He's a lot of fun to be with. It is even said that he likes beautiful women as much as I do, and many of them are on the younger side."
Newsweek reached out to Trump's office for comment.