Former U.S. Army prosecutor Glenn Kirschner predicted that former President Donald Trump "will be indicted," asserting that his "days are numbered."
Manhattan Supreme Court Judge Arthur Engoron ruled last Thursday that Trump and two of his adult children, Donald Trump Jr. and Ivanka Trump, must comply with subpoenas and answer questions under oath as part of an investigation led by New York Attorney General Letitia James. Kirschner on Saturday uploaded a short video to Twitter, overviewing that decision and providing his analysis of the situation.
"Donald Trump will be indicted," Kirschner asserted. "I'm not sure which jurisdiction will indict him first but he will be indicted."
The attorney urged his followers to "hold on tight because there's more to come." Kirschner said that the "investigative circle continues to tighten around Donald Trump," arguing that Trump's "days are numbered."
"It's coming, it's coming," he continued. "It's not coming quickly enough but Justice is coming."
Like Kirschner, a number of other legal experts assessed that Trump is running out of good options following Engoron's decision last week.
"If Trump takes the Fifth, it can be used against him in the civil case being developed by the New York Attorney General," former federal prosecutor Renato Mariotti tweeted. "If Trump doesn't take the Fifth, the Manhattan DA can use his words against him. He's between a rock and a hard place."
"Watch the Three Trumpketeers try to wiggle out of this order!" Laurence Tribe, a professor of constitutional law at Harvard, tweeted. "Civil contempt would land them in jail, with cooperation being their only key to get out of those ugly orange prison suits—not the Trump idea of high fashion."
As for Trump, he slammed the judge's ruling in a Thursday statement.
"The targeting of a President of the United States, who got more votes while in office than any President in History, by far, and is a person that the Radical Left Democrats don't want to run again, represents an unconstitutional attack on our Country—and the people will not allow this travesty of justice to happen," the former president said. "It is a continuation of the greatest Witch Hunt in history—and remember, I can't get a fair hearing in New York because of the hatred of me by Judges and the judiciary. It is not possible!"
In addition to the New York investigation, Trump may also face a Justice Department probe over his handling of classified national security information. The former president removed classified documents from the White House and took them to his Mar-a-Lago resort in Florida when he left office last year. The records have since been returned to the National Archives and Records Administration (NARA), but legal experts and former federal law enforcement officials have suggested he could face charges.
"DOJ, this ball is in your court," former FBI Assistant Director Frank Figliuzzi tweeted after the NARA confirmed that classified national security documents had been taken by Trump.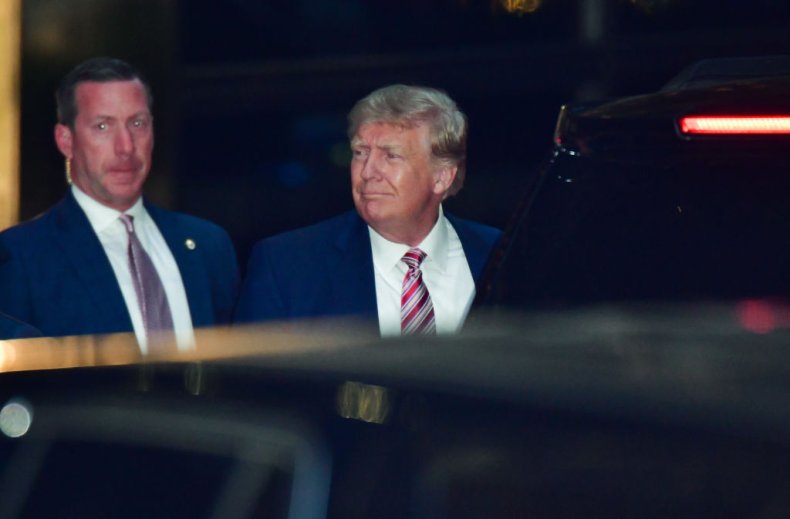 Kirschner gave his assessment of the scandal during an MSNBC segment on Friday. "That is a five-year felony," the lawyer said. "If that were you or me...you can bet we'd already be indicted."
Trump also dismissed the classified documents scandal in a Friday statement.
"The National Archives did not 'find' anything, they were given, upon request, Presidential Records in an ordinary and routine process to ensure the preservation of my legacy and in accordance with the Presidential Records Act," the former president said. He argued if the scandal involved anyone else "there would be no story here."
Newsweek reached out to Trump's press office for comment, but has not heard back in time for publication.