Trump's Ongoing War With Brian Kemp Could Boost Stacey Abrams in Georgia
Former President Donald Trump's refusal to move on from the 2020 presidential election might backfire for the Republican Party in Georgia, where incumbent GOP Governor Brian Kemp is facing a challenge from Democratic gubernatorial nominee Stacey Abrams.
While Kemp's victory over Trump-endorsed David Perdue in the primary jeopardized Abrams' chances, the governor could see an unexpected obstacle from voters who have largely disagreed with Abrams' policies.
Trump's supporters being swayed by the former president's opposition of Kemp could be enough to make up the difference by which Abrams lost in 2018. Kemp narrowly beat Abrams four years ago by 0.4 points, or 54,723 votes.
"A share of the Republican electorate still says they don't trust the election system even after the new audit was done in 2021, so it wouldn't take much for Trump to fan those suspicions and reduce the turnout, potentially," Charles Bullock, a political science professor at the University of Georgia, previously told Newsweek.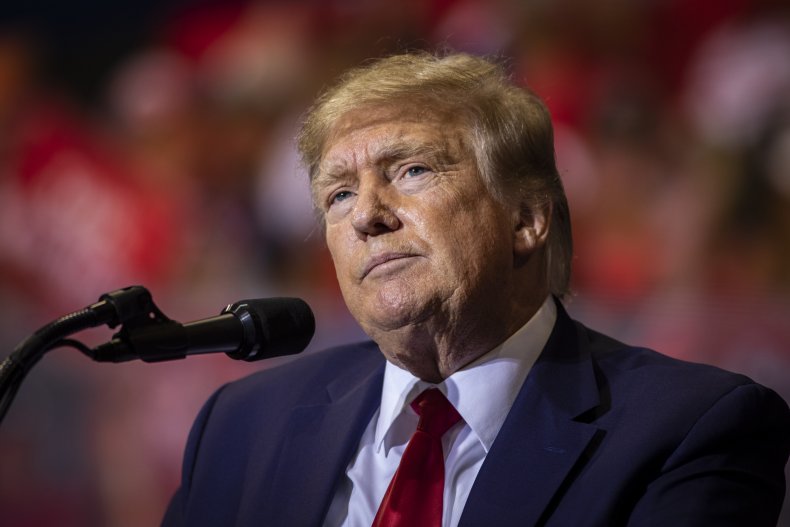 Trump has been steadfast in continuing to push claims of election fraud since losing the White House in 2020, and he extended those assertions into this year's midterms.
This week, his political action committee sent an email to subscribers claiming that Kemp's win in the Republican primary last week was the result of "obvious" voter fraud.
Kemp won in a massive landslide against Perdue with roughly 74 percent of the vote—an advantage more than 50 points higher than that of his GOP rival.
As a result of his primary win, Kemp recently received the support of many of his Republican critics—including Perdue and former House Speaker Newt Gingrich—as the GOP attempts to rally Georgia Republicans to cast their ballots for Kemp this fall.
Trump, however, hasn't backed the Republican nominee, insisting on making Kemp pay for not helping him overturn the results of the 2020 election, when President Joe Biden carried Georgia with a narrow 0.23-point edge—or fewer than 12,000 votes—over Trump.
Trump has even gone so far as to suggest to Georgia Republicans that the state would be better off with Abrams in charge than with Kemp.
"Of course, having [Abrams] I think might be better than having your existing governor, if you want to know the truth," Trump told rally attendees in the Peach State last year. "Might very well be better."
"Stacey, would you like to take his place?" he asked. "It's OK with me."
And in March of this year, Trump doubled down on his criticism of Kemp, saying at a rally for Perdue that, "MAGA, Trump voters will not go out and vote for Kemp. If Brian Kemp is renominated, he will go down in flames at the ballot box."
Despite the threat Trump poses to Kemp, recent polls still suggest that the governor has a lead over Abrams, in the four- to five-point range. But the Democrat has also been able to close in on Kemp, who had a wider lead before the primary.
Georgia has not been led by a Democratic governor since 2003, when Roy Barnes held office. Biden's victory in 2020 also marked the first time a Democratic presidential candidate won the state since 1992.