Trying Putin for Ukraine War Crimes Could Keep Him From Leaving Russia
A trial regarding war crimes allegedly committed by Russia during its invasion of Ukraine could restrict Russian President Vladimir Putin's ability to leave the country, according to experts.
The alleged atrocities in Ukraine have prompted international leaders to call Putin a "war criminal" and advocate for those responsible to stand trial. On Saturday, Carla Del Ponte, who formerly led war crimes tribunals for Rwanda and Yugoslavia, called on the International Criminal Court (ICC) to issue an arrest warrant for Putin.
If Putin goes on trial, it could limit his travel to only countries that do not participate in the ICC. Member countries are required to cooperate with the international investigator, said Hannah Garry, clinical professor of law and director of the International Human Rights Clinic at the University of Southern California.
In total, 123 countries are members of the ICC, including nearly every country in Europe. However, some of the biggest world powers, including the United States and Russia's "strategic partner," China, are not members of the international court.
In an interview with Newsweek, Garry warned that travel restrictions would impact Putin's ability to engage in diplomacy and negotiations to end the war, but not completely end Russian diplomacy, adding that negotiations could take place outside the ICC's jurisdiction.
"But it would be limited," she added.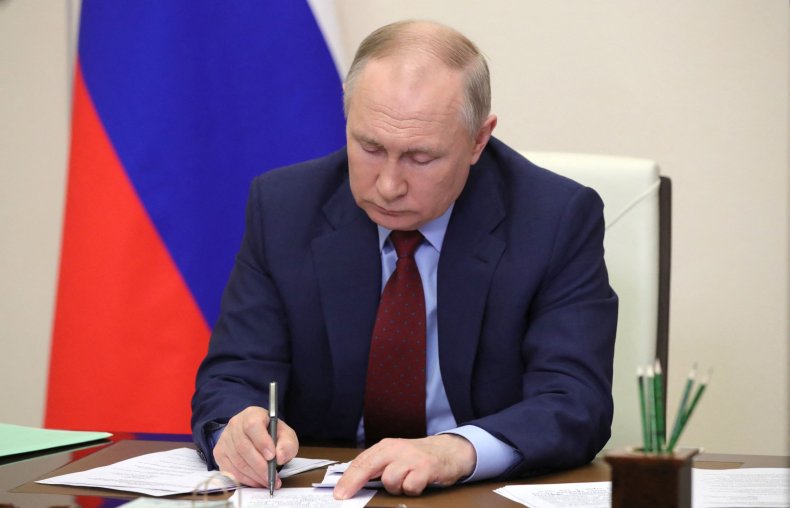 She added that travel comes into play only if the indictment comes from the ICC. Other countries, including Ukraine, are also investigating potential war crimes, but it would be difficult to affect those warrants because Putin enjoys immunity from prosecutions by national courts under the International Court of Justice, she said.
Under the ICC, though, world leaders, including Putin, don't have that immunity.
While ICC members are required to cooperate with an ICC investigation, Garry said there is a "strong likelihood" that some ICC members might not turn over Putin should he visit their country. In that case, the United Nations could pass a resolution calling on them to cooperate, Garry said.
Maria Popova, a professor at McGill University, said Putin typically sends Kremlin representatives to negotiations, so the impact on diplomacy might not be "dramatic." But she said an indictment could affect the way he carries out the war by angering him.
"There will be a lot of resentment and anger at the international community—at the rest, primarily—over a hypothetical indictment," she said.
Even if restrictions on international travel cause a headache for Putin's diplomacy, it might not weaken his standing in Russia. Robert English, professor of international relations at the University of Southern California, told Newsweek that an ICC indictment against Putin would likely strengthen his standing at home.
Some Russians will see the indictment as a stain on Putin, but for millions of Russians whose sole source of news is Kremlin propaganda, English said the indictment could further rally people behind the president.
"They would say 'he's our guy,' 'here's more Western conspiracy against us,' 'here's more unfair treatment of our hero,'" English said. "It would actually probably boost his popularity."
As the Russian military pulls back from Ukraine's capital city of Kyiv, the extent of civilian casualties is beginning to be revealed. At least 300 people were killed in Bucha during what Ukrainian President Volodymyr Zelensky categorized as Russian "genocide" and officials believe the true death toll could be even higher.
The ICC announced in February an investigation into alleged war crimes in Ukraine. Karim Khan, the court's top prosecutor, wrote at the time that he was "satisfied that there is a reasonable basis to believe that both alleged war crimes and crimes against humanity have been committed in Ukraine in relation to the events already assessed during the preliminary examination by the Office."
World leaders have expressed horror at the sights in Bucha, where images show atrocities allegedly committed by Russian troops against civilians. Among the devastation, some images indicate a 45-foot mass grave near the Church of St. Andrew Pyervozvannoho All Saints.
Ukrainian troops entered the town last week to find hundreds of civilian bodies lying dead on the streets, some with their hands tied behind their backs and bullet wounds to their heads.
President Joe Biden doubled down on calling Putin a "war criminal" in an interview with reporters Monday morning, adding: "And what's happening in Bucha is outrageous, and everyone's seen it."
Pursuing a trial against Putin for war crimes would be a rare moment in history, as it's often been the people physically carrying out the acts that are brought to trial. Although the potential for a war crime trial could anger Putin, English doesn't believe restrictions on his travel would make a huge difference in his life.
"He's not a big traveler and foreign vacationer anyways," he said. "His country is vast. If he wants to go sailing—if he wants to enjoy the warmer climate to the south or the forested frosty north, Siberia, the Arctic and everything in between—he's not going to feel very constrained."
Newsweek reached out to the White House, ICC and Russia's Ministry of Foreign Affairs for comment but did not hear back by publication.