TSA Screens Highest Number of Travelers Ahead of Easter Since Pandemic Began
The Transportation Security Administration (TSA) said Saturday that more than 1.58 million people were screened at U.S. airports ahead of Easter weekend, in the highest recorded number since the pandemic began.
"TSA screened 1,580,785 people at airport checkpoints nationwide yesterday, Friday, April 2. It was the highest checkpoint throughput since March 12, 2020. So if you're planning to travel you should get to the airport 90 minutes early, socially distance and wear a mask," Lisa Farbstein, a TSA spokesperson tweeted.
In comparison, on April 2, 2020, only 129,763 people traveled amid nationwide lockdowns and travel restrictions in the early days of the coronavirus pandemic, according to the agency.
This weekend's high travel numbers come after the Centers for Disease Control and Prevention (CDC) said that fully vaccinated individuals are at low risk of spreading the disease while traveling.
On Friday, the CDC announced that people who are fully inoculated against coronavirus—meaning that they have received both doses of a vaccine that requires a two shot process—are able to travel domestically or internationally without having to self-quarantine.
"Based on what we know about COVID-19 vaccines, people who have been fully vaccinated can start to do some things that they had stopped doing because of the pandemic," the CDC website stated.
However, the agency still recommends that fully vaccinated individuals still wear masks, maintain social distancing, and avoid crowds in public spaces until more information is known about vaccine efficacy.
"Despite the good news on the vaccination front, we simply cannot afford to relax the prevention strategies," CDC Director Rochelle Walensky said Friday.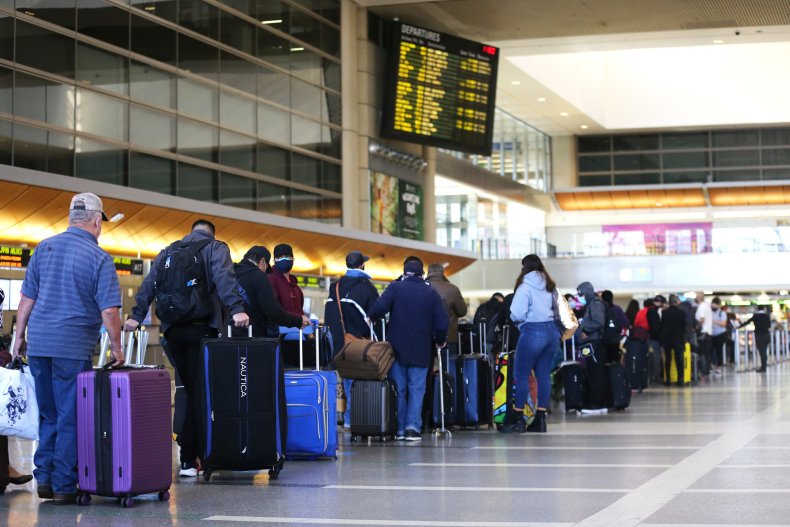 So far, more than 100,000 Americans have received at least one dose of the coronavirus vaccine, while more than 57 million are fully vaccinated. Last month, President Joe Biden said his goal is to now get 200 million shots in people's arms by his 100th day in office on April 30th.
The president has also encouraged states, tribes and territories to make all adults eligible for the COVID-19 vaccine by May 1. He added that his hope is to get the nation closer to "normal" by the Fourth of July.
"I need you to get vaccinated when it's your turn," he said on March 11, "and when you can find an opportunity, help your family, your friends, your neighbors get vaccinated as well."
Now countries around the world and parts of the U.S. are experimenting with the implementation of "vaccine passports," or a type of documentation that shows someone has been vaccinated in order to travel, or attend high-capacity events such as concerts or weddings.
New York became the first to implement such a measure last week with a digital passport called the "Excelsior Pass," that can be downloaded as a QR code on a phone app and scanned as proof of vaccination.
However, the idea has been met with criticism from Republican lawmakers, who view such an initiative as a violation of individual rights. So far, lawmakers in Ohio have moved forward with legislation to ban their use, while Florida Governor Ron DeSantis signed an executive order prohibiting them in the state.
Last week, White House Coronavirus Adviser Andy Slavitt said that the federal government would not be responsible for issuing vaccine credentials, or storing citizens' vaccination information in a database.
Instead, the implementation of vaccine passports will be left to the private sector.
"Unlike other parts of the world, the government here is not viewing its role as the place to create a passport, nor a place to hold the data of—of citizens. We view this as something that the private sector is doing and will do. What's important to us, and we're leading an interagency process right now to go through these details, are that some important criteria be met with these credentials," Slavitt said.
As of Saturday, more than 554,000 people have died from COVID-19 in the U.S. while over 30 million have been infected since the start of the pandemic, according to data from Johns Hopkins University.
Newsweek contacted the White House for an additional comment, but did not hear back in time for publication.